Kids are expensive – and they can also indirectly affect your retirement income!
$66,800 for a government school education
$230,000 for a systemic school education
$468,000 for a private school education
That's just the cost of education; there are plenty of other child-related expenses (food, clothes, nappies, housing, childcare, entertainment, lost income for the primary carer…) that are almost unavoidable. And in addition to these direct expenses there is also at least one other cost that we don't always think about: the superannuation that you might otherwise have received.
A new Colonial First State report (the Power of Closing the Gap) has reiterated a well-known fact that there a significant gender gap in superannuation balances. Across all age groups, according to Colonial First State, the median super balance of females is A$30,000 compared to A$46,000 for males, a super gap of A$16,000 or 35%. And the older a couple is, the greater that gap.
So what does that mean for superannuation?
For workers eligible for super, the current minimum contribution rate that an employer pays is 9.50% of your ordinary time earnings. It might not sound like much, but effectively missing out on that 9.5% of salary, as well as missing out on the earnings that that money would have attracted over the next thirty years between having children and retirement actually does add up to a lot of money.
How much? Canstar has calculated that 5 years out of the workforce from age 30 to 35 could equate to a $341,000 hit to a primary carer's superannuation account balance, in today's dollars, by the time they retire. That's based on starting work at age 21 on a salary of $45,000, with a 2% increase in annual income. Oh, and a super fund earning 7% after tax and receiving the 9.5% employer contribution, increasing to 12% contribution by 2025. Obviously the more that you (or your super fund) earns, the greater the potential hit.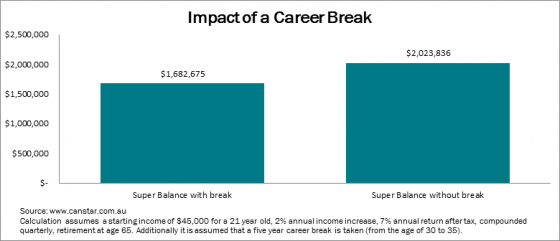 This is generally where readers protest that they don't even have that much in super, let alone would be able to lose that much in super. But that's called the power of compounding returns: the fact that earnings on earnings on earnings, over 30 years, adds up to a lot of money.
The same principle holds true in reverse, which is why a $300,000 home loan over 30 years at minimum repayments may cost you around $580,000, even at a low interest rate of 5 percent. For example:
Loan Amount
$300,000.00
Interest Rate
5.00%
Years
30
Monthly Repayment
$1,610.46
Total Cost
$579,767.35
Canstar.com.au. Assumes a 30 year loan term, making minimum repayments. Calculation is illustrative only.
How can you boost your superannuation?
There is no easy answer to the dilemma of how to take unpaid leave without sacrificing future retirement benefit, but a few potential options would be:
B: Make extra contributions into your superannuation fund yourself while you're on unpaid leave.
Or perhaps just take a deep breath and accept that raising kids is expensive. Priceless, in fact.
If you're comparing Superannuation funds, the comparison table below displays some of the products currently available on Canstar's database for Australians aged 30-39 with a balance of up to $55,000, sorted by Star Rating (highest to lowest), followed by company name (alphabetical). Use Canstar's superannuation comparison selector to view a wider range of super funds.
Fee, performance and asset allocation information shown in the table above have been determined according to the investment profile in the Canstar Superannuation Star Ratings methodology that matches the age group you selected.