Whether it's generational habit, a Cinderella complex or just plain disinterest, there are many reasons why some women delay getting their finances organised.
Vicsuper, a $10 billion+ profit for members super fund, makes that procrastination more difficult as for the past few years they have been running a very successful – and free – money program specifically for women. Called The Super Woman Money Program, it is a 12-week educational program that covers everything from budgeting to debt, insurance, investment – and of course superannuation – with specific calls to action on each topic. Vicsuper's Executive Manager, Marketing & Communications – Tarnia Puchlenko – shares her insight into what makes Super Women Money so successful.
On why the program was set up…
"VicSuper has a strong commitment to education," says Tarnia. "We believe in providing our members – both men and women – with advice, information and tools so that they're empowered to make the right decisions for their situation. However, we also believe that there's a particular social responsibility to assist women given the impact of career breaks, part-time work and lower wages, combined with longer life expectancy.
More than 50% of our membership is female, and when we look at the average VicSuper account balance of a female aged 41-50 years of age, it's nearly 40% lower than that of males in the same age group. We chose to broaden the program to cover holistic financial matters rather than simply superannuation because it all links together. If women don't feel comfortable or motivated to take control of their immediate financial health then it's unlikely that they'll be looking 10, 20 or 30 years ahead to retirement.
It's the environment that this program provides that's particularly beneficial for women. It's no secret that men and women have different communication styles and learning preferences. Without sounding trite, we strive to create a 'safe' environment, where no questions are stupid, where woman aren't judged if their finances aren't too healthy right now, or if they've never taken notice of financial matters before, and where women can learn from each other's experiences and stories, as well as from our financial experts. We also try and tackle a serious and sometimes daunting topics with humanity, humour and honesty – such as sharing our own not-so-great-financial-moment stories."
On the 12-week format…
Tarnia explains that the 12-week format works particularly well as it is allows women to take small, achievable and measurable steps rather than becoming overwhelmed by a vast volume of information. It also enables people to 'opt in' and out depending on which areas particularly interest them. "Hitting people with a whole heap of information and tasks can be overwhelming and de-motivating, so this is small, digestible chunks," she says. "We also try to ensure all information is online, so people who cannot attend events don't miss out on anything. This is particularly important for our regional Super Women."
On the feedback they receive…
VicSuper run four free seminars as part of each 12-week Super Woman Money program, which give the attendees the opportunity to learn, discuss and debate financial topics. They have been very popular with some terrific feedback, such as the following verbatim quotes from feedback respondents from the last program.
"Absolutely loved the sessions I went to – very empowering and great to be in an environment where I felt comfortable and welcome, I've never experienced anything like it. I wasn't embarrassed to ask specific questions and things were explained in terms that I could understand and get my head around".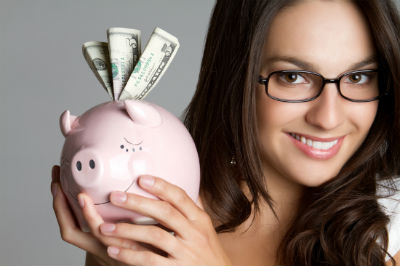 "What an amazing program. I've learnt lots, I have more confidence to now take control of my finances and my husband and I now have a financial plan which we hope to revisit on a 6 monthly basis – YEAAAAAAAAAAAAAH. Thank you so much for making some very dry topics enjoyable and at times, entertaining".
"Well done VicSuper! As I always say "a man is not a financial plan!" It's about time women educated themselves regarding how to use their money wisely to protect themselves in the future. This is a fabulous unbiased approached to educating women about using their finances effectively. Congratulations on helping many women and hopefully more in the future!"
On one piece of advice she would like to give everyone…
Tarnia is definite about the one piece of advice she would like to give everyone: "Take action," she says. "Please don't put it off and think it's all too hard. There's no such thing as a stupid question – if someone's making you feel silly, or intimidated, then you're dealing with the wrong person. Find someone who genuinely wants to assist you in learning, not someone who just wants to demonstrate how smart they are.
If you can find a program where you can attend with a friend, that's always great motivation (and you have more fun). Alternatively, jump online and find a program or information that will help you.
For me, nothing beats the combination of expert advice, mixed with people's experiences. I've learnt so much listening to our Super Woman Money participants, and I'm grateful for, and humbled by, their honesty in sharing their stories."
The Super Woman Money program is run periodically throughout the year by VicSuper. For more information on the Super Woman program, have a look at their site, which includes expert financial tips and advice.