Ask most millennials about super and you might receive a response like this: "I know I have some somewhere/it's not relevant for me right now/it is too far away".
There is nothing unique about their response – it's the same response a Gen Xer might have offered at the same age.
It is well established that some younger people are disengaged from the thought of retirement savings and therefore their super, with a focus on the here and now, funding the day-to-day, saving for that holiday and maybe putting some money away to buy property.
As we progress through life, we naturally tend to think about that ultimate goal of retirement and start to wonder how we are going to fund it.
However, once again, there are often other priorities to think about. Maybe it's our children's education, that renovation or just the day-to-day pressures of paying the bills.
Plus, some people find themselves so busy they struggle to find the time to try to understand super, so can end up kicking that can down the road again, as in their minds there will be plenty of time to save for retirement once they get past their 30s and 40s.
We enter our 50s and our minds typically start to turn to retirement. We look at our collective wealth and realise it is time to start building that nest egg. In order to maintain a comfortable lifestyle in retirement we know we need a minimum of $60,063[1] per year from our retirement savings.
Source:AustralianSuper, YouTube
It is a time many start thinking about their mortality and wondering how long they will need their savings to last for. Based on current life expectancies (84.5 for women and 80.4 for men), we would expect to need our retirement savings to last for 17 years (assuming a retirement age of 67). However, with average life expectancies increasing with improvements to modern medicine, it is worth considering we may need our savings to last longer than we may have originally thought.
It is a time many people look deeper into super and realise that it can be a good vehicle to build wealth. There are plenty of super funds to choose from to find a fund that provides the right level of risk, fees and returns. The tax incentives built into super can allow people to accumulate wealth faster, and can include:
a lower tax rate (15%) on money going in from our salaries and on the earnings within super, otherwise known as concessional tax; and
no tax on the earnings once we move our super balance into pension phase.
The tax incentives come at the cost of access. That is, we cannot access the money until we reach the Preservation Age, but that seems a small price to pay for the tax benefits. (Note: the Preservation Age is the age at which you can access your super. It is different to the age at which we can access the Age Pension, otherwise known as the Retirement Age. The Preservation Age is between 55 and 60 depending on the year you were born). Using a calculator such as Virgin Money Super's retirement income calculator we can work out how much we need in super to retire comfortably.
It is at this point we realise there are caps to how much we can put into super in any given year:
$25,000 per year of concessional contributions. That is contributions that come out of our of our pre-tax salary and are taxed at 15% (and includes the 9.5% contributions our employers are compulsorily required to make); and
$100,000 per year of non-concessional contributions. That is, contributions that come out of our after-tax salary.
That means when we are able to invest a bit more into super to take advantage of the tax incentives, we may be limited in our ability to achieve our goals due to the contributions caps. We can, of course, also save outside of super or make after-tax contributions to our super, however the rate of savings is lower as we miss out on some or all of the tax benefits.
This can leave people wishing they had started making extra contributions to their super at a younger age. I know if I could speak to my 25-year-old self, I would stress the following messages:
1. Love your super:
Super is your money and while access to it is generally restricted until you reach the Preservation Age, it will form an important part of your future wealth. Even if you are unable to make additional contributions, you should at a minimum:
Know where your super is. It might sound simple but with many Australians having more than one super fund it can be hard to keep track.
Pick a fund that meets your expectations on fees, performance and services.
Where appropriate think about the pros and cons of consolidating super accounts into a single account. Having multiple accounts may mean you are paying more fees than you need to be.
Review the insurance arrangements. Make sure any default insurance arrangements meet your needs (including opting out of insurance if required).
Check your account regularly. Make sure your employer is making your 9.5% SG contributions on a regular basis. It was recently reported that up to approximately 2.8 million Australians get underpaid $5.6 billion worth of superannuation[2].
Regularly check in with your super. Is the performance meeting your expectations?
While you might not be making additional contributions, these actions could make a big difference come retirement.
2. Small sacrifices can make a BIG difference:
Making small, regular contributions over a long time period is much easier for some than making large contributions over a short time period. The table below shows what it takes (per weekly sacrifice) to make $50,000 of additional contributions to your super over different time periods:
| | | |
| --- | --- | --- |
| Time frame | Per year contribution | Per week |
| 10 Years | $5,000.00 | $96.15 |
| 20 Years | $2,500.00 | $48.08 |
| 30 Years | $1,666.67 | $32.05 |
| 40 Years | $1,250.00 | $24.04 |
You could also start early with small contributions and increase the size if your income increases.
As another example, making a $10 weekly contribution to your super from the age of 25 and doubling the weekly contribution every 10 years (that is, a $20 weekly contribution from age 35, $40 contribution from age 45 and $80 contribution from age $55), means by the time you reach retirement age[3], you would have contributed an additional $86,840 to your super balance.
This excludes any investments returns, which brings us to the next point.
3. The power of compounding returns:
Compounding returns is a concept we've all heard about. It is the premise that you earn 'investment returns' on your 'investment returns', thereby accelerating the rate of your savings.
The earlier you start saving, the greater your potential return. The below table shows the potential increase to your super balance of a one-off $10,000 contribution made at different ages, highlighting the benefits of starting early.
| | |
| --- | --- |
| Contribution age | Potential increase to super balance at retirement[4] |
| $10,000 contribution at age 35 | $65,545 |
| $10,000 contribution at age 45 | $34,754 |
| $10,000 contribution at age 55 | $18,644 |
Tomorrow is never that far away, and while it's easy to get caught up in short-term, day-to-day priorities, spending 30 minutes planning your super today could help set you up for retirement.
Love your super, make small sacrifices now for a big difference later and put the power of compounding returns to work for your future.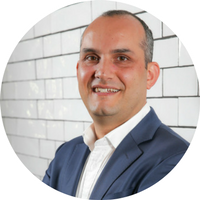 Christopher is the General Manager responsible for the Wealth and Insurance businesses of Virgin Money Australia. Christopher joined Virgin Money from Colonial First State/CBA in 2013 where he held a number of roles including Head of Product and Strategy – SMSF for the CBA group and Executive Manager Funding & Alliances Colonial First State where he was responsible for managing the funding requirements of Colonial's suite of geared funds ($4bn debt book) as well as the negotiation and establishment of Colonial's alliances businesses. Christopher also spent three years in London where he worked for Fidelity Investments as a Senior Project Manager.
[1] ASFA Retirement Standard 2017: https://www.superannuation.asn.au/resources/retirement-standard
[2] Sydney Morning Herald article 23 March 2017: http://www.smh.com.au/business/workplace-relations/about-28m-australians-get-underpaid-56b-worth-of-superannuation-inquiry-told-20170322-gv3mxm.html
[3] Assumed retirement age of 67
[4] Based in Virgin Money Super Retirement Income Calculator: Assumptions: Starting age of 25, Base salary of 70,000, starting super balance of $5,000, invested in Virgin Money Super Lifestage Tracker. Balance has not been adjusted for inflation.