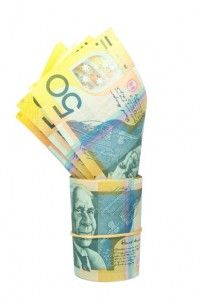 From fund managers to the Governor of the Reserve Bank of Australia, experts often seem to urge investors away from cash and into more growth-oriented investments. Self Managed Super Funds (SMSFs) are often the focus of the message, with warnings that a growing "wall of cash" is certain to damage long-term growth and provide less-than-optimum diversification. The investment markets are improving, seems to be the school of thought, so why aren?t SMSF investors ditching their cash for higher-growth products?
Why? Well, probably because holding around 25% – 30% of their investment portfolio as cash is part of the long-term investment strategy for many SMSF trustees. In other words, cash is a long-term marriage and not a short-term fling.
This is a truth not recognised by all, with the recent 2014 SMSF Professionals? Association of Australia/Russell Investments annual study of SMSFs lamenting that an "expected" significant shift from cash to equities has failed to eventuate over the past twelve months. According to the report authors, this represents both an opportunity and challenge for financial planners.
By analysing the self-managed super fund statistical reports that are released by the Australian Taxation Office (ATO) periodically, we can see that SMSFs are most certainly flavor of the decade for investors. In fact between June 2004 and December 2012, the total amount of money held in SMSFs increased from $127.4 billion to $474.4 billion – an almost four-fold increase. Correspondingly the dollar value of cash held in SMSFs also increased – from $29.4 billion in June 2004 to $135.7 billion in December 2012. As a proportion of the total amount held in SMSFs though, cash hasn?t varied much. In 2004 (well before the GFC), cash, debt securities and term deposits represented approximately 23% of SMSF assets, compared with 31% in direct shares; in December 2012, cash, debt securities and term deposits represented 28% of SMSF assets, again with 31% being held in direct shares. An increase of only five percent.
The chart below shows the proportion of cash and the proportion of direct shares held in SMSFs between June 2008 and December 2012.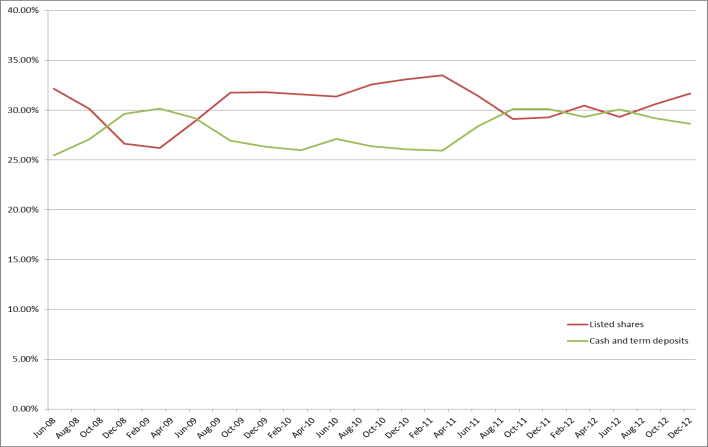 The SMSF Professionals? Association of Australia/Russell Investments annual study of SMSFs asked trustees their reasons for holding cash. Interestingly, while the proportion of cash held over the past few years has not altered significantly, the reasons for holding cash have. The main survey responses are as below:
What is the reason for your current allocation to cash?

2010
2013
I?m waiting for a better investment option
52.0%
42.9%
I want to reduce my risk
47.6%
28.6%
haven?t had time to invest my cash but I plan to do so over the coming year
14.4%
19.5%
I wanted a guaranteed income stream
32.4%
16.2%
Equities are too volatile
17.0%
14.9%
Need liquidity to pay benefits
21.0%
14.9%
Cash can deliver better returns
14.8%
11.7%
Source: SPAA/Russell Investment report: ?Intimate with Self-managed superannuation?. Feb 2014
If cash is good – make sure it?s also good value.
Irrespective of economic developments, many SMSF Trustees will continue to hold cash. Given that, it?s it?s important for SMSF trustees to ensure that they are getting the best-value cash return possible for their members. Our annual SMSF star ratings report analyses 141 SMSF savings accounts from 66 institutions to determine those that provide outstanding value for money.