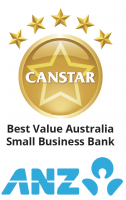 When it comes to the operation of a small business, successfully realising its potential requires specialist support from financial institutions in terms of both products and business coaching. Each year CANSTAR research the small business banking offerings available from Australian financial institutions. This consists of a review of the loan and deposit products that are available, as well as assessment of thee institutional factors that can drive success. This includes branch coverage, the availability of relationship managers, online banking functionality, merchant services and education services offered to customers. This year CANSTAR congratulate ANZ on winning the Best Value Australia Small Business Bank award.
Kate Gibson, ANZ?s General Manager Small Business Banking, took the time to answer a few CANSTAR questions.
Q1: In your view, what are some of the key opportunities for small businesses in the fast-changing (technology and online sales) business environment.
Technology and social media are fundamentally changing the way consumers access information, products and services – this is creating opportunities and challenges for SMEs.
Technology-fuelled disruption means competition can come from left field – which means businesses need to work smarter to produce high quality goods and services at competitive prices.
On the other hand, online shopping and sourcing is opening up markets and opportunities for many businesses outside their local area, even internationally. With great digital marketing, SMEs can reach a much broader potential customer base faster than ever before. And for those companies that have found an opportunity to grow, funding is the best value it has been for many years.
A number of years ago, ANZ recognised that the digital landscape was changing the way we all work, so we launched the Banking on Australia program – a $1.5 billion plan to reshape the way we do business to better meet our customers? changing needs.
ANZ has worked hard to develop innovative products and services that enable small business owners to access real-time information, process payments on the go and support them in making day-to-day business decisions. Including:
ANZ Internet Banking 4 Business (IB4B)
ANZ FastPay – enabling small businesses to accept card payments on the go using their iPhone or iPad.
ANZ goMoney – providing customers with fast and easy access to account balances, transactions and payments on the go using their iPhone or Android mobile.
A-Z Review iPad – enabling our Small Business Specialists the flexibility to meet with customers at their office or workplace.
Q2: You have some excellent resources in your online small business hub. What are some of the most popular resources?
ANZ?s Small Business Hub has been an enormously popular resource for new and existing small businesses for some years now. We?re pleased to help empower small businesses by making available a great range of free online education materials, tools and templates for them.
Some of the most popular resources from our Small Business Hub are our Cash Flow and Business Planning templates. Blogs and insights from industry experts are also popular, along with our dedicated Small Business Hub LinkedIn Group – which has approximately 7,000 followers.
Q3: In addition to online resources do clients still value the one on one service that a Small Business Specialist can provide?
Absolutely – despite the rise of digital banking, customers still want to meet face-to-face with their banker to have an in-depth discussion about their financial needs.
Our unique A-Z Review allows our Small Business Specialists to really understand a customer and their business, and goes much further than just their assets, liabilities and cash flows. We think it is critical that we understand a customer?s past and their future aspirations, their personal goals, and the market place that they compete in. We are then better equipped to help customers achieve their goals.
We are proud to have built a national network of Small Business Specialists in ANZ branches, and Business Banking Managers in dedicated ANZ Business Centre?s across Australia. Many of our Small Business Specialists have been in a small business themselves, so they truly understand the needs of our small business customers. In May 2012, we also trained and accredited more than 1,500 of our branch staff so they can also sit down with our small business customers when they come into a branch and help them with their lending and business transaction needs.
The ANZ Small Business Locator Tool on anz.com makes it easy for small business owners to find and make contact with their local Small Business Specialist.
Q4: Part of your Banking on Australia program is a pledge to lend $2 billion to new small businesses in 2014. What is the philosophy behind the decision to make that pledge?
We have been a big supporter of new small businesses for many years now, but we know that there are a lot of people out there who still think banks only lend to big businesses. Last year, we decided to bust this myth and we pledged to lend $1 billion to new small businesses. It was extremely popular.
Small business is the life-blood of the Australian economy. We want those thinking of starting a new venture or expanding their existing business to know that ANZ is committed to backing them. So, by doubling our lending pledge this year, we want to send a strong message to small business owners that our team of small business specialists are ready to help with our full range of banking solutions.
We have seen some great success stories from customers who came to us last year for funding because they saw the pledge and they now have businesses that are thriving and growing. That?s a very exciting thing to be a part of and we look forward to partnering with these companies for many years to come.