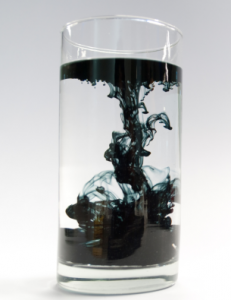 Most people know what the "black market" is – but what is "dark liquidity"? Dark liquidity, or a dark pool, is a way of trading listed shares away from the public exchange so that large-scale trades are anonymous and do not affect price movements on the public market.
Traditionally in order to buy already-listed shares you would place an order with a broker who would then place your order on the public exchange. You could buy and sell shares either "at market", meaning at the current offer price or "at limit", whereby you set the purchase or selling price and your order is activated when the public offer price matches. The volume of buy and sell orders for each listed stock will determine the price of that stock – a price that will fluctuate throughout the day.
Over the seven months to the end of July 2013, monthly trading volumes of equities on the ASX averaged 16.6 million trades.
Dark liquidity is a way of trading that is not openly to the public – either for participation or for scrutiny of price. To that extent it could be viewed as a type of private sale whereby investors interact with each other away from the public exchange. The volume and price are agreed between the two investors directly and neither the price or identity of the participants is disclosed. The increasingly online nature of share trading has facilitated dark liquidity beyond an agreement between two investors to a parallel trading platform known as a crossing network, or alternative trading system. Brokers may operate a dark pool to match two client orders.
The Australian Securities and Investments Commission (ASIC) has held concerns about the lack of transparency of dark liquidity and has recently released market integrity rules on dark trading. The rules will come into effect over the nine months from August 2013 to May 2014. A summary of the rule changes are:
Transparency and disclosure – dark pool operators must publish on a website information about their crossing system (e.g. products traded) from 10 November 2013. They must make disclosures to clients on the operation of the crossing system from 10 February 2014. Crossing systems will also be publicly identified in course of sale reports.
Crossing system fair treatment – from 10 February 2014, crossing system operators must have a common set of procedures which do not unfairly discriminate between users . From 10 November 2013 they must also allow clients to opt out of using their crossing system (currently, brokers can refuse to execute their clients? transactions on the public exchange) .
Crossing system monitoring – if suspicious activity is identified in a crossing system, it must be reported to ASIC (from 10 November 2013). Crossing system operators must monitor activity on their crossing system.
Crossing system controls – existing system and control requirements for automated order processing will extend to crossing systems (from 26 May 2014).
Enhanced conflict of interest obligations – from 9 February 2014 market participants must protect confidential client information and deal with client orders fairly and in due turn.