The latest Australia Bureau of Statistics (ABS) figures show that inflation is still subdued – good news for mortgage holders, but not as good for business.
Australia has been in a low rate environment for some time now and the latest Consumer Price Index (CPI) figures released by the ABS show that annual inflation is remaining stubbornly subdued.
According to the ABS The Consumer Price Index (CPI) rose 0.7 per cent in the September quarter 2016, equating to an annual increase of 1.3 per cent – still significantly lower that the RBA's target band of 2 – 3 percent – although low inflation is not always bad.
The subdued figure did mask some significant increases though, with fruit increasing by 19.5 percent and vegetables increasing by 5.9 percent; both increases were due to adverse weather conditions, including floods, in major growing areas. Electricity also increased by 5.4 percent.
According to RBA Governor, Phillip Lowe, low inflation outcomes in advanced economies, such as Australia, reflect a combination of three factors – excess capacity, lower commodity prices and perceptions of reduced pricing power. It is certainly not limited to Australia though, as the graph below indicates.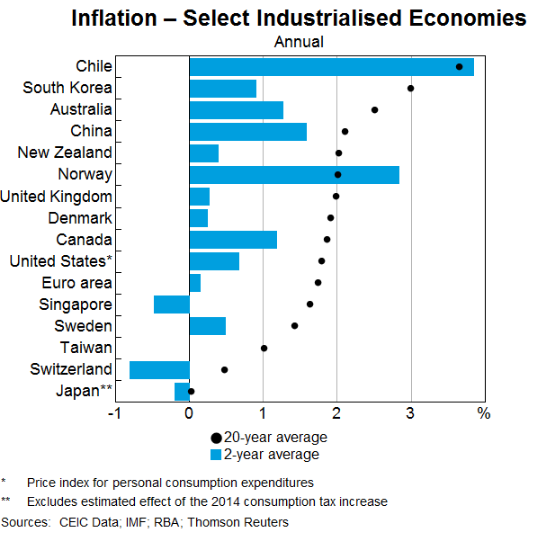 "Over recent times, we have considered the impact of our decisions not only on the future path of inflation, but also on the health of the balance sheets in the economy. Achieving the quickest return of inflation back to 2½ per cent would be unlikely to be in the public interest if it came at the cost of a weakening of balance sheets and an unsustainable build-up of leverage in response to historically low interest rates," Mr Lowe said recently.
"Conversely, the case for moving more quickly would be strengthened in a world where the labour market was deteriorating and people were having increasing difficulty finding jobs."
So the chance of another cut in official cash rate? Over the course of this year the Board has lowered the cash rate twice, in May and August. These reductions followed inflation outcomes early in the year that were lower than expected as well as an assessment that inflation was likely to remain quite low for some time. With inflation ticking up slightly in this quarter, the need for another rate cut in the very near future may not be as pressing.