CANSTAR congratulates Westpac on their online share trading platform, which received our 5-star rating for outstanding value in 2016.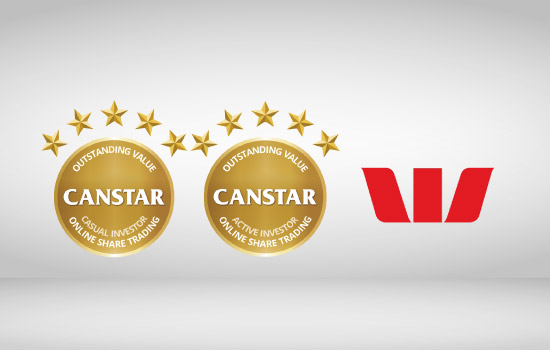 In 2016, the Westpac online share trading platform has received CANSTAR's 5-star rating for outstanding value in two out of three investor profiles:
Casual Investor: Westpac Integrated Account
Active Investor: Westpac Integrated Account
The inclusions below represent a selection of what is covered. Additional conditions may apply to different features. CANSTAR is not making any suggestion or recommendation to you about this product. Please ensure that you read the product disclosure statement to determine all the current policy options and inclusions for the product you are considering.
Features on offer for Casual Investors
In terms of price, Westpac's Integrated Account charges roughly $20.15 per trade (calculated on our 500 scenarios), and thus received a relatively high pricing score.
This platform provides an above-average offering in terms of features, but they could improve their education facilities. Key features of the Westpac Integrated Account online share trading platform are:
Accessibility: Traders can access their account via the internet, an Android app, iPad app, iPhone app, tablet app, other mobile device, or over the phone. They can view their portfolio balance and their settlement account balance online. Traders can view and trade on live prices, and view and edit their watch list.
Market Information: Daily market reports, live quotes, buy/sell signals, company financial reports, company news and announcements, economic research and forecasts, and technical analyst reports are available.
Advice: Broker recommendations are available.
Application: Traders can sign up to this platform in an online application that requires no documentation. Trading is possible immediately upon opening an account.
Education: A dedicated education page, FAQs, searchable help page, and video tutorials are available. Educational workshops are offered in various cities.
Support: Email support is available. They go above and beyond by offering 24-hour phone support for international trades, and after-hours phone support for all other trades. Phone training is available for customers.
Margin Loans: Margin loans are allowed.
Reporting: Automatic consolidated tax reports. Past statements available online. Year-to-date and historical reports on interest and settlement of account, with optional reporting for CGT profit/loss summaries, and dividends, and individual stock or portfolio equity gains/losses.
Alerts: Email and SMS alerts available.
Markets: International markets, derivatives, managed funds, shares, ETFs, options, unlisted managed funds, warrants.
About Westpac
Westpac was Australia's first bank, and its first company. Established in 1817 as the Bank of New South Wales, Westpac now serves around 13 million customers.
Westpac is one of the big four Australian banks and they own a number of other banking brands including St. George, Bank of Melbourne, BankSA, and RAMS.
As for their focus on supporting the community, Westpac directly supports three main goals: disaster relief for businesses and communities; addressing financial and educational disadvantage in Aboriginal and Torres Strait Islander communities; and microfinance for marginalised small business people. In addition, Westpac supports not-for-profit community organisations by providing financial solutions for Not-For-Profit businesses and long-term group community partnerships. The Westpac Foundation funds innovative social enterprises that are making a difference in the world.
When it comes to protecting the environment, Westpac is working hard, tackling climate change, reducing water consumption to meet the UN CEO Water Mandate targets, and restoring Australia's unique biodiversity. They have reduced their greenhouse gas emissions by 40% since 1996. They also participate in several external initiatives to help improve the environmental performance of their business, such as the UN Global Compact and UNEPFI.
Please note that CANSTAR is an information provider and in giving you product information CANSTAR is not making any suggestion or recommendation about a particular product. If you decided to apply for a product, you will deal directly with a financial institution, and not with CANSTAR. Costs and product information should be confirmed with the relevant financial institution. For more information, read our detailed disclosure, important notes and additional information.