Each year Canstar researches and rates the Australian online share trading platform, market to determine which platforms and providers are offering outstanding value to Australian investors. This year we have assessed 42 platforms offered across 17 providers to determine which platforms offer the ideal mix of price and features for both casual and active investors, as well as traders.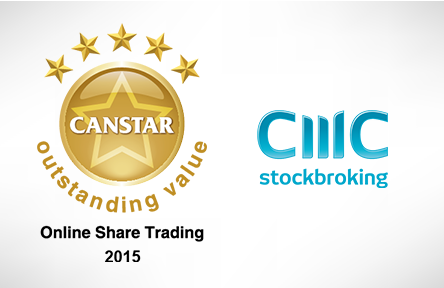 Striking the perfect balance of low costs, in-depth features and impressive functionality, CMC Markets Stockbroking stood out from the crowd for a hugely impressive fifth year in succession. Canstar caught up with Andy Rogers, Head of CMC Markets Stockbroking, for a Q&A.
Q: This is CMC Market's fifth win in a row. Over that five year period, what are some of the big changes you have noted in online trading?
A: In the past five years CMC Markets Stockbroking online trading offering has evolved to provide savvy investors a plethora of stock picking tools and platform features that provide the type of scope that was previously only available to institutional investors.
In addition, our innovative partnerships changed the way self-directed investors can diversity their portfolio and allow our clients access to the ASX?s groundbreaking mFunds, listed corporate bonds and provided access to the primary market?s IPOs and capital raisings through OMBB service.
We are also building out our SMSF offering including tax tools and features to relieve the pain of administration and compliance requirements, through integration with a third parties as well as offering best value, which ultimately maximises returns for those who trade with us.
Investors and traders tell us they want trade ideas – help finding opportunities in companies they may not have considered previously, As a result, the range of fundamental research data has increased in recent years, and our partnerships with companies such as Morningstar and theScreener have allowed us to provide deeper insights and ideas for companies to invest in, based both on human analysts and automated or algorithmic analysis.
Q: The wealth of analytical tools that investors can access online is astounding. What are some of the most commonly-used CMC Markets charting tools?
A: CMC Markets Stockbroking has always ranked highly for charting tools and our most commonly used include trend lines, drawing tools, moving averages, relative strength index, Fibonacci and MACD.
Meanwhile through our partnership with Trading Central, we offer our traders access to technical signals and pattern recognition tools designed to help them find trading opportunities.
We also have some exciting new charting features which will be launched in the next couple of months with our new active trader platform which will bring the charting tools and knowledge we are famous for in our global products to the Stockbroking business and our share trading clients.
Q: Fintech seems to be flavour of the decade right now – and it?s a fast-paced industry. What effort is involved in the background to stay at the forefront of the online trading sector?
A: Our own in-house IT experts are consistently investing in our technology to drive market innovations and seamless partnerships, to ensure CMC Markets Stockbroking is delivering to the needs of even the most demanding trader.
As a global business, keeping at the forefront of technology is one of our largest investments, and we have a large global technology team delivering infrastructure and software solutions for our clients. Locally we have invested heavily and partnered with the ASX and were the first online broker to co-locate in ASX?s purpose-built data centre, the Australian Liquidity Centre. As a tenant in this data centre, we have access to a specialist community of financial and technical providers, market infrastructure and information and data providers.
Throughout 2015 we will continue to launch new products including our upcoming ProPlatform which we have developed in-house, with teams in Sydney and London collaborating to deliver what we hope will be a market-leading platform for the active trader.
Q: Andy, you have personally been involved in financial markets for almost two decades. Is there any one big financial market development that has surprised you over that time?
A: The biggest market development in the finance sector that I have witnessed in my career is the transformation of the retail sector, which can be attributed to in part to our CEO and founder, Peter Cruddas who started the online trading business in 1989. Today, CMC Markets in-house IT specialists are consistently looking to evolve our platform and mobile offering with each new leap in technology.