Introducing the NAB Pay digital wallet, winner of a 2017 Canstar Innovation Excellence Award.
The NAB Pay digital wallet was the first mobile banking app in Australia to use the new Visa Tokenisation Service to allow contactless smartphone payments and instant replacement cards in the app.
We are pleased to congratulate NAB on this innovative app feature, which has won a 2017 Canstar Innovation Excellence Award.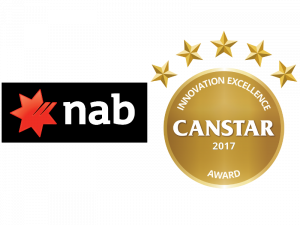 What is the NAB Pay digital wallet?
NAB Pay was released in January 2016 and is a digital wallet app backed by Visa. It was the first digital wallet created by an Australian bank to access the Visa Tokenisation Service mobile security platform.
NAB Pay competes against Apple Pay, Android Pay, and Samsung Pay as a digital wallet, which is a mobile banking app that stores the details of customer's credit cards and debit cards and allows contactless payments using just your smartphone.
What sets NAB Pay apart from other digital wallets and mobile banking apps is that it allows users to continue making contactless payments regardless of whether or not they have the physical card – be it a new card for a new customer or a replacement card for an existing customer.
For those who are currently in the process of getting their card replaced, the app automatically generates a new card number in NAB Pay so that customers can continue making payments even before a physical replacement for their card arrives in the mail. This is known as "instant provisioning".
With other digital wallets, when a lost or stolen card is reported, the app blocks the old card before updating the digital wallet with a new virtual replacement card.
Customers using NAB Pay also only need to have the phone unlocked to make contactless smartphone payments, with no need to enter a PIN to make a payment. Other banks' digital wallets require customers to unlock their phone, open the app, select their card, and enter a PIN number to make a payment.
In this way, NAB Pay offers customers speed, convenience, and control when making everyday purchases through their personal Visa debit cards and credit cards.
NAB uses a PayTag to access the Visa Tokenisation Service to enable contactless payments made using a smartphone. Tokenisation generates a new "fake" card number to be used for an individual payment, ensuring that if an EFTPOS terminal or smartphone is hacked, that particular card number cannot be used unless the thief has also stolen the smartphone.
Standout features
Customers with the NAB Pay digital wallet have access to a whole range of convenient banking features, including the ability to:
Use their Android device to pay for purchases under $100 via NAB Pay
Instantly receive replacement cards and provisionally-approved personal Visa credit cards for immediate use on NAB Pay
Temporarily or permanently block cards, and order instant replacement cards to use in the digital wallet
Block certain types of transactions, such as overseas transactions, contactless payments, and online transfers for personal Visa cards
Submit overseas travel itineraries, to ensure NAB is aware of their card's location and protect against fraud
NAB Pay is providing customers more control on how they want their cards being used, greater security to assist in reducing fraud, and the convenience of being able to pay without carrying a physical wallet.
Canstar's verdict
NAB is not the only bank to have released a mobile banking app that can be used to make contactless payments with your smartphone, temporarily block a card, or instantly issue a replacement card.
However, NAB Pay is innovative because it provides instant provisioning of replacement cards and contactless payments in the one app. NAB Pay was the first to do this using the Visa Tokenisation Service as the mobile security platform.
Every year, Canstar looks for the products being launched in the area of financial services to make our lives easier and more convenient. The products that Canstar judges to be the most innovative in their field are awarded a Canstar Innovation Excellence Award.
For more innovative and award-winning products, visit the Canstar Innovation Excellence Awards for 2017:
Canstar is an information provider and in giving you product information it is not making any suggestion or recommendation about a particular product. This information has been prepared without taking into account your individual objectives, financial circumstances, or needs. Before you decide whether or not to acquire a particular financial product you should assess whether it is appropriate for you in the light of your own personal circumstances, having regard to your own objectives, financial situation, and needs. You may wish to obtain financial advice from a suitably qualified adviser before making any decision to acquire a financial product. Please refer to Canstar's Financial Services and Credit Guide (FSCG) for more information, and read our detailed disclosure, important notes and liability disclaimer.
The inclusions mentioned represent a selection of what is covered at the time of writing. Additional terms and conditions may apply to different features. Additional fees may apply to the product. Please ensure that you read the product disclosure statement (PDS) to determine all the current options and inclusions for the product you are considering.