Do you shop online via your mobile phone? If so you're in the majority – unless you're aged over 35 in which case you're in the minority for your age group.
Who shops on their mobile?
According to research by ING DIRECT people are increasingly shopping on the go, with 43% of Australians overall shopping on their mobile phone in the past 12 months. This coincides with more than 50% of people saying they use cash less than they did 12 months ago, and expect to use it even less in the coming 12 months.
In terms of age breakdown, the ING DIRECT survey found – not surprisingly – that the younger we are the more inclined we are to shop online via our mobile phone. Even so, more than 1 in 5 of those aged over 55 use their mobile phone to buy stuff. The findings were as follows:
73.7% of 18-24 year olds
67.6% of 25-34 year olds
45.9% of 35-44 year olds
40.2% of 45-54 year olds
22.4% of those aged 55 and over
This propensity to buy online is driving our expectations in terms of business websites.
"Customers expect a site to be optimised for the mobile and are likely to leave a site within a few seconds on arriving if it isn't," said John Arnott, Executive Director, Customers, ING DIRECT. "Who likes trying to zoom in on text that is too small or trying to tap on links that are too close together?"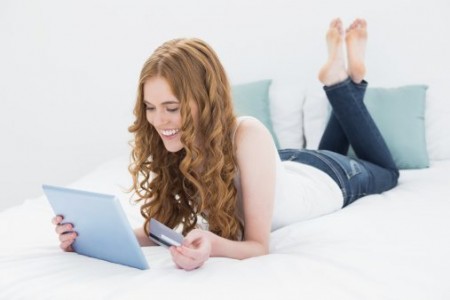 Passwords: put more effort into it
Keeping your money safe
One-click ordering is a lure for mobile shoppers, with 46% of ING DIRECT survey respondents saying they would be more inclined to shop with an online store if they save their payment details to make future purchases even quicker and easier. But while it may save time, it may also end up costing you more.
Mr Arnott commented: "Online shopping, and indeed mobile phone shopping, is great for ease and convenience, but consumers need to be careful they are not compromising value with the lure of one-click ordering. It's important to ensure you're getting good value and also a great experience."


Online shopping tax: yes or no?
One click shopping might be convenient – but what security issues should mobile shoppers think about? When it comes to shared devices, a few steps you can take to help prevent accidental or unauthorised shopping include:
If you have an Android tablet make sure you set up multiple user profiles (unfortunately iPad doesn't offer this functionality)
Don't tick the 'Keep me signed in' option when logging in to the shopping website and make sure to log-out of websites when you finish shopping. Most sites will have a timeout that will require you to log back in to your account if you are not active for a short period of time – commonly 5 minutes.
Make sure your device settings don't allow the automatic saving of passwords or credit card numbers.
Don't set up one click shopping if you think someone else (like your kids) could use the device. One click shopping saves you a short amount of time when you are at the checkout but may not be the best option if you use a shared device.
Choose passwords that are not easy for anyone else to guess… like your birthday or the name of your pet.
Don't select to save your credit card details with the shopping site.
"Most reputable e-tailers have customer centric refund policies that will quickly and easily refund any purchases made in error," said Mr Arnott. "You should get email notifications of a purchase made through one-click. If you notice anything make sure you get in touch with the retailer and with your bank."