The International Monetary Fund cut its forecasts for global economic growth for 2017, largely as a result of the BREXIT
"The Brexit vote implies a substantial increase in economic, political, and institutional uncertainty, which is projected to have negative macroeconomic consequences, especially in advanced European economies," according to the IMF's World Economic Outlook Update
"Brexit has thrown a spanner in the works," said Maurice Obstfeld, IMF Chief Economist and Economic Counsellor. And with the event still unfolding, the report says that it is still very difficult to quantify potential repercussions.
The IMF is anticipating that global growth will end up being 3.1% in 2016 before recovering to 3.4% in 2017. The forecast, revised down by 0.1 percentage point for 2016 and 2017 relative to April, reflects a more subdued outlook for advanced economies following the June U.K. vote in favor of leaving the European Union (Brexit) and weaker-than-expected growth in the United States.
It's not all about BREXIT though, with the IMF also citing other risks to its outlook, which could be further exacerbated by Brexit. It cited "unresolved legacy issues in the European banking system, in particular in Italian and Portuguese banks."
"Protracted financial market turbulence and rising global risk aversion could have severe macroeconomic repercussions, including through the intensification of bank distress, particularly in vulnerable economies."
IMF outlook around the world
The current IMF projections are as follows: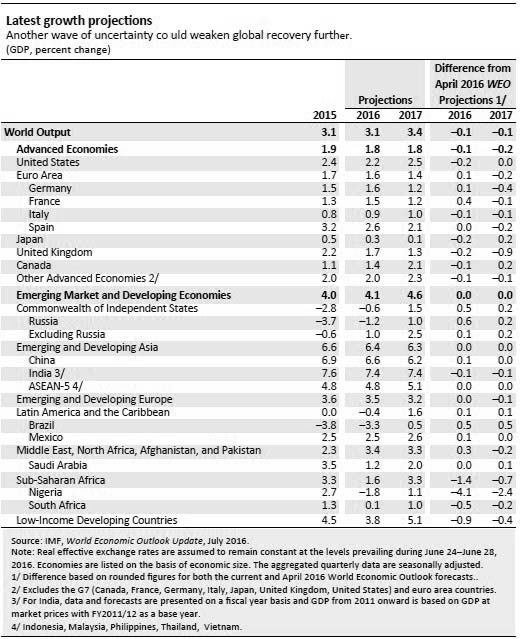 How is Australia faring
Currently Australia has low inflation, of 1.3% and a cash rate of just 1.50%.
The most recent reduction in Australia's official cash rate was in August 2016, tipped by a number of economists to likely be the last.
The Westpac-Melbourne Institute Consumer Sentiment Index for Australia has noted a fall of 3.9% in December 2016, from 101.3 in November to 97.3 in December. Westpac's Chief Economist, Bill Evans, commented:
"Over the last six months the Index has held in narrow range between 99.1 and 102.4. Over that period the Index has generally held above 100 indicating that optimists have slightly outnumbered pessimists (100 being the cut- off point). "However, today's result has jolted that air of stability and confidence. The Index is now at its lowest level since April this year when it printed 95.1."
Business sentiment, though, seems to be on the rise, with the latest Roy Morgan research finding that business confidence was up slightly in November.
"The strengthening Business Confidence is encouraging news for the 'large army' of unemployed and under-employed Australians. The latest Roy Morgan employment estimates by State show clearly that unemployment and under-employment are an increasing problem for Australia's smaller States," said Michele Levine, Chief Executive Officer, Roy Morgan Research.