How does performance differ between managed funds?
Every year when the Melbourne Cup rolls around, picking a winner is usually just a matter of the luck of the draw in offices that stop to watch the race. It's only those in the know, with industry insight into the training and racing history of each particular horse, who have the real edge.
Choosing a managed fund to invest in can feel the same way – just another lucky dip. But there's actually much more to it than that, which is why Canstar feels it is so important to research and rate managed funds on the market that provide outstanding value for investors.
The number one question usually asked by investors is how performance differs between funds. As our Methodology explains, we do rate performance by funds, among many other factors. And there can be a significant difference between the top-performing fund and the worst-performing. So what's really going on behind the scenes?
The past 10 years in the Australian economy
The past 10 years in Australia has seen the peak and decline of the mining boom, a fluctuating exchange rate, and rising house prices, but it has also benefited from low interest rates and low inflation.
In fact, Australia's economy had been growing at a steady rate for an astonishing 24 years straight, from the 1991 post-recession recovery until 2015, when growth at last began to slow. The Reserve Bank reports that no other developed country experienced such uninterrupted growth during the same timeframe.
The RBA attributes Australia's success over the past 25 years to several factors:
Quickly growing population
Well-placed to take advantage of the emergence of the Chinese market
Flexible economy
Rises and falls in the cash rate provided stability or stimulus when needed
Rises and falls in the exchange rate cushioned the domestic economy
Reforms to competition has made business sector become more outward-looking and competitive
Reforms of the financial industry made Australia more attractive for foreign investors
All of this has contributed to our survival through the trial-by-fire that was the GFC in 2008-2009. This event was undoubtedly the largest impact to hit managed funds in the past 10 years, and most funds have recovered slowly and are now distributing solid long-term returns.
Managed fund returns over the past 10 years
How much difference is there between the best-performing and worst-performing managed funds? We looked at the difference you can expect to see in long-term returns if you pick a 5-star rated, outstanding value product versus picking a one-star rated product, based on an initial investment of $10,000. Please note that this comparison is based only on the managed funds that Canstar assessed for its 2016 Star Ratings.
Please note that all information about performance returns is historical. Past performance should not be relied upon as an indicator of future performance; unit prices and the value of your investment may fall as well as rise. The results are general advice only and not personal product advice. If you look at any specific product, consider the product disclosure statement and seek advice from a licensed financial adviser before making an investment decision. See our detailed disclosure. Click here for additional important notes and liability disclaimer.
If you'd invested in a Multi-Sector Aggressive fund for 10 years…
There is a significant gap in returns between the 5-star rated product for Multi-Sector Aggressive funds and the worst-performing products. In fact, there's a difference of nearly $4,000 – or 25% – in their performance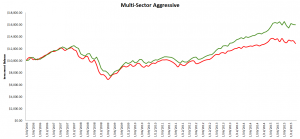 If you'd invested in a Multi-Sector Growth fund for 10 years…
The gap is wider for a longer time in this profile. As you can see, a 5-star rated product does a great deal better than some of the worst-performing products in the Multi-Sector Growth Fund category. That's about a $5,000 difference in returns – so you're roughly 28% better or worse off.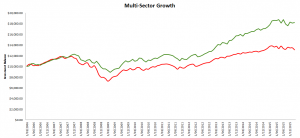 If you'd invested in a Multi-Sector Balanced fund for 10 years…
In a Multi-Sector Balanced fund, the difference in funds evens out a little. A Canstar 5-star rated product and the worst performers may be on average only $2,000 apart (about 12%) in returns over 10 years.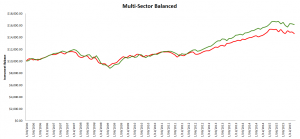 If you'd invested in a Multi-Sector Moderate fund for 10 years…
After 10 years, the gap between an average 5-star rated product and the worst performing Multi-Sector Moderate funds is roughly $1,000 or 6%.
Multi-Sector Moderate funds are known as having overall more stable returns as the investments are based on fixed income products and cash rather than the stock market. It would seem that this stability means there is not a great deal of difference in the interest rate returns you can earn between different Multi-Sector Moderate managed funds, based on the products assessed by Canstar.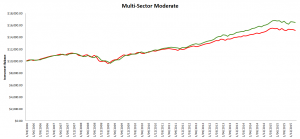 Which types of fund come out ahead?
One interesting result from the graphs above is that a 5-star rated Multi-Sector Aggressive fund has not, in the past, always performed as well over the long-term as a 5-star rated Multi-Sector Growth fund, depending on both the starting and finishing timeframe. This is perhaps because of the up-and-down nature of Multi-Sector Aggressive investments – they offer larger gains, but also larger losses.
Another interesting finding is that there is a larger gap between the 5-star rated and worst-performing Multi-Sector Balanced funds than there is for the 5-star rated and worst-performing Multi-Sector Moderate funds.
No matter your investment strategy, it is vital that you do some solid research, and also seek personal financial advice, before jumping into any particular fund. To get a good indication of a fund's long-term performance, look for their returns over at least the past 10 years.
Be sure to read Canstar's star ratings for managed funds and compare options that offer outstanding value for your investor profile. Please note that not all managed funds in the market are compared by Canstar, and the funds in the comparison tables above may not include all features relevant to you.