If you're a stay-at-home parent, you may assume that only your home's breadwinner needs life insurance – but so do you! Canstar and insurer
NobleOak
are urging Aussie parents to get covered.
In total, nearly 2 million people in Australia were out of the labour force to take care of the home, with 479,066 caring for children and another 1.29 million performing home duties (ABS, 2014). Most of these people are mums – 40% of women out of the workforce are caring for children or the home, compared to 10% of men out of the workforce (ABS, 2014).
Traditionally, women have filled the role of the stay-at-home mum, looking after the kids and the housework while their husband or partner went to work to earn an income to support the family. In the 21st century, while the person filling the role of homemaker could be a stay-at-home mum or dad, one thing hasn't changed – the need for adequate insurance to cover your family.
The birth of a child is the number one prompt for people looking into life insurance, with buying a home the second most common reason. But many Australian parents remain underinsured or not insured at all against major life events.
Looking for a life insiurance policy? See our comparision table below which features the current market offerings. Please note that this table is formulated based on a female policy holder aged 30-39 who is a non-smoker with a light manual occupation, and is sorted by our star ratings (highest-lowest) with direct links to the providers website.

How much is unpaid work worth?
If you were to pay someone to do all the things a stay-at-home parent does on a daily basis, it would equate to an annual salary of $36,688/year based on the minimum wage (TAL). It doesn't matter whether you are being paid – life insurance can cover those in unpaid work as well as paid work.
TAL Life Insurance recently valued the stay-at-home economy at $22 billion per year. The average stay-at-home parent works a 43-hour week according to TAL, which is more than the 40.6-hour week the ABS says the average full-time worker puts in.
This work – including childcare, cleaning, cooking, grocery shopping, errands, and more – could mean paying someone else to do it if the stay-at-home parent was unable to do their usual domestic duties.
This could cost tens of thousands of dollars per year.
If a family couldn't afford to pay, how would they cope financially if the breadwinner had to cut their working hours to help out around the house while the stay-at-home parent was out of action? Even if other family members could step in and help in the short-term, how feasible would it be for them to do this full-time, indefinitely?
In addition, many stay-at-home parents expect to go back to work when their children reach high school. If a serious illness or injury were to prevent them going back to work, it could mean a significant financial shortfall.
If you're lucky enough to know that you could at least get by in the short-term, it's still important to consider the long-term consequences. How would paying for household help, or the working partner cutting down their hours, affect your plans to pay off your mortgage, send your children to university, or fund your retirement?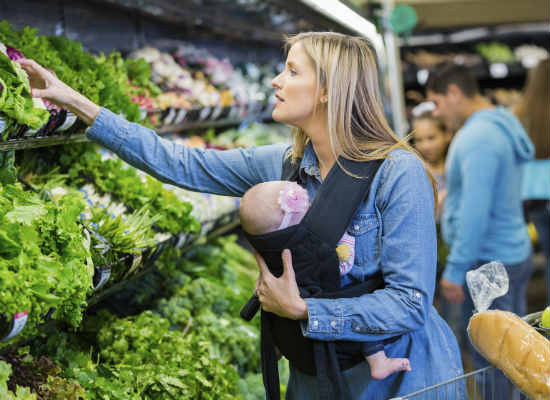 Why stay-at-home parents need life insurance
Many stay-at-home mums and dads underestimate the value of the financial contribution they make to their families. But as Anthony Brown, CEO of award-winning insurer NobleOak points out, "Not many families are so well off that they would be fine if either parent were suddenly unable to do their at-home work or paid work."
Life insurance can protect against financial loss in the event of a stay-at-home parent passing away (term life cover), becoming disabled (TPD cover), or having a critical illness or injury (trauma cover). Life insurance is designed to provide a set lump sum payment to the household to pay for things like a mortgage, medical bills, school fees, credit card debts, or even funeral arrangements.
Nothing can ever make up for the sudden loss of a loved one. But as Mr Brown points out, "Having adequate life insurance coverage in place for both the main income earner and their stay-at-home partner can provide financial peace of mind while you deal with the loss."
If the stay-at-home partner were to die or become seriously ill, the lump sum from their term life cover could be used to cover the cost to hire someone to look after the home and children. This means the main incomer earner wouldn't have to juggle taking care of the family full-time on top of continuing to work full-time.
"The need for life insurance for the stay-at-home partner is often underestimated by couples, and the consequences can be devastating," says Mr Brown.
In the event the main income earner were to die or become seriously ill, the payout from their term life cover could avoid potentially devastating consequences, such as the loss of the family home. It could also provide a financial cushion to assist while the stay-at-home partner locates paid employment, or while other avenues of income are considered and put in place.
How to buy life insurance for parents
Parents can use the Canstar website to compare term life insurance, TPD cover, and trauma cover policies that can be bought directly, without needing to go through a financial advisor.
Looking for outstanding value life insurance? In 2016, NobleOak won Canstar's Direct Life Insurance Award.
Canstar's Life Insurance Calculator can help you decide which types of life insurance cover you need, and how much cover may be appropriate for your family.
Sponsored products are paid advertisements and do not include all providers. Canstar receives a fee for referring you to the advertiser. Canstar is not giving you advice in relation to sponsored products.
Products displayed above that are not "Sponsored" are sorted by Canstar's Star Rating and then alphabetically by company. Canstar may receive a fee for referral of leads from these products. See How We Get Paid  for further information. If you decide to apply for Life insurance, you will deal directly with an insurance provider, and not with CANSTAR.
Consider the provider's detailed product and pricing information before making a decision to purchase a policy. The products displayed on this page do not include all providers and may not compare all features relevant to you. View the Canstar Life Insurance Star Ratings Methodology and Report. The rating shown is only one factor to take into account when considering products.
For more information, read our detailed disclosure, important notes and additional information.. Any advice on this page is general and has not taken into account your objectives, financial situation or needs and is not a recommendation for your particular circumstances. Consider whether this advice is right for you. You may need financial advice from a qualified adviser.
The Star Ratings in this table were awarded in SEPT, 2016 and data is as at that date, updated from time to time to reflect product changes notified to us by product issuers.
People who seek to replace an existing income protection or life insurance policy should consider their circumstances, including continuing the existing cover until the replacement policy is issued and cover confirmed.