OnePath's first-to-market Pre-Assessment Wizard (PAW) has been awarded one of Canstar's 2018 Innovation Excellence Awards due to its potential to improve the quoting process for life, total and permanent disability (TPD), trauma and income protection insurance.
ANZ OnePath's PAW was one of a select number of Australian products within the financial services industry recognised and celebrated by Canstar through its annual Innovation Excellence Awards for making life easier for consumers.
The PAW was developed by ANZ to assist financial planners when obtaining information on the likely cost of life insurances for clients with specific known medical conditions, usually providing an indication on the spot.
Currently, a financial planner looking to determine the likely cost impact of a specific medical condition on their client's insurance will typically submit an enquiry to the insurance underwriter. As the underwriter requires time to assess information regarding the client's personal situation, a response often takes 48 hours or more.
In contrast, the PAW was designed to make this process more efficient by preloading indicative underwriting outcomes for over 300 commonly encountered medical conditions, such as diabetes, muscular-skeletal problems, high cholesterol and many forms of cancer. The financial planner provides information about the customer (such as age, gender, smoking status and occupation) and can select up to six relevant medical conditions before receiving a price indication. This means rather than waiting hours or days, the financial planner could receive a quote on the spot to discuss with their customer.
This software is currently offered free for OnePath financial planners and ANZ say it can be used on computers, tablets and phones.
Canstar Research recognised how the PAW enables financial planners to have more meaningful interactions with clients with on-the-spot responses better setting client expectations, helping them increase conversion rates and improve overall satisfaction.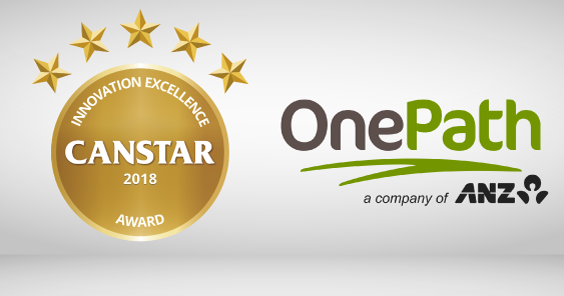 Canstar's Innovation Excellence Awards methodology
Every year we invite Australian financial institutions to apply for Canstar's Innovation Excellence Awards by putting forward their most progressive products.
When assessing each product, Canstar Research gives a 60% weighting to the degree of innovation, which largely measures how unique and disruptive the product or service is within the current market. The remaining 40% weighting examines how many consumers within the target market are affected, the product's affordability and ease of use and the extent to which the innovation improves or affects the consumer's daily life.