Introducing the MLC Pre-Claim Early Engagement Service, winner of a 2017
Canstar
Innovation Excellence Award.
MLC has introduced an early prevention program designed to protect both employees and employers from the effects of complex injury or illness cases.
We are pleased to congratulate MLC on this innovative service, which has won a 2017 Canstar Innovation Excellence Award.

What is the MLC pre-claim early engagement service?
'Pre-Claim Early' is a clinical unit within MLC Life Insurance that looks after high-risk or complex employee injury or illness cases.
The goal of this service is to reduce long term illness, disability, and duration of claims processes for customers and members, enabling them to return to work faster.
This service is not an early lodgement of a claim, or early access to a claim benefit. It is solely focused on helping the customer with all aspects of their wellbeing, including all bio-psycho-social aspects.
The service collaborates with employers to tackle long-term work absence before a claim eventuates, enabling customers to return to work faster, stay at work, or support those who are terminally ill.
Considering a life insurance policy?
We can help. Easily compare from 20+ insurers to find a policy that meets your needs.
MLC uses what's called a Systematic Early Intervention approach, where MLC provides case management and a collaborative expert team of doctor, psychologist, and rehabilitation consultant to "walk alongside" the customer.
The MLC case management team also keeps in touch with the customer's manager so that they are engaged and informed and can create a realistic return-to-work plan. The team also provides a post-care plan for 3 months following the customer's return to work.
For customers who have lodged a claim with MLC Life Insurance or are in their waiting period, the MLC case management team can provide additional rehabilitation support.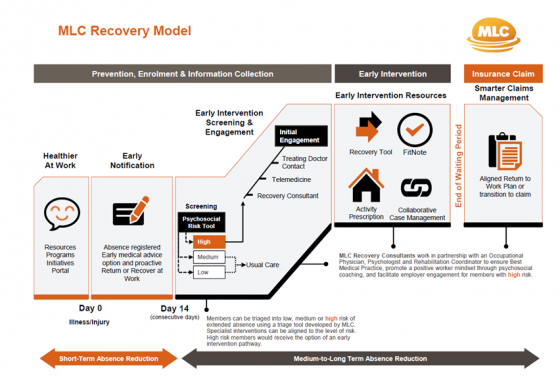 This product was initially launched only for group insurance customers (those who hold life insurance through their super fund), but has now been opened up for all MLC life insurance customers.
Cansatr's verdict
MLC is a winner of an innovation excellence award because unlike current market options that target post-claim rehabilitation issues, MLC's program focusses on early prevention in the pre-claim stage. According to MLC, they are the only life insurer that offers holistic early intervention prior to claim, whereas other competitors only arrange for occupational rehabilitation after a claim has been made.
Every year, Canstar looks for the products being launched in the area of financial services to make our lives easier and more convenient. The products that Canstar judges to be the most innovative in their field are awarded a Canstar Innovation Excellence Award.
For more innovative and award-winning products, visit the Canstar Innovation Excellence Awards for 2017: