Canstar speaks with Trov CEO and Founder, Scott Walchek, on how Trov is revolutionising the way people insure their valuables.
There are around 4.5 million Australians who rent properties in Australia – and according to the Insurance Council of Australia approximately 63% of these renters do not have contents insurance, leaving them financially exposed in the event of a burglary or natural disaster.
One issue for renters is that most contents insurers apply a minimum sum insured value to contents that is potentially much higher than the required value for renters with few assets. For example, a minimum level of contents insurance cover is often $25,000 – but if your only valuables are a Macbook, tablet and smartphone, many renters may decide that the cost of insuring these items outweigh the benefits of protection.
This is an issue that Trov founder, Scott Walchek, is aiming to provide a solution for, with on-demand insurance for specific items, costed on an item-by-item basis. The solution has quickly impressed Suncorp, with the insurer buying a stake in Trove in early 2016 and making Trov available to its extensive database of insurance clients.
Please note that Canstar is an information provider and in giving you product information Canstar is not making any suggestion or recommendation about a particular product. If you decide to apply for a product, you will deal directly with a financial institution, and not with Canstar. Rates and product information should be confirmed with the relevant financial institution. For more information, read our detailed disclosure, important notes and additional information.
So how does Trov work?
Trov works via an app that is designed with intuitive simplicity. Once you download the Trov app, you scroll through the items under each category to determine which items you have and would like to cover. Once you decide to cover a selected item, you swipe the item right and press the 'Protect' button that appears. The amount the item is covered for is shown below the image of the item, and is calculated based on what Trov's data partners estimate it would cost to replace the item.
There are no minimum number of items that you need to insure and no minimum insured value.
It's all about the swipe….
It appears that the core objective of Trov is to make the insuring of your valuables as flexible and easy as possible. To this end, insuring an item is only a right swipe away, and making a claim is also just a right swipe away. And just like the process to inflict rejection on Tinder, if you no longer wish to protect an item, it's a swipe left.
What are the benefits of using Trov?
You're in control. From protecting an item to making a claim, it can all be done instantly through the app. And users know that their premiums are based only on what they want covered, so if it $2,000 worth of coverage, your premiums are based on this and not $25,000 or any other relevant minimum amount insured imposed by the insurer.
The protected value of your insured items are constantly reviewed and updated, which is a side benefit of having Trov data partners determine the replacement value of your protected items. By doing this, it eliminates the very real risk of becoming underinsured, through the cost of replacing your items increasing by the effects of inflation. That said, users should also periodically review their insurance policies and update their coverage.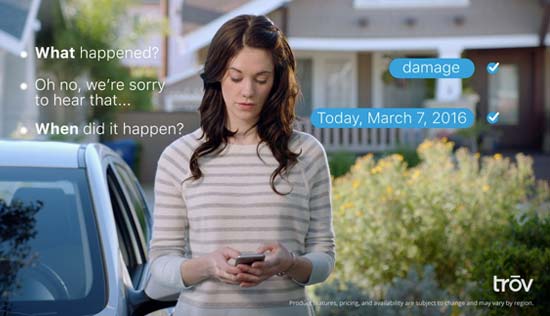 Trov questions answered…..
Trov provides a very comprehensive FAQ section, which can be located here: Trov FAQ
Q&A with Scott Walchek – Trov Founder and CEO
Canstar posed some additional questions to Trov CEO and Founder, Scott Walchek, with his answers shown below.
Q: How did the idea for on-demand item protection come about?
A: On-demand is the zeitgeist of the mobile-generation. Services and products as diverse as banking and entertainment are being delivered up with a single swipe or tap on a smartphone, and the modern consumer expects that convenience and control. So on-demand is the natural progression when you put the digital consumer first.
Q: What makes people want to switch insurance coverage for items "on and off" whenever they like?
A: Personal agency ("I control my world through my smartphone") is at the heart of the transformation of financial services in general, and now insurance more specifically. The generation that streams their entertainment to their phones by the second, receives financial advice from robots, and orders dinner to their doorstep with a swipe, will not settle for the arcane practices of an industry born at the time when the steam engine was first patented.
The connected consumer will express their personal agency by that require them to insure items they don't care about at times they don't need them, and with lengthy contracts that require a law degree to comprehend.
Q: Which people would benefit most from this concept and why?
A: Increasingly, people are living their lives untethered – free of fixed place like an office, and ever more dependent on a few things that empower their passions and uniqueness. Everyone from students to travellers to workers are living an increasingly untethered life and are looking for that extra source of freedom that supports their lifestyle.
Q: Why have you chosen Australia to be the launch country for Trov?
A: This decision was threefold. First of all, Australia has one of the highest rates of mobile technology penetration in the world. There is also only one industry regulatory body in Australia, as opposed to one per state in the US. And finally, we've received an overwhelming amount of support from Suncorp, whose forward thinking has allowed us to seamlessly enter the Australian market first.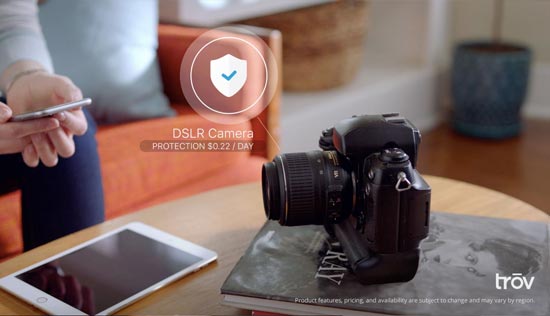 Q: Currently only electronics can be covered, will other categories be added in the future?
A: We'll be adding more products and categories available for coverage in the coming weeks, so soon you'll be able to cover cameras, sporting equipment and basically any of your contents.
Q: How are premiums calculated? What sort of user information do they take into account?
A: Today, Trov calculates the premium based on three inputs: the value of the item being protected, information about the Trov user including location, age, gender, and employment status, and the amount of excess selected by the user. Over time, Trov's algorithms will become more efficient as usage data is captured and fed into the model.
Q: Is there a universal set limit for each person, or does the limit change for each person based on their profile?
A: Today, personal and categorical limits are set by our underwriting partners. The initial limit is $5,000 per individual. As the corpus of data increases and our pricing algorithms become more accurate, those limits are likely to increase.
Q: What about the threat of insurance fraud? How will claims be verified?
A: Unfortunately today fraud is unavoidable in most forms of personal property insurance. So, another way to frame the question might be "will Trov's convenience and control increase the incidence of fraud?" To that we answer, "we think so", and in that assumption is a design directive to build the dual capabilities to identify and mitigate fraudulent activities. This is successfully accomplished in several ways on the platform. Furthermore, to give our underwriters greater flexibility, we have enabled several fail safes that allow them to set limits of exposure, flag aberrant behaviours, and even selectively deny coverage to bad actors.
Q: Do you have any thoughts on how this new concept could impact the insurance industry?
A: If we're successful, we'll have helped a generation experience the benefits of protecting just the things that matter to them, when they need them, for as long as they'd like. And we'll surface "insurable moments" in ways never before possible.
Suncorp's partnership with Trov means that the Group underwrites Trov's insurance risk in Australia.