Opinion: General Manager of Wealth, Josh Callaghan
It's that time of the year where things are starting to slow down. For many of us, it's been another long year and if you're like me, you're already starting to salivate over the thought of the Christmas ham.
Before we hang up our investor hats for the year, I wanted to see whether the markets have delivered an early Christmas present in the form of the 'Big Four' banks – ANZ, CBA, NAB and Westpac.
The Big Four have each lost between 10% and 20% of their market value so far this year, and their share prices have fallen by around the same amount. There have been a number of factors that have likely contributed to the sell-offs, including the royal commission, the rising cost of capital, increased scrutiny on lending practices and house prices cooling off in many parts of the country. However, each of the banks have forecasted in their annual reports that their the revenues and earnings per share (EPS) will grow over the next few years.
So, I thought I'd do some digging with the help of Peter Cohen from Leyland Private Asset Management, to see whether he believes shares in the big banks may represent value right now for some investors.
What are the brokers saying?
First though, let's have a quick look at some stockbroker recommendations on the Big Four banks. While I don't put a lot of weight on broker recommendations individually, looking at an aggregate can help to see what the general consensus is.
Firstly, it's clear that on the aggregate, brokers are seeing value in the big banks, with 'Buy' recommendations being the most popular on the 13th December.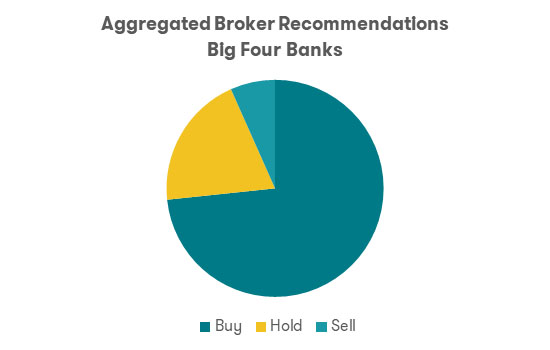 When we break that down further to the specific recommendations associated with each of the big banks, we can see that ANZ and NAB are the most popular buy among brokers.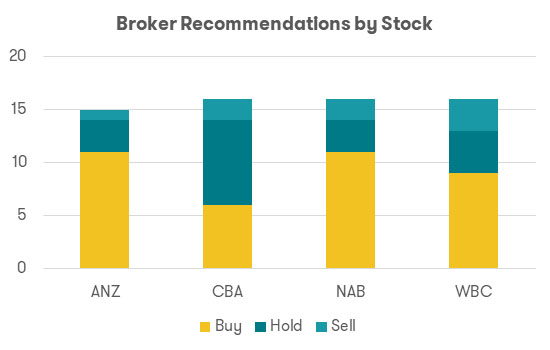 Bear in mind, though, that broker recommendations alone are just a guide, and so let's have a look at some of the factors that might be driving those recommendations.
Yield
It's probably no surprise that banks are often seen as a yield play, due to the fact that they are typically highly profitable businesses with a long history of paying that out in the form of dividends to shareholders.
The below table shows the banks' gross yield for FY19, which represents the dividends paid to investors as a percentage of the current share price before franking. This makes it easier to compare to a term deposit rate or other interest rates you might see in the market, although bear in mind that shares are seen by some investors as more volatile than term deposits or other cash-based investments such as savings accounts.
| | Gross Yeild (FY19) |
| --- | --- |
| ANZ | 9.06% |
| CBA | 8.81% |
| NAB | 11.55% |
| WBC | 10.64% |
Source: Bloomberg at close on 13/12/18
"The gross yield spread of the Big Four vis-à-vis the 1.5% RBA cash rate is presently at historic highs, indicating value for money investing in bank shares today for some investors.  Either park your money at 2% interest, or own a stake in the bank at 10%," said Mr Cohen
Yield will be interesting for some investors, but for other investors, stocks need to also be able to provide some capital growth in order to be considered good value, but it's important to consider what's right for you.
Related article: Explainer: What are Dividends?
Capital Growth
The Price Equity (PE) ratio is always a good place to start when considering the current price and for the banks, they're looking low.
| | PE (FY19) |
| --- | --- |
| ANZ | 10.9 |
| CBA | 12.7 |
| NAB | 10.4 |
| WBC | 10.8 |
Source: Bloomberg at close on 13/12/18
With the long-term average of the ASX200 at a PE of 15, these multiples suggest that the banks may have some room to move on the upside.
Looking back five years, we can see that all four banks have pulled back from their highs recorded in around March/April of 2015.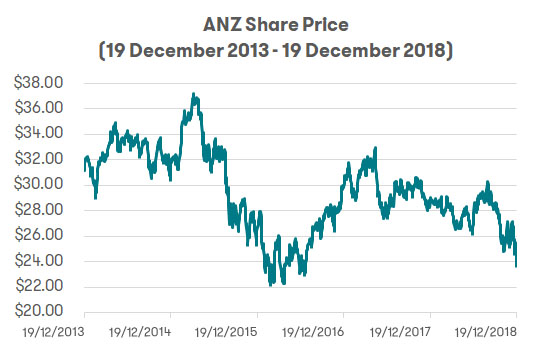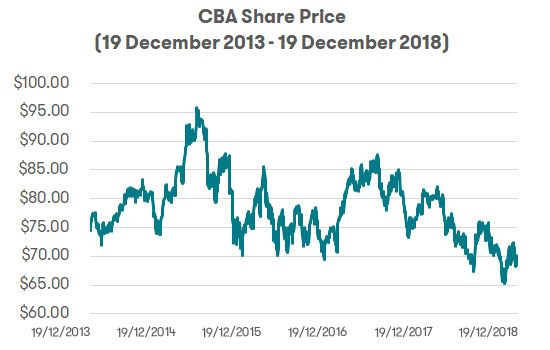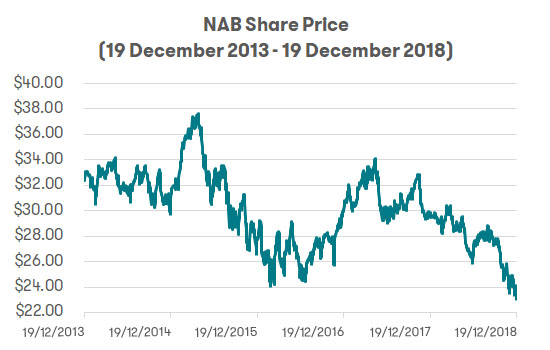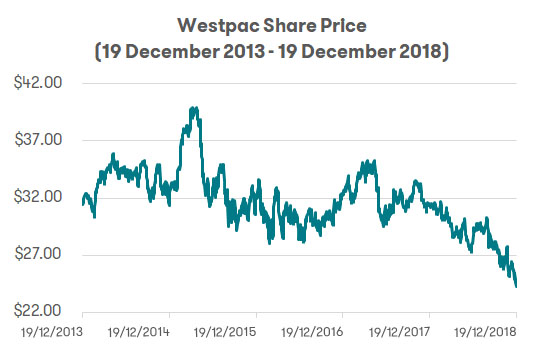 While this may not mean that they'll head back to conquer new highs any time soon, it can give investors some confidence that the market has previously been comfortable with higher share prices for each of the Big Four banks.
Mr Cohen added that "the Big Four historically trade at a 20% discount to the All Industrials Index.  This discount has nearly doubled to just under 40%, rewarding investors allocating risk capital to the sector."
Related Article: 5 of the Most Common Financial Ratios
Headwinds at play
It's been a whirlwind year for the major banks, and while the ongoing royal commission has uncovered a few scandals in the industry, there was also a Productivity Commission report released in August, and three of the Big Four banks sold off at least parts of their life insurance and/or wealth businesses.
It's becoming difficult for Investors to ignore some of the banks' specific headwinds that have started to blow, and should consider forming a view on the factors they believe will have an impact on value, and the extent to which this may affect their investment decisions.
"Shares in the Big Four banks are certainly not without risk (nor is any share listed on any stock exchange anywhere), particularly in the context of the current royal commission.  While relative valuation is attractive, investors are facing RC fallout uncertainty. Namely, higher capital requirement ratios, onerous additional regulation and falling return on equity.
"Furthermore, a backdrop of falling house prices in Sydney and Melbourne does not inspire a wave of confidence for some investors when looking at shares in Australian banks.  That said, the Big Four remain good (if not great) businesses integral to the day to day and long-term functioning of the national economy.  The risks posed to Aussie banks is captured in the discount on offer in the market and in my view their shares represent good value for money," said Mr Cohen.
As always, it's important to take into account your own personal circumstances and objectives before making an investment decision.
Merry Christmas!
---
About Josh Callaghan
Canstar's General Manager for Wealth, Josh Callaghan, has accumulated more than 15 years' experience in banking and finance, with in-depth product knowledge across retail banking, stockbroking, life insurance, health insurance and superannuation. Josh's experience combined with his passion for new technology and active role in the fintech community has positioned him as a credible thought-leader on the future of finance. Through his work at Canstar, Josh is striving towards a goal of creating a world where building and managing wealth is easy for all consumers.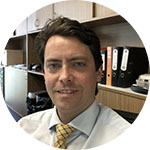 About Peter Cohen
Peter Cohen is a portfolio manager at Leyland Private Asset Management Pty Ltd (AFSL 223419). Leyland is a privately owned, boutique investment manager servicing family offices, high net worth individuals, professionals, business owners and self-managed super funds.