Opinion: Canstar's General Manager of Wealth, Josh Callaghan
A quick sample of recent market-related news stories suggest to me there is a growing concern that the next big stock market crash is just around the corner. So, in the case of a market crash, here are four things investors can do to lessen the affects.
First though, is a market crash on its way?
A favourite pastime of some market watchers is to try to predict the fall, both when and why. History tells us that the market tends to run on roughly 10-year cycles. So, as we look back on the 10th anniversary of the collapse of Lehman Brothers it's no surprise that the bears (those who are pessimistic about the given state of the market) seem to be getting a lot of airplay.
Although, from the perspective of the bears, it's also easy to see why there is some pessimism at a broad level.
The US market has had a more or less unrestrained ascension with the Dow Jones index up 70% over the past five years, and the technology-heavy NASDAQ up a whopping 115% in the same time period.
For many years now, interest rates in the developed world (particularly in the US) have been low, really low. This has provided very favourable credit markets, and if we've learned anything from the GFC, it's that money managers love debt.
The Eurozone is still relatively brittle with the full impact of the Brexit still to come, plans to withdraw stimulus measures and interest rates are still near zero.
China's growth may be slowing and Trump-led trade rhetoric adds uncertainty to the future of global trade.
And these are just the big themes. There are a bunch of other country, sector and fundamental analysis that can be used to paint a bleak global picture.
Further to this, the markets have seen a large-scale shift towards computerised trading which according to Art Hogan, Chief Market Strategist at B. Riley FBR, accounts for 50-60% of market volume in the US and up to 90% in volatile markets. This potentially means that when prices do start to move, the market may react differently and potentially more sharply than when individuals are making the decisions. We have already witnessed a number of market events such as the 2010 flash crash which wiped over one trillion dollars of equity in around ten minutes as a result of computerised trading.
Dow Jones Industrial Average on May 6, 2010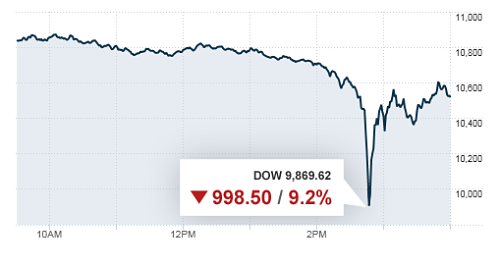 This is where some readers are waiting for me to bust the myths and reassure them why all of the above is unimportant. Unfortunately, in the case of when the next market crash is coming, or if there will even be a crash, I'm just as clueless as all my friends on Wall Street. Yes, there is likely to be a correction at some point, but will it happen well into the future? Will it happen quickly? Will there be a single catalyst for the crash, or will investors softly readjust stock values to account for new economic data? Who knows.
The point is that markets go up and down, and investors should not feel powerless in either situation.
What can investors do?
Any seasoned investor will attest to the value of discipline in investing, and this is usually more crucial when the market is moving against you. Here's the four things that investors can consider to help prepare for a market crash and stay in control.
Redo your sums
One of the disciplines of investing is calculating what you deem to be the fair price of an investment. Review each of the investments in your portfolio as new information comes out to understand the three critical price points of any investment: buy price, current price and fair price. If the market changes and your fair price starts to float towards your buy price, then there may not be the same level of growth available in that investment. Therefore, it might be time to exit. If the current price is well beyond your fair price, then it could be worth taking some of that value off the table, and locking in the profits while you can.
Set a sell price
While you have the calculator out, consider what your exit plan is by calculating the price at which you'd be willing to sell if the market did start falling away. This sell price may be higher or lower than your buy price, and will largely depend on how confident you are in that investment's long-term returns.
Once you have your sell price, find a way to be automatically notified when your investment is close or hits that price. Most online share traders have the ability to set up price notifications. If they don't, then you may want to look for a watchlist app that can send push notifications to your phone or email.
Consider having some cash ready
Market corrections can be a great time to pick up some undervalued investments as prices fall. If you have a few investment ideas that currently are a little too pricey, then waiting in the wings with some cash at the ready may be a good way to get in at a good price. Furthermore, it can give you the option to gain through dollar cost averaging.
Keeping some cash on the sidelines can be as easy as delaying the planned new car upgrade, holding off buying your next toy or just squirrelling away a few dollars into your savings. For those who have a home loan, you might consider leaving some cash in an offset account so that you can benefit from the reduced interest on your loan.
Consider your investment time horizon
Market corrections tend to have the biggest impact on those that need the money in the near future, such as those approaching retirement. As investors move closer to the time that their money will be needed, it can be worth reconsidering how exposed their portfolio is towards risky assets that tend to fluctuate in value. Managing that exposure by selling down some profitable positions and replacing them with lower risk assets could be a good way to achieve a smooth ride towards the end of your investment horizon.
Final thoughts
Riding out the down periods in a market can be nerve wracking, but doing a little hard work up front can help give investors a steady hand. One of the most common investment mistakes made during the GFC saw investors selling their shares once the market had already crashed. Once you've cashed out, it not only locks in any losses in value but also ensures that you can't get any of the potential rebound in price. Considering the tips above may help investors avoid this.
No one has a crystal ball when it comes to the markets. However, you can be prepared for the worst which could help to minimise the impact of any major downturns, allowing you to get on with more important things in life.
Want to keep on top of market movements and the latest investment news? Follow Canstar Investor Hub on Facebook and Twitter, or you can sign up to our newsletter below. 
Cover Image Source: Nokwan007 (Shutterstock)
---
About Josh Callaghan
Canstar's General Manager for Wealth, Josh Callaghan, has accumulated more than 15 years' experience in banking and finance, with in-depth product knowledge across retail banking, stockbroking, life insurance, health insurance and superannuation. Josh's experience combined with his passion for new technology and active role in the fintech community has positioned him as a credible thought-leader on the future of finance. Through his work at Canstar, Josh is striving towards a goal of creating a world where building and managing wealth is easy for all consumers.