Canstar catches up with Dev Sinha, Director of Investment Products, to discuss how Macrovue makes global investing easy.
If you were to ask most fund managers how they go about constructing their client's portfolios, you would likely hear common answers, such as 'we look for companies that are growing, those that have a high ROE, companies with good management, value companies with low P/E' and so on. Any companies that satisfy this requirement are candidates for portfolio inclusion. And in the interests of diversification, portfolios are likely to be constructed with companies from different industries, albeit not necessarily from different countries.

But what if you're sold on an idea, such as: 'the population is ageing and as such, companies servicing this need are likely to perform well'. Wouldn't it make sense to research those companies that provide services to the aging population and determine which are the best? There has traditionally been a hesitation towards such an investment approach due to the likelihood that portfolios will not be diversified.
However, investors preferring this strategy can attempt to alleviate this concern in two ways. Firstly, companies that cater products to a theme, such as an ageing population from the above example, can be quite disparate in nature. For example, certain pharmaceutical companies, real estate developers specialising in aged care accommodation, and travel companies specialising in older age group tours that offer premium class travel and accommodation, all cater to an aging population but are quite different in nature. Secondly, companies that cater to this theme span the globe and as such, any global company can be considered for investment, helping to diversify the portfolio.
What is Macrovue's approach to investing?


Macrovue's approach to investing is known as thematic investing. This approach centres on investing around a theme, global trend or idea. Macrovue has a team of research analysts that look to construct portfolios of ten stocks, and make sure that they scout the world to find the best companies in which to invest.
This approach should appeal to do-it-yourself investors who are looking for a new method of investing that deviates from traditional approaches, whilst retaining the core elements of responsible investing, such as adequate diversification.
Discussion with Dev Sinha, Director of Investment Products


Canstar caught up with Dev Sinha, Director of Investment Products, to discuss Macrovue and the their approach to investing in more detail:
Q: There are a number of platforms that offer consumers suggested portfolios based on the consumers investment objectives. Why would a consumer choose Macrovue over other competitors?
A: Macrovue is a share trading service that make international markets more accessible to everyday Australians by building portfolios around a core theme or idea, that we believe has longer term potential. The consumers decide for themselves which themes they are interested in investing in. Unlike robo-advisors, we do not attempt to provide solutions based on investor profiles.
Our clients can invest in and track customisable global portfolios (which we call Vues) comprised of company stocks or exchange-traded funds with the click of a button via a secure, easily navigable platform.
Our value proposition addresses the needs of self-directed investors, especially SMSF investors, who are looking to diversify their portfolios by adding exposure to overseas shares. We provide the flexibility and market access they need.
Some of our key differentiating features include: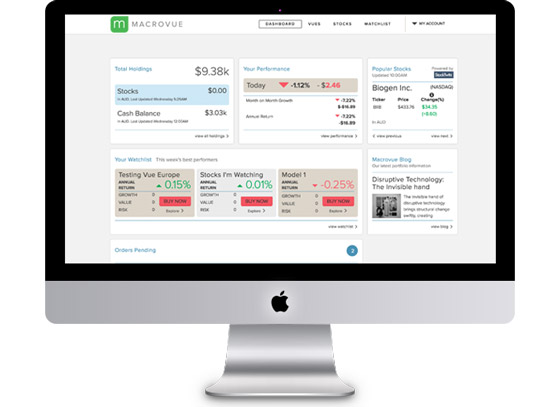 1. We take the complexity out of global share investing
Thematic portfolios: We research emerging investment themes and trends globally and create customisable portfolios such as the Internet of Things, global obesity and ageing in developed economies. Clients have complete discretion in customising Vues – adding or deleting stocks as well as capital allocation across securities.
Simplified FX: We take care of the relevant currency conversions and display values in Australian dollars to avoid confusion.
End of year tax reporting: Macrovue provides a comprehensive end-of-year tax report, which simplifies filing income tax returns for our clients.
2. Greater transparency
We provide detailed performance analysis, enabling clients to understand the contribution of capital gains, income and currency fluctuations to total return.
3. Control & Flexibility
Create a portfolio from scratch: Clients have the ability to create their own portfolio from scratch, using our stock screener & filter, choosing from over 20,000 securities across 18 different countries. These include major markets like the US, UK, Eurozone, Singapore, Japan, Hong Kong and Australia.
Single stock trading: Clients can also buy and sell shares of companies similar to traditional brokerages.
Competitive pricing: Our brokerage commissions are very competitive, starting from $15 per trade (additional taxes and FX and other fees may apply).
Q: How large is your research team?
A: We have a team of five research analysts (including full- and part-time team members), who research emerging themes and related companies as well as write content.
Q: How often do your stock valuations get updated?
A: The stocks in the Vues are reviewed once a quarter or if necessitated by a market event. If post-review, we decide to rebalance (i.e. switch stocks in and out of the Vue) we communicate the change to relevant clients, suggesting they make a similar adjustment. We do not force a portfolio rebalance, simply suggest it.
In the context of this question, it may be worthwhile to give you an insight into the Vue creation process at Macrovue. We follow a structured three-stage process to construct each Vue. While there could be some variations in the process depending on the specific theme or trend, we endeavour to follow a disciplined Vue construction process.
Stage 1
Identifying a theme & creating a list of relevant companies
We identify a global theme or trend that we believe makes a compelling long-term investment story. We do initial research via industry reports, research newsletters, third party research reports and other relevant publications. Once we decide on a theme, we create a list of stocks which have exposure to the theme. This list could span multiple industries/sectors depending on the value chain.
Stage 2
Quantitative model to help shortlist companies
We have developed a proprietary multi-factor stock selection model to enable us to rank stocks by attractiveness. The model examines the universe of stocks based on fundamental and technical factors and provides quintile ranks – ranging from 1 (most attractive) to 5 (least attractive).
Stage 3
Fundamental overlay & final 10
Finally, in the third and final stage of the process we do a fundamental overlay to create the 10-stock Vue. Apart from the near-term fundamental outlook for a stock, we also consider other factors such as geographic and sector diversification within the Vue.
Q: Which sectors do you look to research and invest in?
A: Our research initiatives are theme driven as opposed to sector driven and can span different industries within the same theme. For example, our Vue created around global obesity includes apparel retailers (consumer discretionary), companies producing type-2 diabetes drugs (pharmaceuticals) as well as health food and nutrition companies (consumer staples).
To ensure the quality and rigour of analysis and information, at this stage, we plan to have no more than 20 Vues on the platform.
Q: Does Macrovue follow an active or passive investment methodology?
A: Macrovue does not take sides in the active versus passive investment debate. We offer Vues which are active in nature, but a client could just as easily make passive investments by buying single ETFs or construct a balanced Vue (portfolio) with ETFs through our website.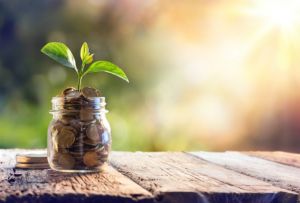 We believe that our focus on thematic baskets makes sense for individual investors for three reasons. First, investors are more likely to be familiar with and identify with certain global trends and themes – they tend to make more intuitive sense. Second, investors typically are not as familiar with international stocks and hence are likely to hesitate in making individual stock trades internationally. Third, investing in a basket of 10 stocks reduces the stock specific (idiosyncratic) risk that is present when buying only one stock.
Q: How much does it cost to use Macrovue?
A: Macrovue charges brokerage fees starting at just $15 for all the global stocks available through our website. Single stock trading is available to all clients for no fees or minimum trade requirements. Access to our research and premium features will incur additional charges.
Q: Can Macrovue be used on tablets and smartphones?
A: Yes, the Macrovue website is responsive and can be used on tablets or smartphones as well. We will be developing an iOS/Android app in the future.
Compare ETFs
Note: ETFs are considered by ASIC to be complex financial products. Some types of ETF are more complex and risky than others. For more information on ETFs and risks associated with them, see ASIC's Moneysmart website
Any information on this page is general and has not taken into account your objectives, financial situation or needs. Seek advice from a licensed financial adviser before making any investment decisions. See our detailed disclosure.
Canstar is an information provider and in giving you product information Canstar is not making any suggestion or recommendation about a particular product. If you decided to apply for a product, you will deal directly with a financial institution, and not with Canstar. All product information should be confirmed with the relevant financial institution. For more information, read our detailed disclosure, important notes and additional information.