The Australian equity market has closed out a solid financial year with the ASX 200 finishing up 8.3% following a strong finish in the second half.
The ASX was trading in a very tight range in the first quarter, before catapulting higher in October following the payment of record high dividends and improving business conditions and profitability. The passage of tax reform in the US in late December and strong macroeconomic readings across the global economy may have helped buoy overseas markets to new highs towards the end of the calendar year, helping push the ASX higher.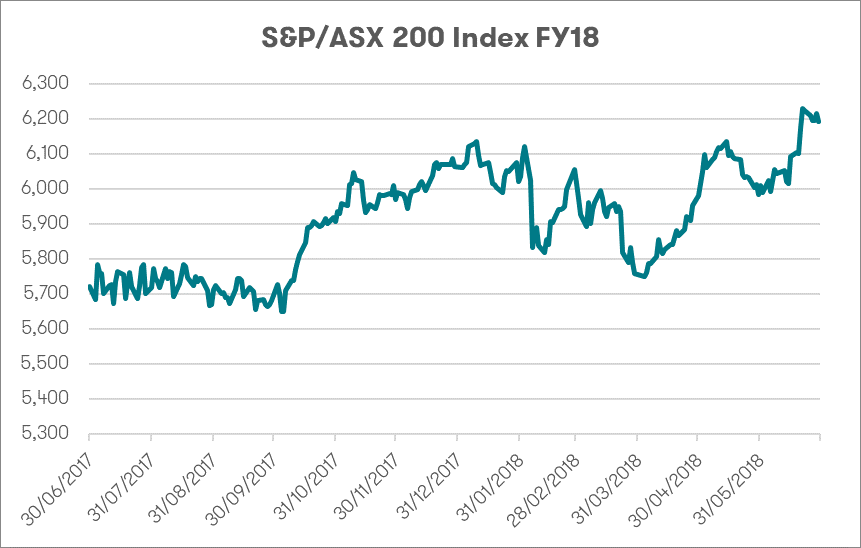 The second half of the financial year saw much greater volatility as the market initially lost steam. This may have been due to concerns around rising inflation and interest rates in the US and fears about a potential trade war. Rising commodity prices and a weakening Australian dollar lifted the ASX 200 to a 101/2 year high towards the end of the financial year.
Looking across the market, most sectors finished the 2018 financial year in the green. The telecommunication services index was dragged lower by a 39.1% fall in Telstra. The telecom giant continues to struggle with increasing competition and declining profitability. Financials remained subdued following the Banking Royal Commission, while the Energy and Resources indices soared possibly due to higher energy and commodity prices.