Canstar catches up with Boomeringo Founder and CEO Shammika Munugoda to discuss Boomeringo, a software platform that helps to manage your personal finances.
I'm sure we've all experienced a time when we've looked at the printout from the ATM machine and wondered where our money has gone. And for some of us, working out the answer to this question would involve delving into multiple piles of disorganised paperwork and bills. This is a dilemma that personal finance manager (PFM) software platform Boomeringo want to solve.
What is Boomeringo and how does it work?
Boomeringo is a software package that makes tracking your spending simple, allowing you to better manage your personal budget. You can read all your spending and income in one place due to the ability for Boomeringo to sync with banks, and the information extracted from these transactions is categorised and presented graphically through a combination of bar, line and pie charts. Various reports are also produced to help you determine how healthy your cash flow position is.
The objective of the tool is to ensure that the money coming is at least equal to the money going out and it sets up a process to help users achieve this.
First, you would use the data obtained from the software analytics and reports to create what Boomeringo call a zero-based budget. That is, a budget where total income minus expenses must equal zero. The analytics can help you to determine how much you want to allocate to each expense category, based on what your previous category spend has been.
Once the budget is complete, the package automatically calculates the amounts from your transactions and compares them to your cash flow against your allocated budget. It is then presented both in a table and graphically for you to ensure that you stick to your budget.
A complete guide of all of Boomeringo's features can be found at the following link: Boomeringo Features
And for those one-off special events….
The package also allows you to budget for one–off special events, providing cash flow projections and a goal tracker tool to help you achieve your goal and keep track of your savings.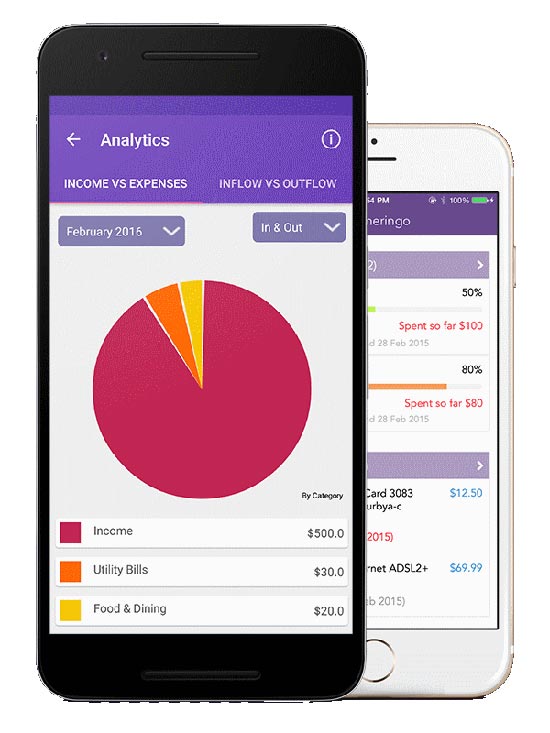 Discussion with Boomeringo Founder and CEO, Shammika Munugoda
Shammika answers some of Canstar's questions regarding the Boomeringo platform.
Q: There are many personal financial management (PFM) tools on the market for consumers to choose from. What is your competitive advantage that will make consumers choose Boomeringo over your competitors?
A: We are a relatively new product compared to some of our competitors, however, users keep coming to us (even after trying out some of our formidable competitors) as Boomeringo offers a rich set of useful, flexible features that are essential to everyday budgeting and cash flow management. We have recently revamped our platform and the feedback we get is very positive, certainly a good indication that we are moving in the right direction. We have also opened our platform for financial professionals (i.e. financial advisers, dealer groups, mortgage brokers, tax agents, accounts,etc).
Q: What gave you the idea to create Boomeringo?
A: Boomeringo was born out of necessity. There was a time I wasn't in control of my own personal finances, so being a techie, I created a very simple application that helped me keep track of my income and expenses. The more I used the app, the more I became aware of my cash flow which ultimately gave me clarity about my spending. This was the start of Boomeringo.
Q: Most major banks offer automatic categorising of transactions. How does Boomeringo differ from this?
A: Yes, banks do offer this feature. However, Boomeringo has the ability to connect to multiple accounts across multiple banks. For instance, if you have accounts with CBA and NAB, using Boomeringo, you can bring both the accounts into one platform.
Q: Are customers able to override the tool if it incorrectly categorises a new type of transaction?
A: Boomeringo offers a wide range of useful functions, one of them is the ability to create your own custom categories and to write your own auto-categorisation rules so you can easily override the transactions to suit your lifestyle. You can effectively 'teach' the system to categorise certain transactions based on your requirement using these auto-categorisation rules.
Q: Is there a limit to the number of categories that a customer can choose?
A: There is no limit, users can create as many or as few categories as they wish to customise their spending. They can also annotate their transactions with tags, if you're familiar with hashtags, Boomeringo tags work in a similar way.
Please note that CANSTAR is an information provider and in giving you product information CANSTAR is not making any suggestion or recommendation about a particular product. If you decide to apply for a product, you will deal directly with a financial institution, and not with CANSTAR. Costs and product information should be confirmed with the relevant financial institution. For more information, read our detailed disclosure, important notes and additional information.