You've most likely heard of tech giants Facebook, Amazon, Apple, Netflix and Google (FAANG) but have you heard of Baidu, Alibaba and Tencent (BAT)? These Chinese companies are major players in the technology sector and are rivalling that of their American cousins. We take a look at what they're all about and how they have performed in the past year.
What are BAT stocks?
Baidu
Market Cap: US$59.27billion
Baidu is China's answer to Google, and much like Google, Baidu is more than just a search engine. This multinational tech company specialises in internet-related services, products and artificial intelligence. Baidu began in 2000 and today serves 2 billion users worldwide. In fact, according to Alexa, Baidu is the fourth most-visited website in the world making them a company to watch.
In 2017, Baidu had a stellar year with its stock gaining over 40%. Although, 2018 was a much bumpier ride for Baidu with the share price reaching a high of over US$280 in May, to falling to roughly US$170 at the time of writing.
NASDAQ: BIDU (US$)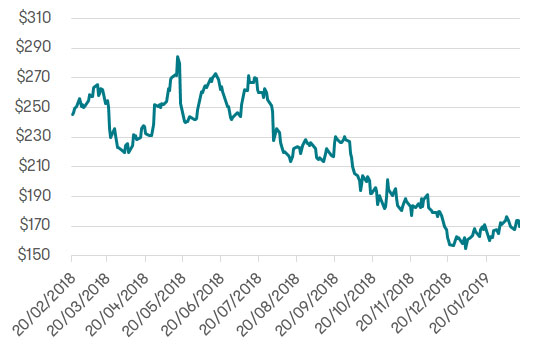 Alibaba
Market Cap: US$430.69 billion
The Alibaba Group was established in 1999 in Hangzhou, China. Their mission was to empower small business owners by providing them with a platform to reach a larger customer base. From there, the online marketplace Alibaba was born. Similar to eBay, the website unites buyers and sellers. The Alibaba Group also consists of electronic payment services, shopping search engines and cloud computing services.
In 2014, Alibaba broke records with the largest IPO in history after raising US$25 billion, surpassing the likes of Facebook and Visa. On its first day of trading, Alibaba's stock rose 38% and they were trading at US$68 per share. At the time of writing, the company is trading at roughly US$162.
NYSE: BABA (US$)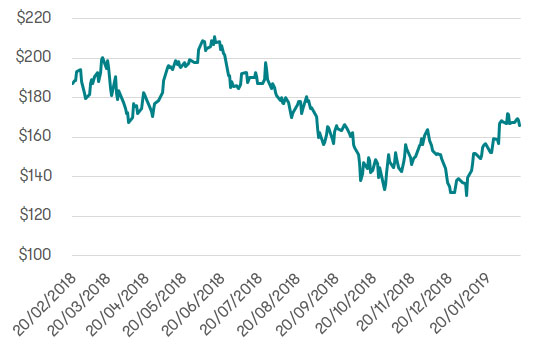 Tencent
Market cap: HK$3.2 trillion
Founded in 1998, Tencent is the company behind the hugely popular messaging and social media app WeChat. Apart from the social media arm of the business, Tencent also includes many other subsidiaries including: payment systems, media, entertainment, smartphones, e-commerce, advertising and artificial intelligence. But perhaps most notably, Tencent has established itself as the world's largest gaming company.
The past year has seen Tencent's share price fall by over 20% and, at the time of writing, its stock is trading at at HK$340.80.
HKG: 0700 (HK$)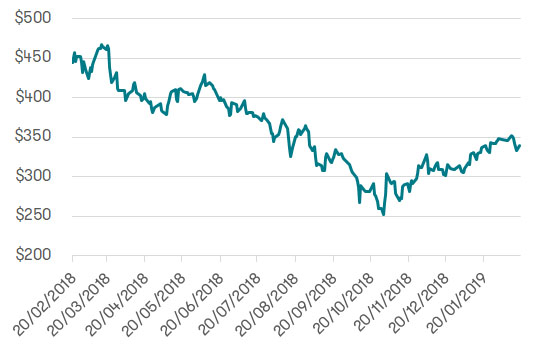 FAANG vs BAT
BAT stocks have had a significantly tougher year than their American counterparts, with all three companies down year-on-year (YOY). FAANG stocks have had mixed success in the past year, despite Facebook and Apple being down, their slump has not been as dramatic as BAT stocks. Of all the major technology brands, it is Netflix that have truly had a stellar year – up 28%.
FAANG Stocks
BAT Stocks
Company
Performance YOY
Company
Performance YOY
Facebook
-7.67%
Baidu
-30.71%
Amazon
9.50%
Alibaba
-11.24%
Apple
-0.83%
Tencent
-23.61%
Netflix
28.11%
Google (Alphabet)
1.50%
*Correct as of 19/02/2019
What may have caused the downturn for BAT stocks?
More specifically, BAT stocks may have suffered due to influences from the Chinese government and global competition. In late 2018, Tencent felt the effects of tougher gaming restrictions introduced by the Chinese government that were aimed at tackling the addictiveness and health implications of gaming.
Although, it has been a tough year for BAT stocks, investors may not want to rule out these companies completely. Baidu, Alibaba and Tencent are still major players in the Asian market, and with a population of 4.4 billion these companies may still have some growth left in them. Some investors may even see this as an opportunity to get a slice of the action, while share prices are down.
How to buy BAT stocks?
Baidu is traded in the NASDAQ, Alibaba on the New York Stock Exchange and Tencent on the Hong Kong Stock Exchange. Australian investors can trade BAT stocks through an international share trading platform, which should provide access to the above-mentioned exchanges as well as several others, including:
The London Stock Exchange
The Tokyo Exchange
Bombay Stock Exchange
Before you invest
When investing internationally, consider the risks involved. Make sure to thoroughly research each investment before you take the plunge, and always read the PDS.
For more articles like this sent straight to your inbox, subscribe to our newsletter below.
*Figures correct as of 19/02/19
Cover image: LMspencer (Shutterstock)