Since June, there have been a number of lenders making out-of-cycle rate hikes on home loans – that is, increasing interest rates even though the Reserve Bank has kept the cash rate on hold for the past two years. So, what could this all mean for future interest rate movements? Canstar investigates.
ANZ, Commonwealth Bank, Westpac, Bank of Queensland, Macquarie, IMB, AusWide, AMP, CUA, Suncorp and Adelaide Bank are among a number of lenders to have lifted rates in recent months. The rate hikes, impacting many existing borrowers, ranged from 0.08 percentage points to 0.40 percentage points, with most citing the need to offset rising borrowing costs. At the same time, some lenders have also cut rates for new loans. These include Commonwealth Bank, ANZ and AMP, while National Australia Bank has promised to keep its standard variable interest rate on hold.
Given three of the big four banks have increased interest rates, you might be wondering what we're likely to see from other lenders going forward.
Canstar's Group Executive of Financial Services Steve Mickenbecker said while not all lenders have put up their rates yet, most relied on wholesale funding to some degree and would be feeling the pressure of the increasing costs of those funds.
"The pressure will be flowing through to the profit margins and eventually most will decide to follow with rate hikes," Mr Mickenbecker said.
He said many borrowers have the opportunity to take advantage of current historically low rates and make extra repayments ahead of potential rate hikes.
"It's a good time to at least consider fixed rate loans, future proofing repayments for two or three years while they are manageable," he added.
While the horizon might seem a little cloudy for home loan customers at the moment, it could be worth checking your lender's rate movements to see if you could get a better deal by looking elsewhere. With that in mind, below we reveal a number of institutions that provided outstanding value to their customers in 2018.
2018 Home Loan Star Ratings
A total of 5,394 home loans were considered for the latest Home Loans Star Ratings research. Once Canstar's eligibility criteria was applied, 3,192 products from 91 home loan providers we rate were analysed to determine the lenders that offered outstanding value to customers.
The 2018 Canstar Home Loan Star Ratings involved a sophisticated ratings methodology, unique to Canstar, which compared the price and features across a range of home loans we rate to determine the products that provide outstanding value to consumers. Home loan products awarded with a 5-Star Rating have been assessed as offering outstanding value in the following borrower profiles:
Owner occupier: An individual either refinancing an existing property, purchasing a new property or constructing a new property.
Investor: An individual either refinancing an existing investment property or purchasing an investment property.
Line of credit: An individual who borrows credit against their property as security.
The recipients of our 2018 Home Loan Star Ratings are listed below in alphabetical order.
Owner Occupier Star Ratings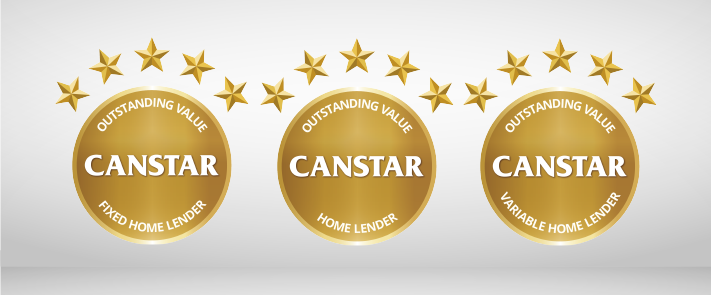 Outstanding Value – Home Lender
Bank Australia
Freedom Lend
Gateway Bank
Greater Bank
Homestar Finance
HSBC
ING
Newcastle Permanent
Qudos Bank
RACQ
Outstanding Value – Variable Home Lender
AMO Group
Bank of Melbourne
BankSA
Easy Street Fin Services
Freedom Lend
Homestar Finance
HSBC
loans.com.au
Pacific Mortgage Group
Reduce Home Loans
Outstanding Value – Fixed Home Lender
Easy Street Fin Services
Freedom Lend
Greater Bank
HSBC
ING
Newcastle Permanent
Qudos Bank
RACQ Bank
Teachers Mutual Bank
UBank
UniBank
Investment Star Ratings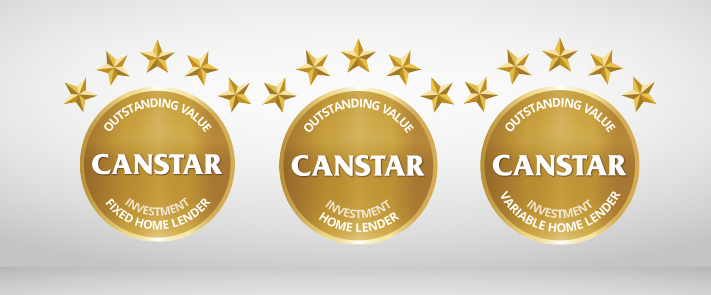 Outstanding Value – Investment Home Lender
AMO Group
Freedom Lend
Homestar Finance
Newcastle Permanent
RACQ Bank
TicToc Home Loans
Virgin Money
Outstanding Value – Investment Variable Home Lender
AMO Group
Freedom Lend
Homestar Finance
loans.com.au
Pacific Mortgage Group
RACQ Bank
Reduce Home Loans
State Custodians
Outstanding Value – Investment Fixed Home Lender
Freedom Lend
Greater Bank
Homestar Finance
NAB
Newcastle Permanent
Police Bank
RACQ Bank
TicToc Home Loans
UBank
Virgin Money
Line of Credit Star Ratings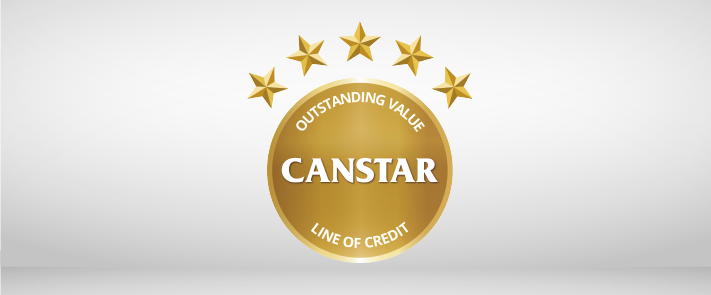 Outstanding Value – Line of Credit
Aussie
BankVic
Greater Bank
State Custodians
Suncorp Bank
For more information about the 2018 Home Loan Star Ratings and how they are calculated, please view the ratings methodology: