A new report from BIS Oxford Economics has predicted an imminent end to Sydney's inflated house prices, saying both supply and demand in the market have peaked.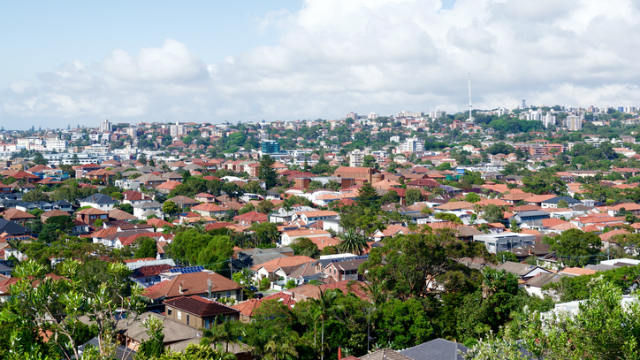 The economic forecaster's Outlook for Residential Land 2017 to 2022 report contained a number of predictions regarding lot production and demand in the NSW capital, all of which point towards a future drop in new dwelling values.
The report cited a number of factors when explaining the drop-off in demand for new houses, including:
Reduced affordability (Sydney's housing prices have long been the highest in Australia)
The recent influx of housing stock in the market, which the report refers to as "the erosion of the dwelling deficiency"
Regulatory measures introduced by both the state and federal governments to try to slow investor activity.
BIS Oxford Economics Senior Manager and report author Angie Zigomanis said much of the demand for new houses had been driven by a disparity between house and land values.
"Rapid growth in the median house price was not matched by the rises in the median land price over the three years to 2014/15, improving the equation for the purchase of new houses relative to established stock," he said.
"However, land prices saw significant growth over 2014/15 and 2015/16, narrowing the gap and driving some demand back into the established market."
The report also noted that while land production in Sydney was at its highest level in 25 years, the dwelling deficiency was much smaller than it was when production began to spike, and issues of affordability have seen Sydney suffer a population exodus.
Both of those factors were expected to contribute significantly to a decline in demand for land and lot production over the next few years.
Canstar Group Executive, Financial Services & Chief Commentator Steve Mickenbecker said right now, demand influences are dominating the property market outlook.
"The APRA restrictions on investment and interest-only loan growth have hit the market at the same time as Chinese restrictions on capital movements, and between them have taken some heat out of investment demand," he said.
"This has been noticeable in Sydney property auction results, though less so in Melbourne, which is good news for the RBA and borrowers.
"The RBA doesn't want to lift interest rates until inflation moves above 2% and into their target band, especially until it sees some reasonable wage inflation, to relieve mortgage stress of recent buyers in particular."
Sydney dwelling demand down but supply going strong
While the BIS Oxford Economics report may point to a drop in demand for new houses, this may not lead to an actual decrease in supply for some time.
The Housing Industry Association has released a new edition of its Housing Scorecard, and NSW has taken the top spot for the third year in a row.
The Housing Scorecard report ranks Australia's states and territories based on the strength or weakness of their respective residential building conditions, using 12 key activity indicators.
HIA Senior Economist Geordan Murray specifically pointed to "the strength of new home building" in NSW as what kept it in first place, meaning that supply may stay strong for some time to come.
How are other major centres faring?
The report also discussed the market prospects in other capital cities, including Melbourne, Brisbane, Adelaide, and Perth.
Melbourne
The Victorian capital was also predicted to see decreases in lot production past 2018, along with a flattening out in land prices.
A lack of supply in recent years saw land prices climb; but because they were still affordable compared to outer-Melbourne housing, demand for new dwellings increased accordingly.
The report also predicted a fall in apartment prices due to what it described as a "modest oversupply", which in turn may see a drop in the number of dwellings being bought, new or established.
Brisbane
The Brisbane market has been boosted in recent years by steady price growth, relative affordability and low interest rates; factors which have also led to increased demand for new dwellings and land.
2016/17 saw an estimated 9,400 lots completed, compared to 4,800 lots in 2012/13 – however this has resulted in an oversupply, mostly located in the unit/apartment market, with the freestanding housing market thought to be more or less balanced.
Nevertheless the report predicts that the apartment oversupply will have some effect on the house and land markets, with attractive apartment prices set to divert some of the demand from both.
"The one supply side influence that is starting to loom large over the market is the impending high release of newly completed unit developments in Melbourne and Brisbane," Mr Mickenbecker said.
"This is likely to see oversupply of units in the market and some further price fall to new and existing units might be expected; there is also a risk to developers that properties bought off the plan might not settle."
Adelaide
An increasingly weak local economy and slowing population growth in Adelaide has led to both an oversupply and decrease in demand, which in turn has led to improving housing affordability.
This has resulted in a vastly decreased demand for new dwellings, as median land prices have outstripped median house prices, making new dwellings an unattractive option for buyers.
Perth
The end of the mining boom has continued to impact Perth's economy and property/land markets.
The demand for new dwellings in the WA capital has fallen dramatically, as have median land and house prices – lot production fell by 55% between 2014/15 and 2016/17.
"The Perth economy is struggling through the mining downturn which has supressed dwelling demand at a time when dwelling completions have ramped up," Mr Zigomanis said.
'This has led to a considerable oversupply of dwellings, which is likely to persist through to 2021/22 and dampen any recovery in residential Page 4 of 4 markets after mining investment bottoms out and the state economy improves.
"Overall, the Perth market is expected to remain weak for some time."