The IMF Global Housing Watch tracks developments in housing markets across the world on a quarterly basis. Here's where Australia's property prices sit in relation to the world.
According to the International Monetary Fund (IMF), house prices across the world are just about back to where they were before the Global Financial Crisis (GFC) hit. Given the depth of economic trauma felt by some countries since that time, that is a remarkable, and perhaps worrying achievement.
Australia, of course, did not experience the full GFC impact, and our property prices have continued to reach new heights – although fortunately with a fall in official cash rate.
While house price rises are great for those that already have a house, they are not great for the many Australians still trying to get into the housing market. Australia has one of the highest price to income ratios assessed by the IMF. Although it could be worse – we could be in New Zealand!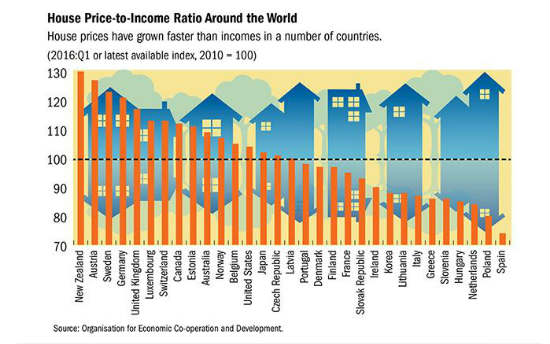 Are Australia's house prices overvalued?
Currently, Australian owner occupiers owe almost $1 trillion in home loan finance. In late 2015 the IMF argued that Australia's house prices were, indeed, overvalued.
After growing broadly in line with real GDP per capita from 1960-90, Australian real house price inflation picked up sharply in the mid-1990s, exceeding income growth by a wide margin. As a result, the house price-to-income ratio rose sharply, despite the terms-of-trade boom that boosted Australian incomes over the past decade, also exceeding the average increase among OECD countries. In view of the strong price increases, many common measures of housing valuation based on deviation from long run historical trends, such as price-to-rent and price-to-income ratios, suggest overvaluation of about 20-25 percent.
Apartment glut on the horizon?
According to ABS statistics, there are currently a record number of apartments under construction, as well as a record number of apartments that have been approved but are not yet being built. Market analyst and economic forecaster, BIS Shrapnel has labelled this "a tsunami of supply" and has predicted that new home building will soon begin to run out of steam.
"After recording strong growth during the past four years, we estimate that total dwelling starts reached an improbable 220,100 in 2015/16, an all-time high," said Dr. Kim Hawtrey, Associate Director at BIS Shrapnel. "From this level, national activity is forecast to begin trending down over the following three years, with the high-flying apartments sector leading the way down."
Does this mean better housing affordability is on the way? With the IMF estimating that Australia's household debt-to-income ratio tripled from 47 percent in 1990 to a historic high of 154 percent in 2014, perhaps we should hope so.
What do house prices mean for buyers?
In dollar terms, what does this all mean for buyers? According to the most recent Australian Bureau of Statistics (ABS) figures, the average size of home loan taken out in in Australia in June 2016 was approximately $360,000. Based on approximately 190,000 online searches on the canstar.com.au home loan selectors, people are commonly looking to borrow the following amounts:
18% – $250,000- $349,000
35% – $350,000 – $499,000
21% – $500,000 – $749,000
Source: CANSTAR. Based on selections made via CANSTAR's home loan selector table between July 2015 & August 2016
Based on a current average standard variable home loan rate of 4.48%, a home loan taken over a 25 year period could be expected to cost approximately the following amounts.
| | | | | | | |
| --- | --- | --- | --- | --- | --- | --- |
| Loan Amount | $500,000.00 | $450,000.00 | $400,000.00 | $350,000.00 | $300,000.00 | $250,000.00 |
| Interest Rate | 4.48% | 4.48% | 4.48% | 4.48% | 4.48% | 4.48% |
| Years | 25 | 25 | 25 | 25 | 25 | 25 |
| Monthly Repayment | $2,773.49 | $2,496.14 | $2,218.79 | $1,941.44 | $1,664.09 | $1,386.74 |
| Total Cost | $832,046.82 | $748,842.14 | $665,637.46 | $582,432.78 | $499,228.09 | $416,023.41 |
Based on a loan term of 25 years. Indicative calculation only. Does not take into account any upfront or ongoing fees or charges.
While homebuyers cannot do much to influence home purchase prices, they can ensure that they are not paying too much for their home loan. CANSTAR's home loan star ratings is an invaluable starting point when creating a shopping list of home loans to suit your needs.
Featured image: Chameleonseye | iStock