A new report from St. George Bank has found that 85% of LGBTQI+ Australians believe financial products are designed for only traditional relationships.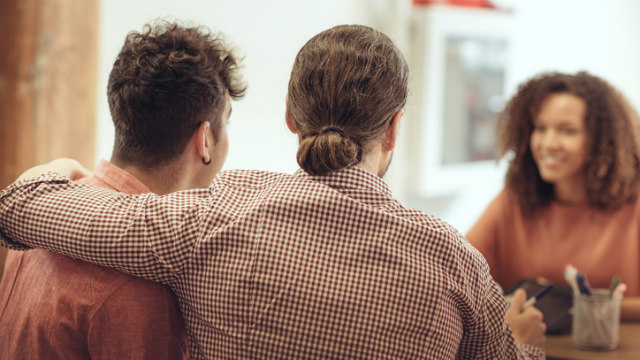 St.George's LGBTQI Financial Wellbeing Report found that 7 in 10 non-LGBTQI+ Australians agreed with this sentiment.
St.George Bank General Manager Ross Miller said the bank feels a strong responsibility to meet the financially diverse needs of Australian families.
"We have adapted many of our products and services to accommodate the diverse nature of Australian families, including seniors and multicultural Australians for example, but we simply did not know enough about the financial needs of the LGBTQI community," Mr Miller said.
"Regardless of how the nation votes, change is still possible, and we can still press on to ensure a financially level playing field for the LGBTQI community."
Some of the report's other key findings were:
3 in 10 (29%) of LGBTQI Australians have faced discrimination when dealing with a financial institution in Australia
Transgender Australians are twice as likely (56%) to have faced discrimination from financial institutions in Australia
7 in 10 (69%) of LGBTQI Australians believe they require a unique approach to ensure a level playing field with other Australians
28% of LGBTQI Australians are less likely to be home owner-occupiers
3 in 10 LGBTQI Australians expect to live only a 'modest' retirement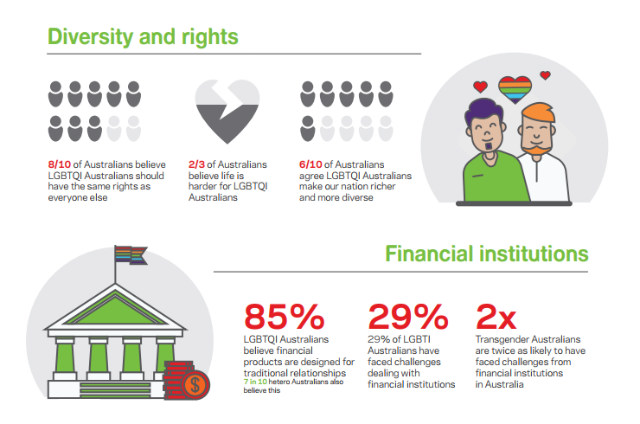 Additionally, 9 in 10 transgender Australians felt "particularly vulnerable" when it came to their personal financial situation, and were the most likely (58%) to incur out-of-pocket medical expenses.
When asked, 83% of all Australians said they believed that LGBTQI+ Australians should have the same rights as everyone else, compared to 85% of all LGBTQI+ Australians.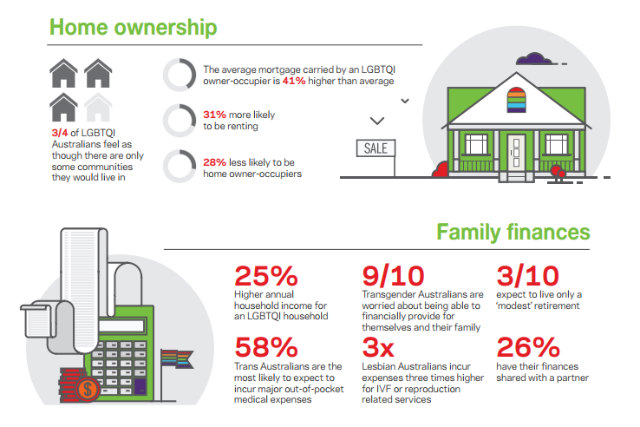 Mr Miller said LGBTQI+ Australians need products and products and services that relate to them as individuals.
"St.George believes that properly tailored financial support could meet these challenges, for example, help LGBTQI+ Australians with their financial wellbeing earlier in life to relieve their financial concerns later, help save for family planning expenses, or even help a Transgender Australian save for medical expenses."
The St.George LGBTQI Financial Wellbeing Report was based on research conducted by Lonergan Research.
The research canvassed the opinions of 1,254 Australians, which included 826 members of the LGBTQI+ community. Surveys were distributed throughout Australia including both capital city and non-capital city areas.