Increasing numbers of Australians are being priced out of living in our nation's capital cities, as
rental affordability
in metropolitan areas deteriorates across the board.

Rental affordability worsened in every capital city except Perth over the October-December quarter of 2016, according to the latest Rental Affordability Index (RAI) report.
The report is a quarterly release published by National Shelter, Community Sector Banking, and SGS Economics, and aims to track the affordability of rental housing across Australia.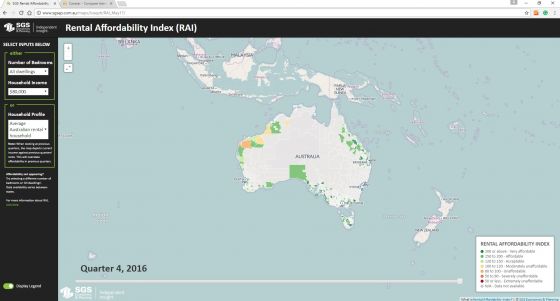 The least affordable metropolitan area in the nation was (unsurprisingly) Greater Sydney, with an RAI of 103 – a record low for affordability, worsening by 3.8% since the previous quarter.
The next worst was Greater Hobart with an RAI of 108, followed by Brisbane and Adelaide, both on an RAI of 118.
What is the Rental Affordability Index (RAI)?
The RAI is the ratio of median household income to qualifying income (the income required for a household to pay rent that is 30% of their income). Lower RAI scores mean less affordable rents, while higher scores mean more affordable rents.

An RAI score of 100 or less means a typical household spends 30% or more of their income on rent. This is considered the limit for affordable housing.

Any household which spends more than 30% of their income on housing is considered to be in housing stress, whereby rental payments are so excessive that they impact on people's ability to afford basic necessities. Learn more about housing stress.

Source: 2017 Rental Affordability Index
Rents in Sydney, Brisbane, Adelaide, and Hobart were all classified as 'moderately unaffordable', with renters typically spending 25-29% of their income on rent.
Sydney's growing demand for rental properties is leading to long queues at inspections so people are turning to rental agents for help. pic.twitter.com/tnRiQI1EFv

— 7NEWS Sydney (@7NewsSydney) May 10, 2017
Melbourne and Perth fared somewhat better.
Greater Melbourne's RAI of 127 meant typical households spent 24% of income on rent, while Perth's score of 140 meant only 21% of income went towards rent.
Both cities were classified as having 'acceptable' rents, indicating that rental affordability is improving in both of these areas.
Melbourne has seen a slight increase in affordability over the past 2 years (0.3%), but the real story is Perth.
The WA capital has seen a whopping 21% increase in rental affordability since 2014, including a massive 6% increase in the last 3 months of 2016.
Ellen Witte, Partner at SGS Economics and Planning, said that Australia's rental situation is now impacting more and more demographics.
"The RAI shows that working families – not just low income households – are now being priced out of Australia's metropolitan rental markets," Witte said.
"Rents are most affordable in places where the least opportunities are in terms of jobs, services, and education."
Pensioners and low-income households priced out of cities
The rental situation is particularly dire for those on fixed incomes such as pensioners, with both singles and couples doing it tough in the rental market.
A single retiree with an estimated annual income of $26,000/year would face spending 60% or more of their income to rent a single-bedroom dwelling in a capital city – a rental situation classified by the RAI report as 'extremely unaffordable', the worst possible rating.
Pensioner couples also face 'severely unaffordable' rents in the metropolitan areas of our major cities, with approximately 38-68% of their income going towards rent.
Most areas within 10km of Sydney's CBD, as well as much of inner Melbourne, are classified as 'extremely unaffordable' for a couple bringing in approximately $47,000/year.
Rents were found to be most affordable in places with few opportunities for jobs and education.
National Shelter Executive Officer Adrian Pisarski said this is especially concerning for "older working women who are reaching retirement and have not been able to build up with superannuation".
"On top of that, living further out of the city poses extra challenges such as poorer access to transport, services, and health care," Pisarski said.
The affordability crisis isn't limited to pensioners, either.
A single income couple with two children – typical of many Aussie families – faces rents which are range from 'unaffordable' to 'extremely unaffordable' in Sydney, Melbourne, Adelaide, and Hobart.
Student households are also doing it tough, with 'unaffordable' to 'severely unaffordable' rents in the inner and middle suburbs of metropolitan areas.
"This index reminds us how much work governments, the community and private sectors have to do," Pisarski said.
"While the Budget introduced some welcome measures, house price inflation is locking people out of ownership and putting much greater pressure on rental markets, which remain unaffordable and displaces low income households into the margins."
Andrew Cairns, CEO of Community Sector Banking, summed up the situation by warning that continued policy action is needed to make rents more affordable.
"The latest Rental Affordability Index is a wake-up call," Cairns said.
"Without swift coordinated action to tackle housing affordability, Australia will become a divided country, with pensioners, working parents, and other low income groups locked out of living in metropolitan areas."