Are there green shoots appearing in the property market? CoreLogic's home value index has recorded its first monthly increase in values since October 2017. But it's not all good news, particularly for investors.
The CoreLogic August Home Values Index showed that in August, the nation's homes increased in value by 0.8%. While that might not seem like much, CoreLogic research director Tim Lawless said the move was "significant", considering past performance had seen yearly values to August drop by as much as 8.8% in some capital cities.
CoreLogic August Home Values Index
Location
Change in Dwelling Values

to August 31, 2019

Month
Quarter
Annual
Total return %
Median value
Sydney
1.6%
1.9%
-6.9%
-3.6%
$790,072
Melbourne
1.4%
1.8%
-6.2%
-3.2%
$626,703
Brisbane
0.2%
-0.1%
-2.1%
2.3%
$485,493
Adelaide
-0.2%
-1.0%
-1.1%
3.4%
$428,203
Perth
-0.5%
-1.8%
-8.8%
-4.9%
$437,558
Hobart
0.5%
1.0%
3.1%
8.2%
$465,535
Darwin
-1.2%
-1.7%
-9.7%
-3.4%
$388,232
Canberra
0.8%
-0.4%
1.2%
5.8%
$592,870
National
0.8%
0.6%
-5.2%
-1.5%
$521,157
Prepared by CoreLogic, August 2019. Reproduced with permission.
The Index showed that the nation's annual growth still languished in negative territory, at -5.2%, with a total return of -1.5%, with the median value at $521,157.
Sydney was the best performing capital city in value terms, lifting 1.9% in the three months to August 2019, and 1.6% in August alone. Over the 12 months to August though values fell by 6.9% in Sydney. Melbourne was the second best performer, lifting 1.8% for the quarter and 1.4% for the month, but declining by 6.2% over the year.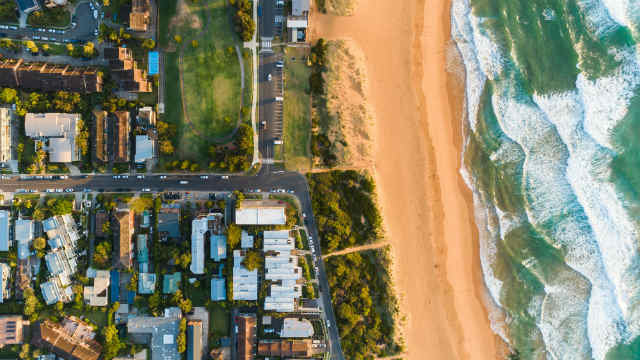 "It's likely that buyer demand and confidence is responding to the positive effect of a stable Federal Government, as well as lower interest rates, tax cuts and a subtle easing in credit policy," said Mr Lawless.
"The significant lift in values over the month aligns with a consistent increase in auction clearance rates and a deeper pool of buyers at a time when the volume of stock advertised for sale remains low.
"While the 'recovery trend' is still early, it does appear that growth trends are gathering some pace, particularly in the largest capital cities."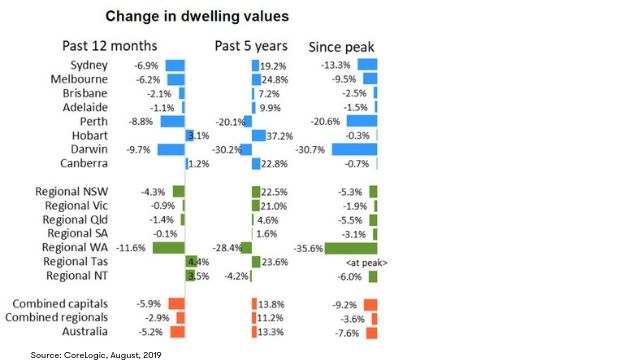 The index showed that house values had increased in five of the eight capital cities in August, but slipped in Adelaide, Perth and Darwin. Hobart appeared to be performing particularly well, with a median house value of $465,535 and a total return of 8.2%. Mr Lawless said regional Tasmania was the only major region where values were "currently at an historic high".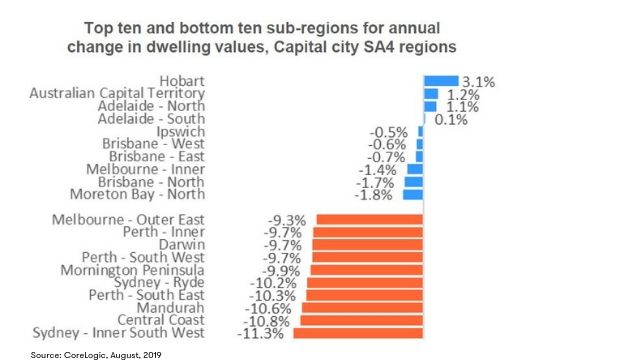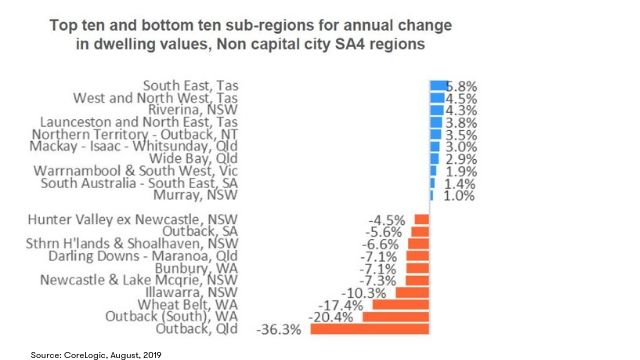 What does the recent lift in property prices mean for the Australian real estate market?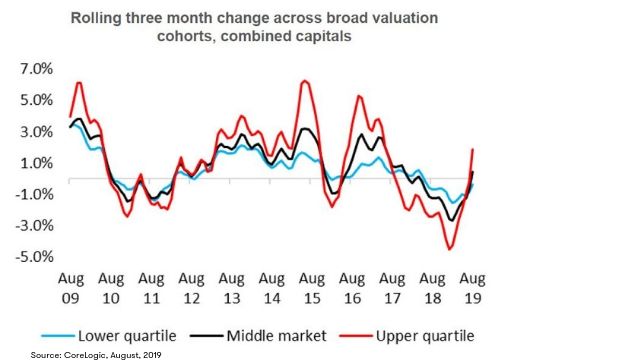 AMP Capital's chief economist, Shane Oliver, said when the values index data was added to recent sales data, such as improving auction clearance rates, it was a forecast for a spring selling season "worth watching".
"Based on past relationships, the current level of clearances points to annual house price growth rising to around 10-15% over the next nine to 12 months."
Analysts are watching the property market closely, as an indicator of what the Reserve Bank of Australia might do in terms of changes to the cash rate, currently set at 1%. Mr Oliver said while value growth had been recorded, this wasn't "a return to boom time conditions", and to "expect constrained gains through 2020 – for example, of around 5% or so." As such, he said the bank's view was that the RBA would enact "further cash rate reductions in November and February next year taking the cash rate to 0.5%".
"In other words, we don't see the rebound in the Sydney and Melbourne property markets as a barrier to further monetary easing, but if it continues to gather pace then expect a tightening of the screws again from bank regulators," he said.
What is the current rental yield in Australia?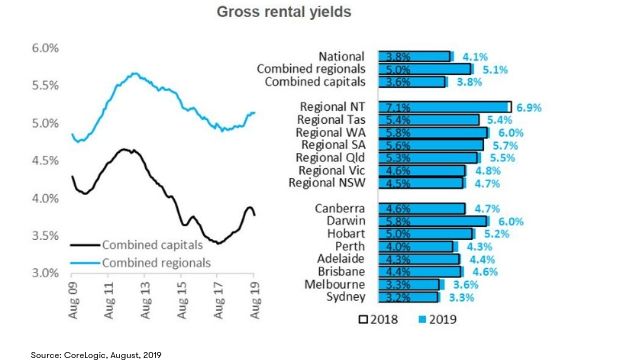 CoreLogic also tracked the performance of the rental market and found that across Australia, rents had fallen slightly – by 0.1% – in August, adding to the decline felt in the two previous months. However, when looking at individual capital city performance, rents had increased in Brisbane, Adelaide and Hobart.
Rental yield – how much rental income a property produced, expressed as a percentage of the property's value – had softened, the CoreLogic index showed, after a period of strength.
"The data shows yields are now stabilising or trending lower," the report stated. "While Sydney and Melbourne are leading the increases in dwelling values, equally they are the two cities leading the recent softening of rental yields."