Property market analysts are forecasting a big property boom on the horizon for Hobart, with its growth cycle today matching where Sydney was in 2014.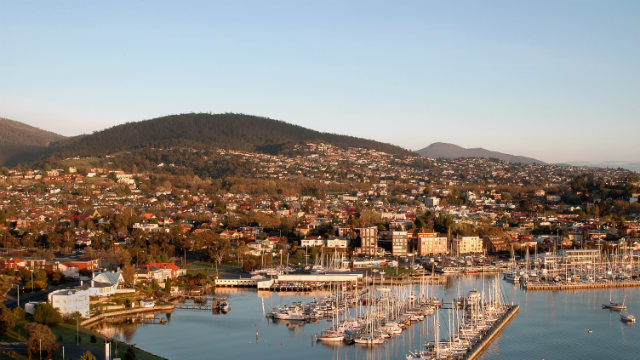 Propertyology says the Tasmanian capital city has the potential for price growth to push past 20% over the next 12 months, which is well above the best years produced by both Sydney and Melbourne during their boom.
According to Propertyology Head of Market Research Simon Pressley, affordability and the significant improvement in Tasmania's economy are driving housing demand while supply is incredibly tight.
"Hobart's growth cycle today is comparable to where Sydney was in 2014," he said.
"All of the metrics which we analyse suggest that, all things being equal, the 15% price growth over the last 12 months will be surpassed next year and that there's currently no end in sight."
Both Domain and Core Logic have recently confirmed that Hobart's change in median house price over the last 12 months is officially higher than every other capital city.
Pressley says the number of properties listed for sale in Hobart now is less than half what was available a few years ago.
"Hobart has an enormous head of steam," he said.
"Our buyer's agents have missed out on numerous properties to people who have been prepared to pay up to 10% more than us.
"It's like a flock of seagulls fighting over a chip."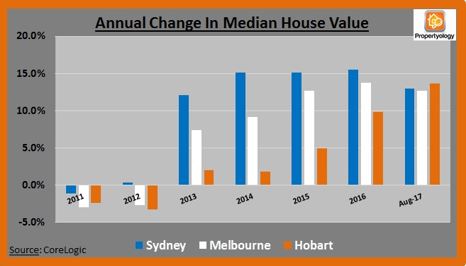 Vacancy rate lowest on record against other capital cities
According to Propertyology, the vacancy rate in Hobart of 0.4% is potentially the lowest on record for any capital city, and Pressley believes that rental pressure will only intensify further.
Conversely, other cities like Sydney, Melbourne and Brisbane are now seeing record volumes of new supply hitting the market.
"Hobart is the only location in Australia which has the combination of an affordable entry price, an economy which is already strong (and still improving), hardly any impact on investor's annual cash flow, and a tight supply pipeline for as far as the eye can see," said Pressley.
"With rates of supply tighter than anything we've seen, it's quite conceivable that property prices in metropolitan Hobart could exceed 20% next year and beyond."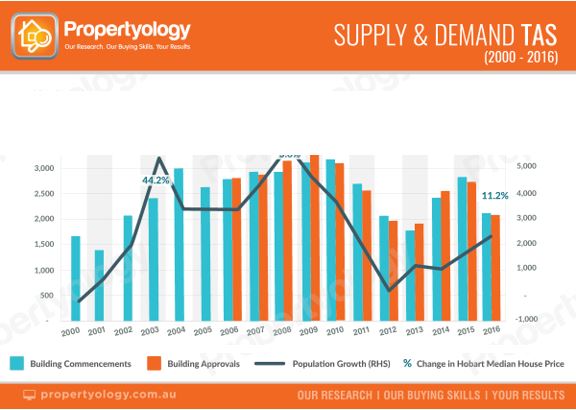 Hobart on a path of expansion and job creation
Pressley says Hobart's transformation in recent years has been "remarkable" and its "economy is firing up".
"Most Australians don't realise that Hobart's increase in job volumes over the last 12 months is four times the national average and more than double that of the next best capital city," he said.
These are some of the big job-creating improvements coming for Hobart:
Big international brands like Hyatt and Marriott are expected to commence work on several new luxury hotels over the next few years.
The Museum of Old and New Art (MONA) has plans to expand, including the addition of a luxury hotel wing and a casino.
Submissions have been sought for a multi-billion dollar proposal to redevelop Macquarie Point waterfront.
$700 million upgrade of Tasmania's biggest hospital.
$400 million technology hub in the CBD for up to 3,000 students.
"Housing demand in Australia's most affordable capital city is largely driven by local confidence from the rapid job improvement," said Pressley.
"Now that the cpaital growth is there for all to see, mainland investors are apprecieting that Australia's highest rental yields mean that the cost to hold a property in Hober is effectively nothing."