By Simon Pressley, Head of Property Market Research at Propertyology
A riddle: Brisbane and Perth in 2002, Townsville and Mackay in 2004, Sydney and Melbourne in 2013, Hobart in 2016 – what was the common denominator to cause a significant property boom at different times in these different cities? The answer is jobs!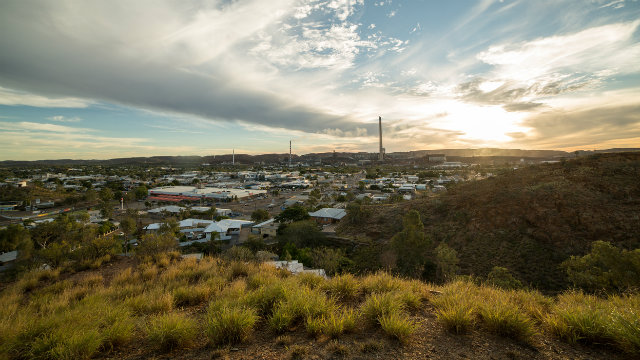 Image: The mining town of Mt Isa, Queensland
Sustained job growth within a community can put more money in people's pockets, attract new people to a region and boost local confidence. It can increase the chance of renters becoming homeowners, provide homeowners with the confidence to renovate, increase demand for local goods and services, and get more people at open homes.
For proof that changes within a local economy can be a precursor to changing property markets, you only need to reflect on the decade-long mining boom at the start of this century. Job creation and wage growth outweighed interest rates (twice as high back then compared to now) and drove property prices in parts of regional Australia. Over the five years ending 2007, median house values ballooned in mining nerve centres like Perth (151%), Townsville (150%) and Mackay (170%). Yep, they more than doubled!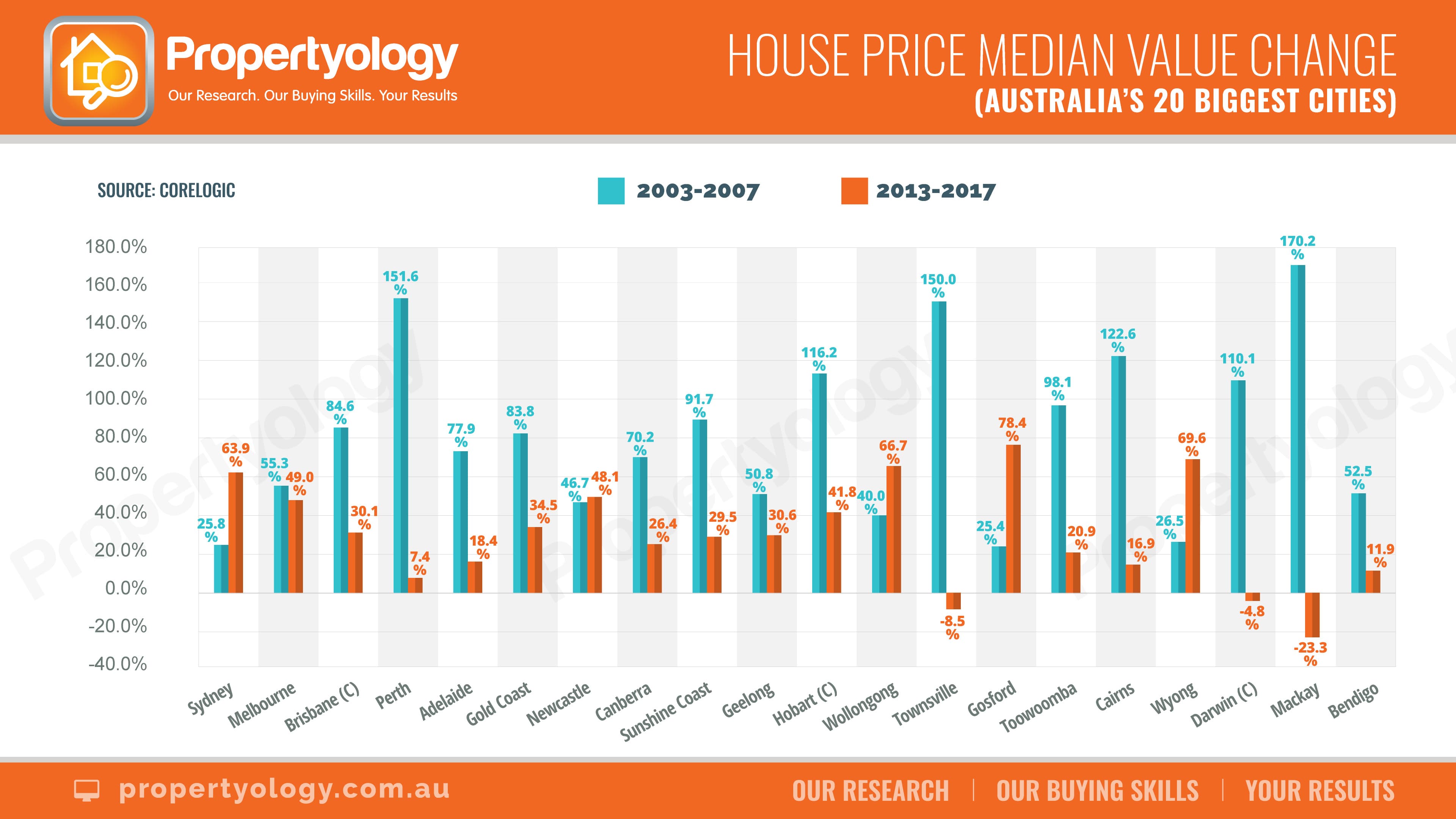 Over the five years ending 2017, while local economies across most of Australia were subdued and property markets were weak (refer above chart), an Asian-led spike in demand for financial services, international students, and tourism saw property prices in Sydney and Melbourne grow by 70% and 50% respectively.
Now that affordability is out of reach of most Sydney and Melbourne residents and new housing supply has caught up with demand (or even overshot it), property price growth in Australia's two largest cities has eased right off.
With seven consecutive months of mild price declines in Sydney and three consecutive months in Melbourne, some are questioning whether to buy now or wait for prices to fall. I personally wouldn't be rushing to invest in these two cities any time soon. The anticipated continued strength of both economies will prevent a market crash, however, Propertyology's current forecast is for a period of several flat years in Australia's two largest cities.
With practically every economist in the world forecasting that interest rates will continue to remain very low for several years yet, the annual cost for investors to hold a property can be incredibly affordable.
The most important question is not when to invest, but where to invest.
Finding where these locations are requires a good understanding of the numerous factors affecting supply and demand of property.
Yes, property is a commodity – shelter. But economic rules of supply-and-demand are much more complex than (say) apples, oranges, oil or coal. It's not as simple as subtracting 'A' (supply) from 'B' (demand) to get 'C' (prices up or down). An apple is an apple but there's a big bunch of variables from one property to the next. Property size, materials, design, features, proximity and price can all vary widely within one suburb, let alone different cities.
Contrary to general belief, population growth is not the biggest influence on property prices! I can show you multiple examples of locations where population growth was weak yet their property markets outperformed locations with very high population growth.
Factors that influence the demand side of the property price equation include affordability, government policies, migration (overseas and interstate), lifestyle factors, availability of credit, commodity prices (such as agriculture and mining) and foreign currency rates.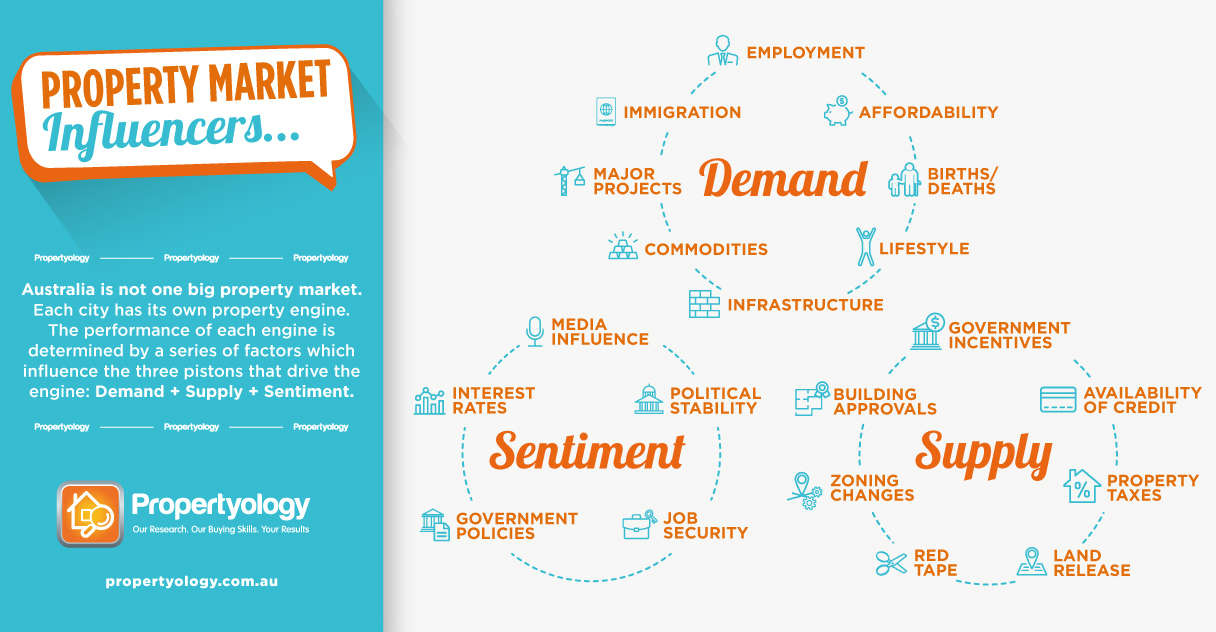 Analysis of economic conditions and potential for future job creation is the stuff I love getting my teeth into most. Wherever there is future demand for a job there'll be future demand for housing!
2017 was one of the strongest years for job growth in Australian history. Understanding the various influences and decisions that lead to creating jobs is key to picking a great location to invest in such a large and diverse country.
It's not that long ago that Tasmania was in recession – when Propertyology commenced investing in Hobart in mid-2014, the state's unemployment rate had been consistently 2% above the national average. Having an understanding of Hobart's economic assets and insights into industry sector changes enabled us to (correctly) anticipate a remarkable turnaround in its economy. Investors we helped purchase property for before Hobart's current boom have already seen price growth of up to 40% and rental growth of 25%!
The significant number of regional locations that have produced rates of job growth above the national average is reflecting strong regional tourism, a very exciting outlook for Australian agriculture, advanced manufacturing, some good infrastructure projects and a rebound in (parts of) the mining sector.
The continuous extra demand from international and domestic tourists is creating new jobs in great cities like Cairns (tropical wonderland), Dubbo (western plains zoo), Orange and Armidale (foodie experiences), Bendigo and Ballarat (our gold rush heritage) and regional Tasmania (because, well, it is God's country)!
Aside from Australian tourism, the millions of extra people entering the middle class each month during the Asian Century have an enormous attraction to our produce. This nation that was first built off the sheep's back is now Asia's food bowl. Universities have recently experienced an unprecedented increase in agriculture-related degrees. And new manufacturing jobs are being created by food processing businesses such as abattoirs, cheese factories and winemaking.
Comprehensive economic analysis is the real gold for property investors! But a final word of caution for novices, employment data can be volatile with the possibility of significant fluctuations from year to year. It's never ONE metric; it's the sum of all metrics which makes a well-informed investment decision.
About Simon Pressley
As Managing Director of Propertyology, Simon is passionate about helping everyday Australians build a more sustainable lifestyle through making astute property investment decisions. Propertyology provides advice for mum-and-dad investors and was recently named the 2018 REIQ Buyer's Agency Of The Year. Find out more at www.propertyology.com.au.