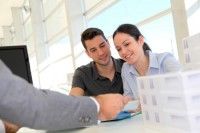 Each year
Canstar
research the first home buyer offerings available from Australian financial institutions. To compare what financial institutions offer, Canstar cherry-picks the features of utmost importance to first-home buyers and
look at how lenders shape up
in all phases of home ownership, as they apply to first timers.
This year, as last year, Canstar congratulate Heritage Bank for taking the First Home Buyer Award for Queensland. Canstar caught up with Heritage Bank CEO, John Minz, for some insights into how first homebuyers can prepare for the loan application process.
Q: Applying for a loan is a bit like applying for a job. What paperwork will first home buyers need to have prepared before they visit their financial institution?
It's important for applicants to prepare all required information to make the application process as smooth and as fast as possible. Many financial institutions, including Heritage, offer a home loan application check list to help point first home buyers in the right direction. However, this should only be used as a guide as requirements will vary depending on the financial institution and your individual circumstances.
In most cases, you will need to demonstrate:
Savings history – Copy of passbooks or other statements of your savings account(s) held with other banks. Lenders want to see evidence of good financial management to ensure they aren't taking unnecessary risks.
A combination of sufficient personal identification documents such as drivers licence, passport, birth certificate, photo ID or ATO notice to meet legislation requirements.
Proof of income such as payslips, group certificates or recent taxation assessment notices.
Details of assets (e.g. current term deposit account, share investment statement, property or motor vehicle assets) and liabilities (such as existing loans and other credit contracts).
Q: Should first homebuyers check their credit rating before putting in an application?
One of the first things many lenders do when you apply for a loan is to go to a credit agency to check the applicant's current and past credit activity. This may include records of loan and finance applications as well as overdue accounts, missed payments, bankruptcy details, sufficient income and other personal information. So it's extremely important for you to understand what is on your credit file and the type of behaviours that could result in a poor credit score and an unsuccessful application.
By checking your file you can keep a track of what information is stored, if the details are correct and if any issues need to be resolved. You can order a copy of your credit file through credit bureaus such as Veda or Dun & Bradstreet. If you are prepared to wait up to two weeks, you can usually get a free copy; otherwise a quicker turnaround is available for those willing to pay a small fee.
Q: How important is it for first home buyers to get personalised mortgage advice from their financial institution?
For many people, buying a home can be a complex, confusing and time-consuming process. That's why it's important to speak to a financial advisor to get personalised advice for your particular circumstances. Besides having direct access to current industry trends and resources, financial advisors are specifically trained to assess your individual financial situation and put together a list of recommendations and strategies to help you meet your goals. They are also able to discuss with you the potential advantages or disadvantages in choosing one path or product over another.
You can read Canstar's First Home Buyer report here.