Skyrocketing house prices and sluggish wage increases have seen Australian millennials losing out in the property market.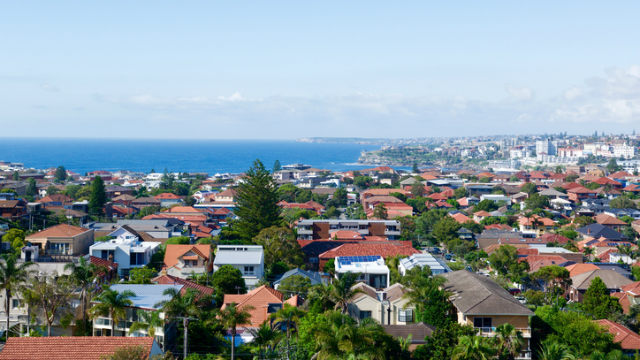 Median house prices have skyrocketed in the country's two most prominent cities, with housing values in Sydney and Melbourne growing by nearly 13% in the last year alone according to CoreLogic data.
Additionally, housing values in other mainland capital cities have increased by 3-8%, although Perth and Darwin have seen a decrease.
It's a situation that has led to much hand-wringing from young Australians who have been left unable to save the deposits required to take out home loans.
And it's not just young Australians who think there's a generational disadvantage.
The Property Council of Australia has stated "home ownership is becoming elusive for a whole generation," and research from Mortgage Choice found 63.2% of all Australians believe "only people with a lot of money can hope to achieve the Australian Dream," i.e. home ownership.
A popular notion was that undersupply was to blame and that a construction boom could see a restoration of the balance between supply and demand, but research found that's not the case.
A report from property buyer's agency Propertyology found that rather than decreasing or being at a low point, national housing supply was at a record high as of last year and on an upwards trend.
So supply isn't the issue and statistically, it looks unlikely housing prices in major cities will drop – it's a serious lose-lose situation for young Australians with aspirations of home ownership.
However, some experts believe there may be a silver lining to be found, suggesting young Australians could be investing their money differently.
Traditional home ownership model a "dinosaur strategy"
Propertyology Head of Market Research Simon Pressley believes that rather than prescribe to the traditional idea of home ownership, Gen Y'ers could benefit from looking outside the square.
"The dinosaur strategy of save a deposit for the family home, pay it off, and retire comfortably on an aged pension clearly didn't work," Pressley said.
"The most successful young investors we see are more ambitious about financial independence, than say, their parents were," he said, noting that millennials are also "more willing to take on a degree of risk" with their investments.
"They are increasingly realising that if they make the same financial decisions as their parents and grandparents, they'll end up in a similar position later in life," he said.
Pressley says that rentvesting (renting where you want to live but purchasing an investment property in a different, more affordable area) is a viable strategy for Gen Y'ers who want to enter the property market.
Liquidity more important than you may think
However, another concern being voiced by some in relation to property investment is that the market could go south in the near future.
If this happened, as some experts are predicting, thousands of young Australians who scrimped and saved to purchase property could see the value of their hard-earned property plummet.
CEO of online share trading start-up Stake, Matt Leibowitz, says when investing in property, "you need to get it right otherwise you're locked in with a troublesome asset, which is leveraged, requires upkeep and management fees."
By contrast, Leibowitz notes that more liquid investments like shares offer much more in the way of fluidity and damage control.
"If things start to go wrong (or right) with a liquid stock, you can reduce your exposure in minutes with minimal transaction costs if you're with the right broker – so with shares it's easier to let your winners ride and cut your losers," he said.
"I don't think you can say that for property."
Leibowitz stresses the importance of liquidity (the ability to turn your investments back into cash), saying it "is not given enough emphasis by investors or the media".
"People often consider the value of their assets as a measure of wealth, but if those assets can't be sold or realised, you're carrying considerable risk," he says.
"This risk can be amplified if everyone is holding the same type of asset class (property) and even worse if you're not even aware of that risk."
It's not an inherently bad idea – in the absence of affordable property, why not put your money in investment vehicles you can afford?
But, as Leibowitz points out, "every person's situation and risk appetite is different", and some Gen Y'ers may be content to hold on to their money for now, in the hope that housing will become more attainable some day.