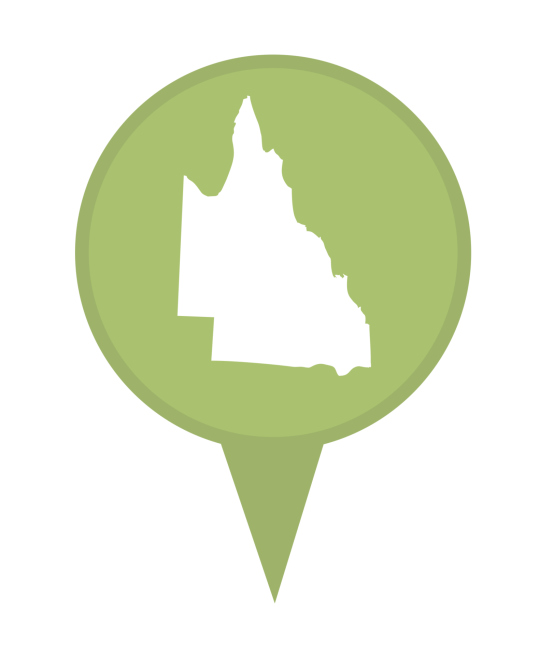 With a state population of around 4.7 million and approximately 47% of those people concentrated in the Brisbane city region, property market competition is strong. Queensland is the Sunshine State, but those trying to break in to the property market – particularly if they want to buy reasonably close to the city, could be forgiven for feeling stormy.
According to Canstar's calculations, average home loan repayments as a percentage of after-tax household income are approaching the level that they were back in the "bad old days", a generation ago, when average mortgage rates were at 17%. That's against a backdrop of historically low home loan rates now. Those high interest rates back then were one of the triggers for the "recession we had to have".
Back in 1990, average home loan interest rates were an eye-watering 17% and Queenslanders were paying, on average, 22% of their household income towards their mortgage repayments. Now, of course, we have an historically low official cash rate and home loan rates at an average of just 5.65%. Despite these low rates, our calculations have found that it's taking approximately 20% of after-tax household income for Queenslanders to pay their mortgage.
Home loan affordability – historical comparison
Compare below housing affordability at the point of historically high average home loan rates (1990) to the point of historically low home loan rates (now).
Queensland

1990
2015
Average house price
$57,600
$313,900
Average loan (assuming 20% equity)
$46,080
$251,120
Average annual household income (after tax)
$36,761
$93,996
Average interest rate
17.00%
5.65%
Percentage of income
22%
20%
The assumptions made in the above calculation are included in the footnote to this article.
In QLD, if home loan rates were currently 17%, households would be putting an average of 46% of their income towards loan repayments. That is a real indication of how average property prices have outstripped wages growth over the past generation.
Here's a graph version of Queensland mortgage repayments as a percentage of household income, plotted against mortgage interest rates, over the past 25 years.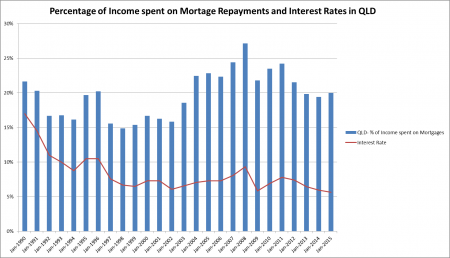 It's particularly worrying that in the past few years as interest rates have fallen, the percentage of household income needed to service an average home loan has continued to rise. It will be interesting to see what the next few years hold.
Assumptions used in calculation
The following assumptions have been made while doing the calculations:
House Prices/Average Loan Amounts are based on ABS Housing and Finance Data and incorporate the following:

Constructions of dwellings
Purchase of new dwellings
Purchase of established dwellings
The final amount was the average of the above

Interest Rate is based on RBA's data (Indicator Lending Rates) – Lending rate, Housing loans, Standard variable
Monthly Net Income for a household was calculated using ABS Data – Average Weekly Earnings (for each State) and was the sum of the following:

Earnings – Male Total
Earnings – Female Total