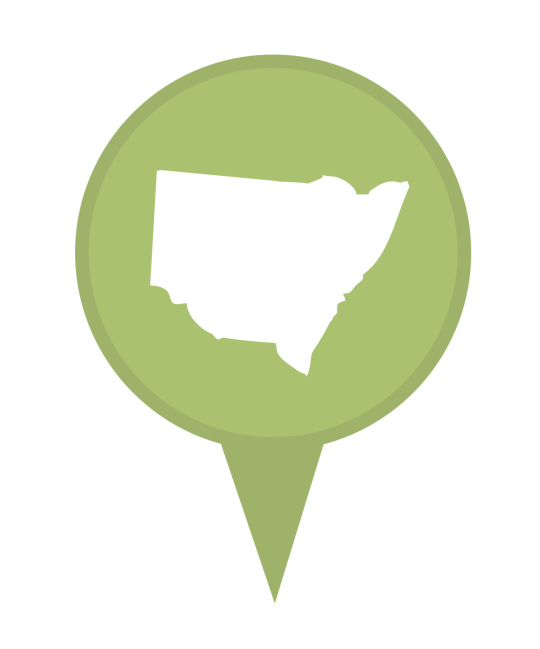 It will be no surprise to those living in New South Wales to hear that housing affordability is the most challenging in their state. According to the Property Council of Australia's 2015 Development Assessment Report Card, NSW is the only state that has not taken steps to improve its planning process over the past twelve months. To be fair through, the report does note that with the Baird Government being re-elected in March 2015 and an upper house that is balanced to potentially support the planning overhaul, reforms are now in a good position to get under way.
High demand for the housing stock available, has seen Treasury use the "bubble" word recently in relation to Sydney house prices. Surely low interest rates are helping borrowers though, aren't they? Well, not necessarily.
According to CANSTAR's calculations, back in 2000, for example, an average NSW household was required to spend approximately 21% of their after-tax household income on home loan repayments (assuming average house prices and a 25 year loan). Now, that figure is 24% of household income.
That increase in the proportion of income required to service a mortgage comes against a backdrop of falling interest rates. Back in 2000, average home loan interest rates were around eight percent, compared to the historically low current average rate of 5.65%. In other words, despite a more than two percent fall in home loan interest rates, it's taking a greater proportion income now to afford the mortgage.
Home loan affordability – historical comparison
Housing affordability has been worse in the past of course – but not for very long. Back in the late eighties/early nineties home loan interest rates soared to an average of 17% which, for a few short years, made housing affordability as a percentage of after-tax household income even worse than it is now. .
New South Wales

1990
2015
Average house price
$84,800
$384,500
Average loan (assuming 20% equity)
$67,840
$307,600
Average annual household income (after tax)
$40,164
$96,528
Average interest rate
17.00%
5.65%
Percentage of income
29%
24%
The assumptions made in the above calculation are included in the footnote to this article.
So in 1990 those in NSW were paying a crippling 29% of their after-tax household income on mortgage repayments. Given the average home loan interest rate back then of 17%, it?s understandable that mortgage repayments were taking such a big chunk of household income. And yet now – with historically low interest rates – those in NSW are paying 24% of their household income, on average, towards a mortgage.
Consider this: if home loan rates were currently 17%, households would be putting an average of 55% of their income towards loan repayments! It's a real indication of how average property prices have outstripped wages growth over the past generation.
Here?s a graph version of NSW mortgage repayments as a percentage of household income, plotted against mortgage interest rates, over the past 25 years.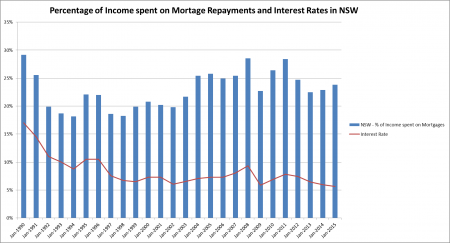 It?s particularly worrying that in the past few years as interest rates have fallen, the percentage of household income needed to service an average home loan has continued to rise. Bubble indeed…
Assumptions used in calculation
The following assumptions have been made while doing the calculations:
House Prices/Average Loan Amounts are based on ABS Housing and Finance Data and incorporate the following:

Constructions of dwellings
Purchase of new dwellings
Purchase of established dwellings
The final amount was the average of the above

Interest Rate is based on RBA's data (Indicator Lending Rates) – Lending rate, Housing loans, Standard variable
Monthly Net Income for a household was calculated using ABS Data – Average Weekly Earnings (for each State) and was the sum of the following:

Earnings – Male Total
Earnings – Female Total