Australia's level of household debt has hit a mammoth 200% – one of the highest debt ratios in the world.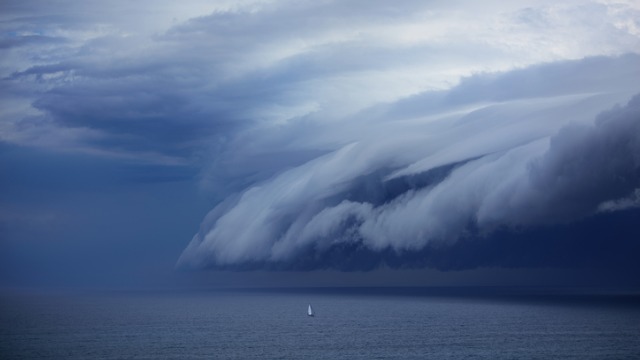 In its Australian Banking Sector Update, UBS revealed the total household debt to disposable income ratio is currently sitting at 199.7%, which is equal to $2,466 billion ($2.46 trillion).
This figure represents a 3% increase since 2016.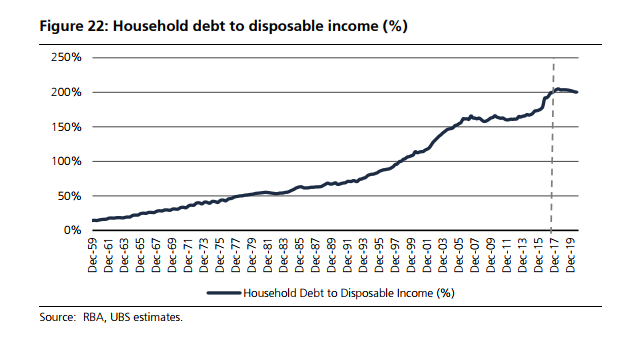 According to OECD data from 2016, this would put Australia 5th in the world when it comes to household debt, behind Switzerland (213%), Norway (231%), The Netherlands (270%) and Denmark (290%).
| Country | Debt/income ratio |
| --- | --- |
| Denmark | 290 |
| The Netherlands | 270 |
| Norway | 231 |
| Switzerland | 213 |
| Australia | 200 |
| Sweden | 183 |
| Korea | 179 |
| Canada | 178 |
| Luxemborg | 176 |
| The UK | 153 |
Source: UBS, OECD. Note that Australia's data is from the time of writing while the data for all other countries is from late 2016.
UBS reports subdued growth in household income will continue, with the debt/income ratio expected to peak at around 205% in June 2018 before slowing.
OECD defines household debt as "all liabilities that require payment of interest or principal by the household to a creditor in the future."
A report last year showed that household debt had doubled in Australia since 2003, and according to AMP Capital's Senior Economist Diana Mousina, younger generations are bearing the burden the most.
"The majority of household debt is housing debt which is sitting at around 138% of income. The low-interest rate environment has encouraged households into the housing market and strong growth in Australian dwelling prices over recent years have added to this positive sentiment in the housing market," Ms Mousina told Canstar.
"The exceptional growth in home prices across Australia (particularly in Sydney and Melbourne) have not been good news for first-home buyers. As a result, the share of first home buyers taking out loans fell to around a record low at around 13% in 2015 and remained at a soft level over 2016.
"In mid-2017, first home buyers were encouraged back into the market with the state governments offering various concessions.
"First home buyer loans are now sitting at 18% – a good improvement on the lows of recent years."
Ms Mousina also forecasts the housing market to soften going forward in 2018.
"This means that any additional growth in housing and household debt is likely to be capped," she said.
"We expect apartment prices in Sydney and Melbourne to decline by 5-10% this year as new supply continues to enter the market, sentiment towards the housing market continues to soften and affordability pressures in the two capital cities affects demand.
"Dwelling prices in Perth and Darwin are likely close to bottoming. Hobart is likely to remain strong and Brisbane, Adelaide and Canberra are likely to see moderate price gains this year."
How to minimise your household debt
Some level of household debt is almost unavoidable these days, and according to Matthew Hudson, Manager of SV Partners, it isn't always a bad thing.
"(Household debt) could be used to buy your family car or house, purchase groceries or essential items or even fund your next holiday,", Mr Hudson told Canstar.
"Where someone has too much debt or doesn't have the right budgeting, planning or sufficient equity to back up these debts, that's where people can get into trouble.
"Bankruptcy may well be the final outcome that some in the community might have to face, should they find themselves in these circumstances."
Mr Hudson found these results unsurprising considering long-term trends in ABS data, and has offered the following five steps for people looking to minimise their household debt:
Go to www.MoneySmart.gov.au, which is a free government website that can help point you in the direction of financial counsellors or answer frequently asked questions
Do up a worst-case scenario budget for the next three months and see how you might fair meeting your debt repayment instalments
Pay off your credit card debt as soon as possible. No one should be paying, in many cases, 20%+ in interest
Seek help from a professional member of ARITA, the professional body for registered insolvency and turnaround practitioners. At SV Partners, we offer complimentary, no obligation, first meetings to see how we can assist you
If times are really tough and you don't think you can pay all of your creditors, bankruptcy is not the only option. Go to www.AFSA.gov.au and check out the free government resources on what other options you might have
Other key findings from UBS
In addition to finding this new level of household debt, UBS has also made several other key findings in its report:
House prices have fallen by 3% in Sydney since September 2017
Melbourne house prices have peaked and are expected to fall soon
Demand for housing by foreigners is decreasing following increases in taxes and restrictions on capital outflows in China
Housing credit growth slowed to 0.44% growth month-to-month in November
Non-bank housing credit growth has hit 20%, however, and their market share has increased to 5.5%