The Australian housing market is taking a toll on young adults as they struggle to cope with rising household debt and poor wage growth, according to new research.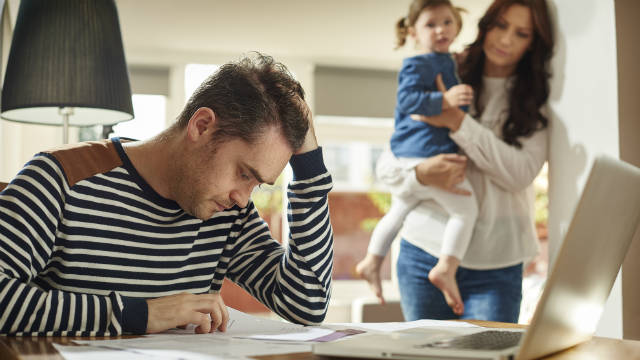 The annual Household, Income and Labour Dynamics in Australia (HILDA) survey was released today by the Melbourne Institute of Applied Economic and Social Research, which has researched the same individuals and households since 2001.
One of the most concerning facts to come out of the survey is that for young adults aged under 40, housing debt since 2002 has gone up by 99% in real terms from $169,201 to $336,586 in 2014.
At the same time, incomes have flattened since 2012, with Sydney experiencing the smallest rate of growth in median income.
According to the report's author, Professor Roger Wilkins, the HILDA survey results show that it's getting "more and more difficult" for young people to get into the housing market.
"In real terms, home debt of adults aged under 40 who own their home has nearly doubled, certainly well out-pacing wage growth over that period," said Professor Wilkins.
The author also says that the rate at which young home owners are paying off their mortgages is unexpected.
"One thing that stood out to me this year was when looking at the home debt of young home owners, we tend to think of people taking out a home loan and then paying it off over time," he said.
"But what the HILDA data show is that in fact, 30-40% of home owners increase their debt from one year to the next, and on average home debt was increasing for existing home owners.
"That wasn't something I expected to see."
Home ownership for young Australians on the decline
With the rising debt and stagnating income growth analysed in the report, it also becomes evident that home ownership in general for this younger age bracket is declining.
In 2002, nearly 36% of people aged 18-39 were home owners, compared to only 25% in 2014.
In terms of family types, the most prominent decrease in home ownership has come from couples with dependent children.
In 2014 only 38.6% of individuals in this family type were home owners, down from 55.5% in 2002.
More young adults living with their parents
While young people struggle to break into the housing market, the HILDA report also highlights a clear trend rise in the proportion of young adults living with their parents for longer.
The most obvious rise has been among women, with 86% of women in 2015 aged 18-21 living with their parents (compared to only 67% of women in 2001).
For women slightly older, aged between 22 and 25, the proportion living with their parents grew from 27% in 2001 to 48% in 2015.
Men in that same age bracket also experienced a substantial rise from 43% in 2001 to 60% in 2015.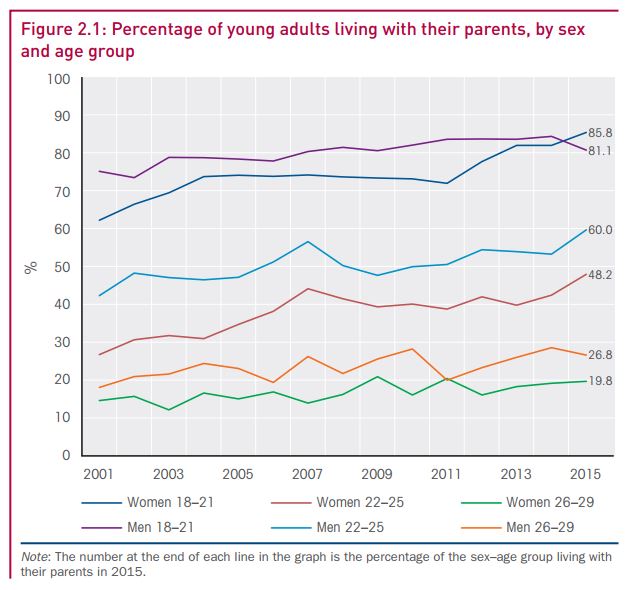 Source: The Melbourne Institute of Applied Economic and Social Research