[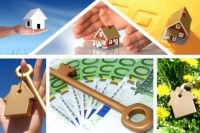 bs_lead]Each year Canstar research the first home buyer offerings available from Australian financial institutions. To compare what financial institutions offer, Canstar cherry-picks the features of utmost importance to first-home buyers and look at how lenders shape up in all phases of home ownership, as they apply to first timers.[/bs_lead]
Once again, Canstar is pleased to congratulate Hume Bank on taking the First Home Buyer Award for Victoria. Canstar caught up with Andrew Saxby, CEO of Hume Bank, for some insights into how first homebuyers can get together a deposit and get into their first home.
Q: Between paying rent and other expenses, it can be difficult for first home buyers to save a sizable deposit. What is the maximum percentage they can potentially borrow?
A: Generally a minimum of 5% of the house cost is required as well as additional funds to cover stamp duty, legal fees, application fees and registration costs. (Click here for a list of typical costs that are associated with buying a home).
Q: What size deposit do homebuyers need in order to avoid mortgage insurance?
A: If you are borrowing more than 80% of the home's value, you will also need Lenders Mortgage Insurance, and this cost will be added to your loan amount.
Q: What is the parent equity option?
A: The parent equity gives parents the ability to be a co-borrower or guarantor on a home loan for their children. This person becomes liable for the loan if repayments are not made. As such:
parents and children will both need to demonstrate repayment capacity in their own right,
co-borrowers have direct responsibility for the debt, whereas guarantors have responsibility for the debt when the borrower fails to meet their repayment obligations;
in all situations, when the debt cannot be repaid, the security is sold
The most important safeguard is to limit the parent's exposure to the debt. This can be done by separating the overall debt on the property into two loans and maximising the loan amount that is in just the child's name. Hume's advice to parents is to keep the debt to a short term and to ensure their children are very clear on the impact on their parents if they fail to meet their obligations.
Children should be clear on the total repayments and feel comfortable with repayments – regardless of how a bank assesses their repayment capacity. Parents must also be comfortable with the repayments of the loan they are securing to so that their home is never at risk. Job security and family relationships need to be considered. If parents are close to retirement, they need to ensure they can still afford the commitment when they retire or ensure they have other options to repay that debt, such as access to their superannuation.
Once there is sufficient equity in the home, the property can be revalued and the parent's guarantee released.
You can read Canstar's First Home Buyer report here.