There are not too many 34-year-olds who own their home outright plus a handful of investment properties with hardly any debts. But this is the case for Brisbane real estate agent and father of three Dean Hamilton. His advice? Save your money, jump in early and be prepared for good old-fashioned hard work.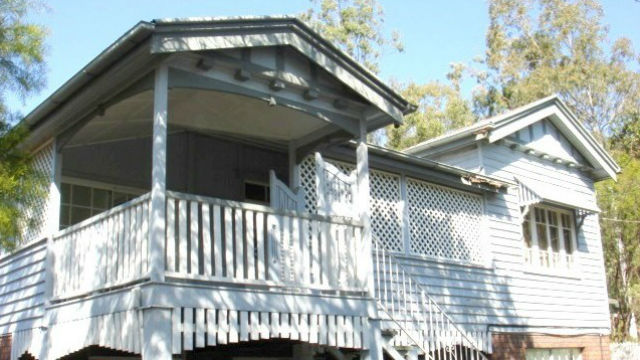 The year was 2005 – John Howard was Prime Minister, hit music group Destiny's Child officially broke up, YouTube was founded and 20-year-old Dean Hamilton spent every cent of his savings towards buying his first house in Brisbane's inner-city suburb of Ashgrove.
The four-bedroom timber home was a quintessential Queenslander with a corrugated roof. It was, as Dean puts it, "super old".
Located roughly eight kilometres from the city, Dean figured the post-war home was an opportunity he couldn't pass up.
After inspecting just this one property, he made an offer of $358,000, which the real estate agent quickly accepted.
Dean soon found himself scrambling to put a deposit together without any financial help from his parents.
In a way, though, his parents had lent him a hand by planting a seed in his mind early in his life that he should start saving money from a young age and put it to good use.
This advice, paired with a keen entrepreneurial mindset, saw a 14-year-old Dean work the checkouts at his local Woolworths after school.
And rather than spending the money, he put those earnings straight into a trading account and was lucky enough to watch the balance grow over time.
Six years later, Dean sold those shares so he could put a deposit together to buy the Ashgrove house.
But there was a catch
"I went into shock when I got my invoice and realised I had to pay a thing called lender's mortgage insurance," he said.
After speaking with his lawyer and mortgage broker, he quickly realised he did in fact have to pay around $6,000 in lender's mortgage insurance (LMI) because his home loan deposit was less than 20% of the total value of the property.
Having only just started his career as a commission-only real estate agent, Dean didn't have much certainty around when his next pay cheque would come in.
With little-to-no savings to fall back on, and being the owner of an old house with plenty of maintenance issues, he learnt to be even smarter and thriftier with his money.
This included taking on a second job as a bartender at a nearby hotel and renting out his spare rooms to friends in order to make ends meet.
Dean realised he had dived in unprepared, but says today that the experience taught him valuable lessons and helped him go on to build his property portfolio.
A lot of hard work and no play
Dean spent his early twenties pouring drinks at night from Tuesday to Saturday and then dragging himself out of bed the next morning to scramble to his day job.
"I worked the pokies room at the hotel at a time when smoking indoors was still allowed," he said.
"My trousers would reek of smoke. As soon as I came home, I would have to wash them so I could wear the same pants the next day to sell real estate."
Despite his best efforts, there wasn't a lot of money left over after paying for essentials, such as food and fuel.
With a tight budget, this meant no sipping lattes at hip cafes, no eating out with friends, no travelling or pursuing other carefree activities that a lot of young people typically do.
When asked if he felt like he missed out, Dean said: "absolutely, but now I'm crushing it. I have zero regrets."
He said it was his first house that set him up for a bright future, even though he didn't hang onto it for long.
After planting some trees, laying down turf and getting new gutters installed, Dean sold the Ashgrove house in 2007 and made a profit of more than $100,000.
He was 23 at the time and found himself with more money in his bank account than most of his mates.
But rather than going out on a spending spree, Dean put the profit towards buying more real estate.
Onto greener pastures
After selling the Ashgrove home, Dean turned to the commercial property market and bought a stake in the real estate office he worked from, which he says has consistently produced additional income.
Over the past 14 years, the real estate agent at LJ Hooker Stafford has been able to invest in 17 residential and commercial properties across Brisbane – some of which he's since sold – including investing in the construction of apartment complexes.
He said a big help with saving money to invest during that time came out of living rent free for about five years in his mid-twenties.
Dean was living in a rental house which he subleased out to university students with the permission of the owner. The students covered his whole rent for the property, meaning his money could go towards building his property empire.
It was a huge help having more money coming in than going out, he said.
Canstar Group Executive of Financial Services Steve Mickenbecker said what worked for one person may not necessarily work for another and it was wise to save for a deposit before buying a home.
"Success is not about jumping into the market fast because of the fear of missing out," Mr Mickenbecker said.
"That all too often can result in paying a price that's too high, or buying a property that is flawed or getting a home loan with an interest rate that's above market.
"These are all mistakes that get exposed when there is a market downturn or when rates go up."
He said sometimes the answer was to wait while you build a deposit, so you don't have to pay LMI or a penalty interest rate and have some fat to withstand unexpected events or tougher economic times.
Taking the time to understand the property and lending markets, gauging the potential risks and how to manage those risks will help give someone the confidence to dive in, he added.
"Less Rambo, more Warren Buffett."
Dean admits the property market today is different to the one he entered during the pre-Global Financial Crisis days, when house prices were generally climbing.
Today, some borrowers are finding it harder to get a home loan, house prices are declining in some areas, particularly in Sydney and Melbourne, and Labor has vowed to limit negative gearing to new home builds and halve the capital gains tax discount.
Dean said he has not been personally affected by many banks' recent tighter lending standards and that he's not bothered by Labor's negative gearing proposal because he has never relied on the tax incentive and instead invested in positively geared properties, where the income generated exceeded his expenses.
He said if he had his time again, he would have landed a full-time job earlier, to help him service his home loans and pay them off sooner.
His words of advice to his children Charlie, Luka and Sydney are similar to what his parents told him: save your money and start investing at an early age.