Each stage of life can throw forth its own set of questions on how to best manage your finances – whether it's getting your first job, falling in (or out) of love, starting a family or planning your retirement.
Money magazine editor Effie Zahos has written her own step-by-step guide to some of these financial scenarios in her new book A Real Girl's Guide to Money: From Converse to Louboutins, released today.
She tackles topics from budgeting and saving once finding a job, to discussing your financial plans with a new partner and navigating the endless costs of having children.
After months in the making – and 21 years in the business – it's here! A Real Girl's Guide to Money is everything I wish I'd been taught about money and had to learn along the way. Thank you to the team at @moneymagaus and @bauermediaaustralia for helping make it happen. Out now! pic.twitter.com/hqYXbxUALZ

— Effie Zahos (@effiezahos) February 28, 2019
In the fourth chapter of her book, Zahos dives into the world of home ownership and provides her tips for reaching what some see as 'the impossible dream' of saving up a deposit and buying your own home.
Here is an edited excerpt from the book, republished with permission:
Chapter 4: I'll never own a home
Buying your first home doesn't have to mean living on two-minute noodles and instant coffee for years (although I don't mind instant coffee – it's got a real kick to it!). The trick is to think outside the square.
If slogging away at growing a deposit isn't getting you any closer to your goal, it's time to change your track. There's a whole variety of different strategies you can mix and match to get you over the line and into your first home.
Co-buying – combine forces
If your family isn't in a position to provide a guarantee or a gift of cash for your loan, don't give up, more solutions are available.
When you're planning to buy a place on your own, it can feel as if you're being squeezed out of the property market. After all, couples have the natural advantage of having double the purchasing power. But there's nothing to stop you getting in on the act by pitching in with a co-buyer.
By pooling your resources, you may be able to afford a higher-quality property or a better suburb. If your co-buyer has previously owned a home, you won't be eligible for the First Home Owner Grant yourself, but that may be a minor downside compared with the benefits of a greater combined buying power. A growing number of lenders recognise that first home buyers often need to buy with a friend or family member, so securing a home loan shouldn't be a problem as long as you both have a good credit record and enough income to meet the repayments. Nonetheless, I've come across plenty of stories from people who have not enjoyed the co-buying experience.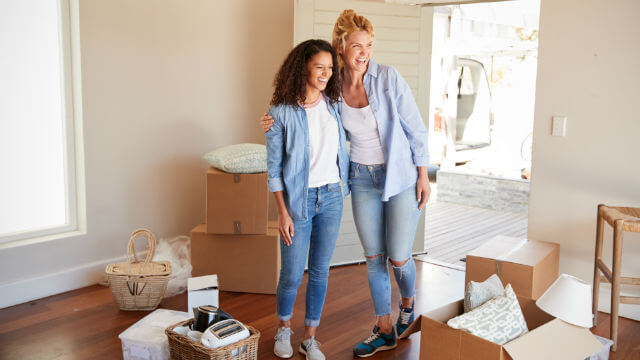 Unfortunately, the more complicated you make your home purchase, the greater the potential for something to go wrong. Buying property with someone else is nothing like organizing a hen's night with your best friend. You'll be sharing a major debt so it pays to be really picky about who you bring into the arrangement. If you have the slightest doubt about a potential candidate's income, their attitude to money and, in particular, the way they handle debt, scratch them from your list.
If you find someone you feel comfortable sharing a home purchase with, the golden rule is to have an agreement – in writing, and preferably drafted by a solicitor – that spells out how your set-up will work. It should include how you'll split costs as well as what happens if one person wants out. A danger with co-buying is that a few years into the arrangement one owner may start to head in a different direction. Even if your written agreement explains the steps to take if your co-buyer wants to bail out of the arrangement, you could still be left high and dry. It could mean you are forced to sell a home you really like or you have to put the place on the market at a time when prices are down.
The point is that co-buying is a way of getting into a home of your own if you can't afford to do it solo. Just think it through carefully and understand what could go wrong.
Effie's top tips for buying your own home:
Work out how much you can regularly save towards a deposit.
Choose where you'll grow your savings. Mix and match between an online savings account and higher-return options like exchange traded funds, managed funds and/or the First Home Super Saver scheme.
Talk to your family about how they can help.
If you can't afford to buy on your own, think about co-buying with a friend or relative. It will boost your buying power and make the costs more manageable.
Consider rentvesting if you can't afford to buy in the area you want to live in.
About Effie Zahos
Effie Zahos is a well-known finance commentator for Canstar, a former editor of Australian personal finance magazine Money, and author of the children's book The Great $20 Adventure. She is also a regular money expert on Channel 9's Today show and is a mother to two children. You can find her on twitter @effiezahos. Her book A Real Girl's Guide to Money: From Converse to Louboutins is available in bookstores and online.
Cover image source: Leszek Czerwonka (Shutterstock)