New data shows that amid the 'housing affordability crisis' in Australia's capital cities, the proportion of residential properties across the nation selling for less than $400,000 has almost halved in the past decade.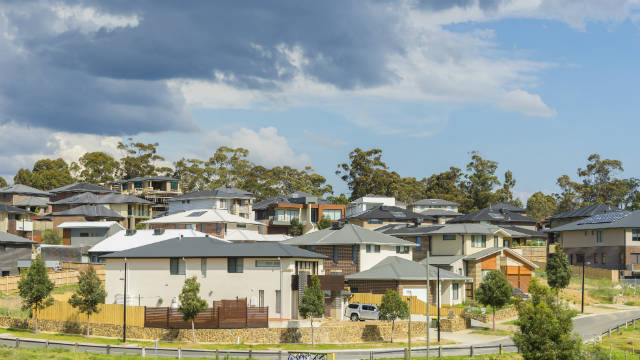 Research from CoreLogic has found that continued increases in dwelling values recently has led to a "significant reduction" in the number of sales below $400,000.
According to the data, 31.2% of houses and 37.3% of units across Australia sold for less than $400,000, while a year ago the proportions were at 32.8% and 38.6% respectively.
The data shows that 10 years ago the ratio of sales at that price were nearly double what they are now, with 62.4% of all houses and 68.9% of all units selling under $400,000.
"With dwelling values continuing to climb it is anticipated that over the next 12 months the proportion of properties selling for less than $400,000 will further reduce," said Cameron Kusher from CoreLogic.
"As in the way that the rising number of sales of properties for at least $1 million shows the deteriorating affordability, so too does the significant reduction in the availability of properties priced under $400,000."
Kusher says there is much more work to be done to improve supply and demand drivers of the Australian housing market.
"A greater supply of stock which could potentially reduce prices would at the very least be a good start however, the supply needs to be supported by sufficient infrastructure and employment opportunities," he said.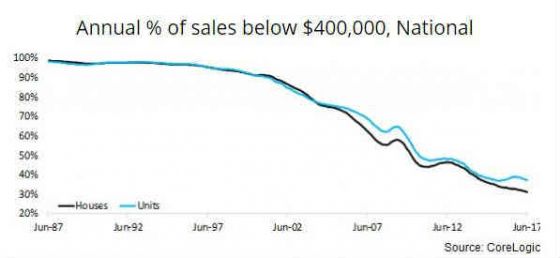 Hobart the only capital city with more than 50% of house sales under $400k
In the last 12 months, Hobart was the only capital city in Australia with more than half (53.2%) of house sales and 78.3% of unit sales below $400,000.
In comparison, house sales of less than $400,000 in Sydney and Canberra during the same period were less than 3.5%.
But the data shows that the unit market in Sydney does not even compare as much of an alternative, with only 7.4% of unit sales sitting below the $400,000 mark.
Just 10 years ago a prospective buyer had a much greater opportunity to score a house for under that amount in Sydney (35.5%) and Canberra (40.0%), and a cheaper unit in Sydney was also much easier to come by (at 53.9% of sales under $400,000).
In the past year alone, the proportion of houses (19.0%) and units (29.6%) available for below $400,000 has decreased significantly across the nation's capital cities (from 16.8% for houses and somewhat less so for units at 28.4%).