The CoreLogic June Home Value Index results reported a 0.5% rise in capital city dwelling values over the month – but the rise hid widespread losses in many states.
In June this year higher housing values across Melbourne and Sydney continued to push the CoreLogic Hedonic Home Value Index to new record highs – but the rises in the two largest Australian cities hid lacklustre quarterly performance and even falls in other states.
Brisbane, Adelaide, Perth, Darwin and Canberra all recorded falls in the month of June, while Hobart, Melbourne and Sydney were the only three capital cities to record a rise.
Overall the CoreLogic Home Value Index for June and year on year looks as follows: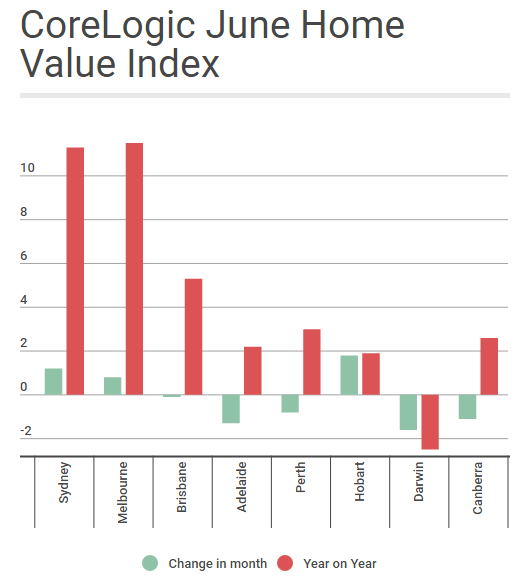 "The monthly growth rate reduction is likely to be very much welcomed by state and federal government policy makers and regulators who may be concerned about a sustained rebound in capital gains," said CoreLogic Asia Pacific research director Tim Lawless.
"As an example, home values in Sydney have been rising for four years, and have increased by a cumulative 59% over this time frame. Melbourne dwelling values have been rising for the same length of time and have moved 41% higher over the growth cycle to date."
Lending moderating: ABS
According to the most recent Australian Bureau of Statistics (ABS) housing finance data, released in July, lending to owner occupiers has been moderating, recording a fall of 0.6% in May.
The Real Estate Institute of Australia (REIA) noted that if refinancing is excluded, in trend terms for May, the number of owner-occupied finance commitments decreased for the sixth consecutive month.
"The value of investment housing commitments declined by 0.1 percent in May and is well down from its 2015 peak in response to the increase in mortgage rates for investors and the strengthening of banks' non-price lending terms," said REIA President, Neville Sanders.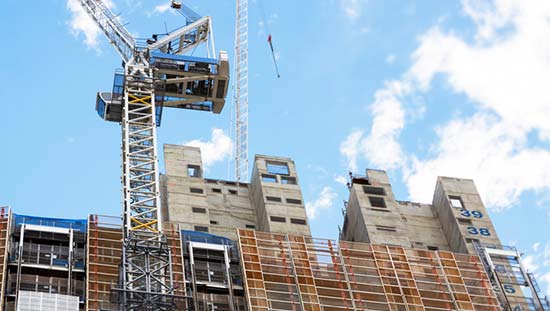 Current median dwelling price in Australia
Based on the CoreLogic Index results over the first six months of the year, capital city dwelling values have moved 5.5% higher during 2016. Current median dwelling prices are as follows.
| | |
| --- | --- |
| Sydney | $780,000 |
| Melbourne | $587,500 |
| Brisbane | $475,000 |
| Adelaide | $420,000 |
| Perth | $505,000 |
| Hobart | $341,500 |
| Darwin | $510,000 |
| Canberra | $560,000 |