The first data from the 2016 Census has revealed that while the 'typical' Australian resident no longer owns a home outright, the typical NSW and Tasmanian resident does.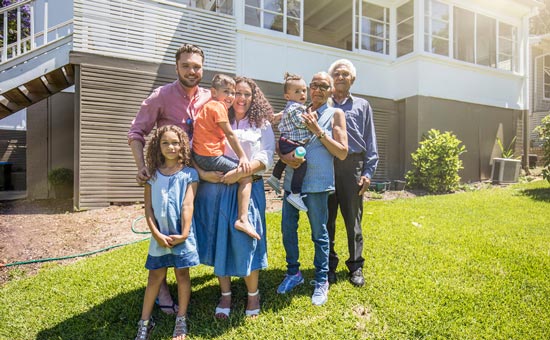 While the 2006 Census portrayed the typical Australian as an outright homeowner, residents in most states and territories now typically have a mortgage, according to insights from the 2016 Census by the Australian Bureau of Statistics (ABS).
It's a sign of how much things have changed in just 10 years.
But the new data demonstrated that home ownership status depends on location.
For example, the majority of homes in the Northern Territory are rented, whereas most homes in NSW are owned outright, which is surprising given the high median house price in the state.
On the other hand, the number of rooms per house is extremely consistent from state-to-state, with the typical Aussie owning or renting a 3-bedroom house everywhere except Western Australia.
The following table gives a state-by-state breakdown of the typical resident's ownership status for their home or dwelling.
| State/Territory | Ownership status | No. of bedrooms |
| --- | --- | --- |
| National | Owned with a mortgage | 3 |
| NSW | Owned outright | 3 |
| Victoria | Owned with a mortgage | 3 |
| Queensland | Owned with a mortgage or rented | 3 |
| South Australia | Owned with a mortgage | 3 |
| Western Australia | Owned with a mortgage | 4 |
| Tasmania | Owned outright | 3 |
| Northern Territory | Rented | 3 |
| ACT | Owned with a mortgage | 3 |
Source: Australian Bureau of Statistics, 2017
While the majority of the census data is still yet to be released this June, these early figures show that more and more Aussies are struggling with rising house prices.
Only 2 states have 'typical' residents that own their properties outright: NSW and Tasmania.
What does the typical Australian look like these days?
As well as giving some insight into the current state of the property market, the latest census data shows what the new average Australian really looks like.
Most people think of the typical Australian as a man – a blonde and tanned surfer with long hair, slurping down a beer while watching the sunset.
Turns out this is pretty far from the truth.
Thanks to the 2016 census, we now know that the typical Australian is a 38-year-old female who is married, with two children.
They speak English at home and both of their parents were also born in Australia.
This is a significant change from the first census in 1911, when the average Australian was a 24-year-old male.