Australia's largest bank is set to lower its "stress test" rate for people wanting to
apply for a home loan
. But will it make much difference in securing a mortgage?
Commonwealth Bank (CBA) will lower its serviceability floor rate from 5.75% to 5.40% on Saturday, 9 November for the second time this year.
This means it could now be easier for some people to qualify for loans of larger amounts with CBA, but it would depend on what rate they were able to negotiate. Here's how it works.
What difference could CBA's lowered serviceability floor make to securing a home loan?
When a customer applies for a home loan, banks use the serviceability rate as a kind of stress test to work out whether the person could afford the repayments on the amount being borrowed if there was an interest rate hike.
Lowering the rate could make it easier for some borrowers to qualify for a home loan, and even borrow more money in some cases.
Before July this year, the Australian Prudential Regulation Authority (APRA) required banks to apply an interest rate of at least 7% – more commonly 7.25% – to that calculation. Customers were able to apply for home loans with interest rates below 4% at the time (and below 3% now), leaving a pretty significant gap between what customers would actually be repaying and the rate they were being tested against.
But APRA has now scrapped that minimum 7% requirement, and instead recommends banks apply a buffer rate of at least 2.5% to their advertised interest rate on whatever home loan a customer is applying for. Alternatively, banks can now also set their own serviceability floor rate.
Lenders tend to choose whichever rate is higher – either their own serviceability rate or the advertised interest rate plus the 2.5% buffer.
So, for a homeowner's application to be stress-tested at CBA's new floor rate of 5.40%, it would mean the interest rate on their chosen home loan would likely need to be 2.90% or lower – the 2.90% rate plus the 2.5% buffer. But CBA does not currently offer a home loan with this advertised interest rate.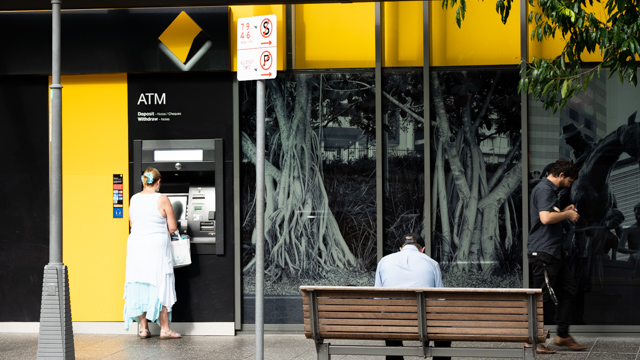 CBA joined the pack of lenders who cut home loan rates after the Reserve Bank's cash rate cut in October. As a result, the bank lowered its variable loans and also announced owner-occupier fixed home loan interest rates as low as 2.99% (comparison rates 4.47% and 4.37% for fixed-rate terms of two and three years) – its lowest rates on offer at the time of writing.
This advertised rate, plus the buffer rate of 2.5%, would equate to a 5.49% stress test, which is higher than CBA's new floor rate of 5.40%. Therefore, home loan applicants seeking CBA's lowest home loan rate would likely be assessed under APRA's higher buffer rate calculation, rather than the serviceability rate.
Unless customers are able to negotiate (or CBA introduces) a home loan rate at or below 2.90%, the bank's own serviceability rate would not be applied.
A Commonwealth Bank spokesperson said any home loan applications submitted before the changes come in on Saturday that have not yet been formally approved would be assessed using the new 5.40% floor rate and existing 2.50% buffer.
CBA, Westpac, Auswide Bank and Heritage Bank have all lowered their floor rates twice in response to APRA's new rules on home lending, while ANZ and National Australia Bank have reduced their floor rates once since that time.
Uptick in home lending & house prices
Coinciding with the lowering of one barrier to securing a home loan, new data shows there has also been a rise in the number and value of new home loans over the past four months, spurred on by owner-occupier interest.
The Australian Bureau of Statistics (ABS) released figures today that showed the number of loans issued to owner-occupiers rose by 3.6% to 34,410 in September. The value of owner-occupier loans swelled by 3.2% to around $14.24 million.
While home lending has been on the uptick, national house prices are also rising and could hit a new record high in around six months' time, according to property experts at CoreLogic.
CoreLogic head of research Tim Lawless said there was "no doubt" the improved access to credit from APRA's lending changes, combined with historically low mortgage rates, had already contributed to a rebound in housing market conditions.
He said rising house prices may continue to push first home buyers out of the market due to affordability pressures. Today's ABS figures showed first home buyer commitments dipped by 1.9% in September, despite the overall rise in new home loan numbers.
Image source: TK Kurikawa (Shutterstock)