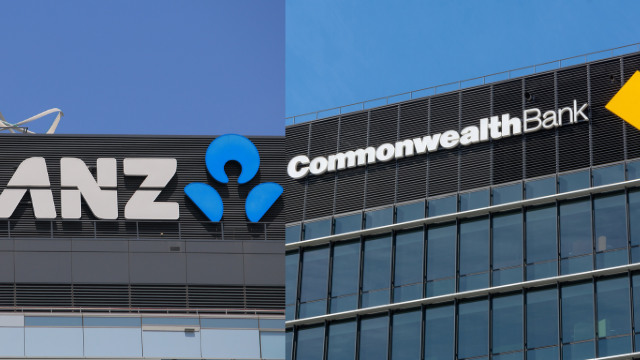 ANZ released a statement today that said it would increase variable interest rates for owner occupiers and investors in Australia by 0.16 percentage points from September 27.
Shortly after its announcement, Commonwealth Bank released a statement saying it would also increase its variable home loan rates by 0.15 percentage points, effective from October 4.
CBA and ANZ's hikes were slightly higher than Westpac's rate increase of 0.14 percentage points across its variable rate products that was announced last week and will come into effect from September 19.
Like Westpac, both banks attributed the rising cost of borrowing money to provide home loans, known as wholesale funding, as the reason for the rate hikes.
Canstar Group Executive of Financial Services Steve Mickenbecker said it was only a matter of time for the last of the big four, National Australia Bank, to also lift rates because it was also subject to the same rising wholesale funding costs.
"Being major banks, these hikes will impact a huge number of borrowers in the country because it filters through to existing loans, not just new loans," Mr Mickenbecker said.
"For ANZ, repayments on your average home loan of about $400,000 will go up by about $38 per month."
As for Commonwealth Bank owner occupier customers paying principal and interest on a $400,000 loan, the new standard variable rate will jump to 5.37% (comparison rate of 5.51%), adding $35 a month to repayments.
ANZ Group Executive of Australia, Fred Ohlsson said it was a tough decision given the impact it would have on family budgets.
"The reality is it is more expensive for us to fund our home loans on wholesale markets and we also needed to balance the needs of all stakeholders," Mr Ohlsson said.
"There is no change to the effective rates of our home loan customers in drought declared regional Australia benefiting more than 70,000 of our customers."
Commonwealth Bank Group Executive of Retail Banking Angus Sullivan said the bank had seen funding costs increase significantly this year, primarily due to a rise in the 90-day Bank Bill Swap Rate.
"We have absorbed these higher funding costs over the past six months in the hope that they would ease," Mr Sullivan said.
"Unfortunately, the costs have remained high and it is now expected that they will remain elevated for the foreseeable future."
He said the rate changes won't take effect until next month to give homeowners an opportunity to "look at their options."
Adelaide Bank and Suncorp flagged interest rate hikes on Friday, two days after Westpac's announcement for variable rate loans. Adelaide Bank's lift was by 0.40 percentage points, while Suncorp's was by 0.10 percentage points.
ANZ had reduced interest rates on a number of its home loans last month just days after the Commonwealth Bank had reduced some of its rates.