The housing market in Australian capital cities is finally showing signs of slowing, with a price rise of just 0.1% in April.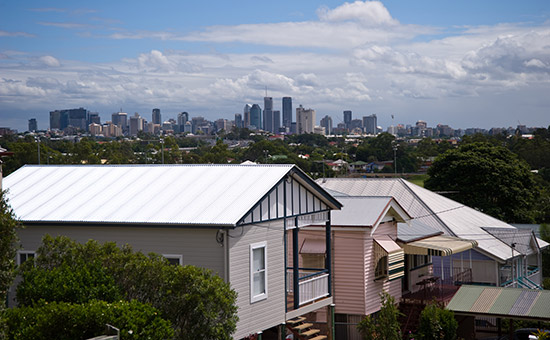 Research firm CoreLogic's Home Value Index revealed capital city house prices slowed last month, to the lowest month-on-month rise since December 2015.
Sydney experienced a somewhat negative result in April, as dwelling values were flat at -0.04%, but annual growth is still high at +16%.
.@australian property editor Turi Condon says April stats show Sydney's housing market slowing down with prices remaining stagnant #ticky pic.twitter.com/W2ZWg03d7i

— Sky News Business (@SkyBusiness) May 1, 2017
The quarterly figures for Melbourne were also lower than previous results, with dwelling prices up 0.5%, and the annual growth rate at just over 15%.
CoreLogic's research shows that the strongest housing market is Hobart, with dwelling values rising 5.1% this quarter following progressive improvement over the past 2 years.
Home dwelling prices moved to 13.6% higher in the past year, making Hobart the third best performing capital city on an annual basis.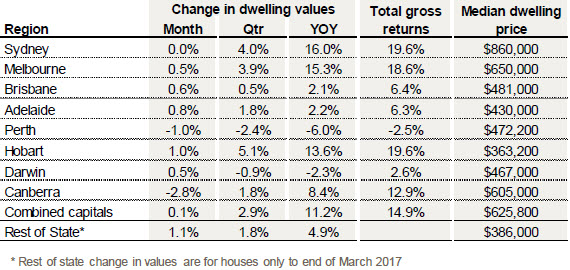 Source: CoreLogic, 2017
Soft growth results don't always mean the market has peaked
Most capital cities recorded softer growth results this month, compared to the start of 2017.
Trends revealed in the Home Value Index are generally positive, however, with the combined capitals' quarterly growth at 2.9%.
Head of CoreLogic Research Tim Lawless warns that after only one month of "soft results", we should be cautious of declaring a peak in the market.
"The softer results should also be viewed against a backdrop of an ever-evolving regulatory landscape which is firmly aimed at slowing investment and interest-only mortgage lending," said Mr Lawless.
Amid concerns about heightened risks of household debt and rising prices, the Australian Prudential Regulation Authority (APRA) handed down new restrictions on interest only and investor lending in March.
"Testament to this is mortgage rates which have been edging higher, particularly for investors and interest-only loans, as well as rental yields which have been hovering around record lows," Mr Lawless said.
"The higher cost of debt, as well as stricter lending and servicing criteria, has likely dented investment demand over recent months."
Australia's high housing growth rate has made breaking into the market unaffordable for many first home buyers, and is consequently a hot issue in Australian politics.
Housing affordability is likely to be a key topic in the upcoming Federal Budget to be released on Tuesday 9 May.
.@billshortenmp says the 'rigged' housing market is not a level playing field for young Australians – live now on channel 601 #auspol pic.twitter.com/IRVjaY9PIc

— Sky News Australia (@SkyNewsAust) April 27, 2017