Do you trust your
home loan provider
to offer you a fair interest rate? Have you considered switching lenders?
The Reserve Bank of Australia (RBA) has lowered the official cash rate twice so far this year. Those changes have slowly begun to flow through to the rest of the market, meaning interest rates on a range of bank products – including home loans, savings accounts and term deposits – have been dropping overall. Home loan interest rates have fallen to their lowest point in 26 years, according to Canstar's database, with some currently available below 3%. As lenders race to the bottom on home loan rates, now could be the opportune time to make sure you're with the right lender.
A recent Canstar survey found Australian consumers, on average, have more faith in their home loan provider's ability to offer them a fair interest rate than they do in its willingness to provide them support in times of hardship. Interestingly, younger people and seniors had higher levels of trust overall in their lender compared to homeowners aged in their 40s and 50s.
In the survey of more than 2,800 customers across 75 home loan lenders, Canstar asked respondents to grade their overall satisfaction with their provider, with the results forming the basis of our Most Satisfied Customers – Home Lender Awards.
Our Most Satisfied Customers Awards delve into how customers rate their overall satisfaction with a particular financial institution, and complement our Star Ratings and Awards that are calculated by Canstar's expert researchers.
Canstar's Group Executive of Financial Services, Steve Mickenbecker, said the Customer Satisfaction Awards were like word-of-mouth recommendations from friends.
"People are very good judges of when they have received good service and when their expectations have been met or exceeded," he said.
People's Choice Credit Union wins Most Satisfied Customers – Home Lender Award
People's Choice Credit Union – a member-owned financial institution – has won Canstar's 2019 Most Satisfied Customers – Home Lender Award.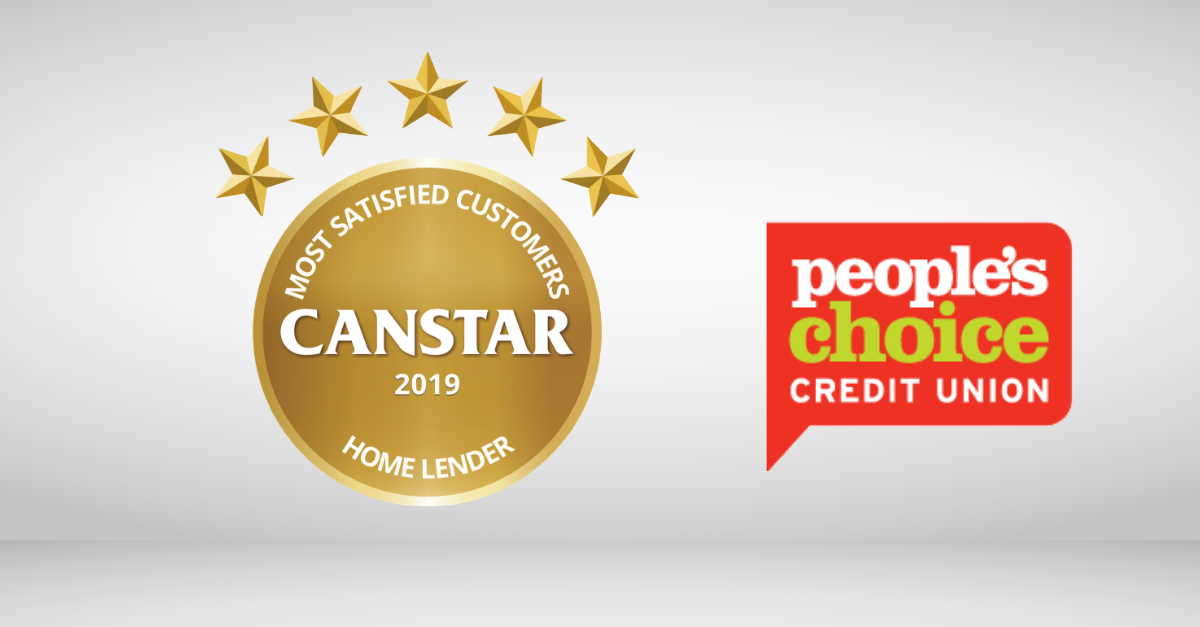 Looking at the research findings overall, customer service was the biggest indicator of customer satisfaction, based on those surveyed. This was followed by value for money, the home loan interest rate and loan flexibility.
Mr Mickenbecker said it was pleasing to see that service and value for money represented the strongest two drivers of satisfaction.
"Consumers understand that it's not just about the interest rate – albeit that is still important – but that they need to make sure they're getting the value they want in terms of service," he said.
"Service has particularly driven the result most strongly for first home buyers, which is not surprising given they do require more guidance and assistance through the borrowing process."
Interestingly, almost half (41%) of respondents in the survey said they had been with their current home lender for one to five years, and those people were the most likely to say they would switch during the next 12 months.
On the flip side, people who had been with their current home loan provider for more than 10 years seem to be pretty set in their ways, being the least likely to consider switching.
"It's possible that people who've been in their loans for longer are more complacent because they've come from a place where they were paying 8% or more for their loan and now it's more likely to be around 4%," Mr Mickenbecker said.
The survey results also showed that in the past year, more than one third of people overall said they had switched lenders, with people aged in their 40s to late 50s moving around the most.
Header image source: Evgeny Atamanenko