The ability – or inability – for young Australians to break into the property market has been a hot topic for some time now, but statistical evidence suggests there's a lot more to their struggles than too much smashed avo on toast.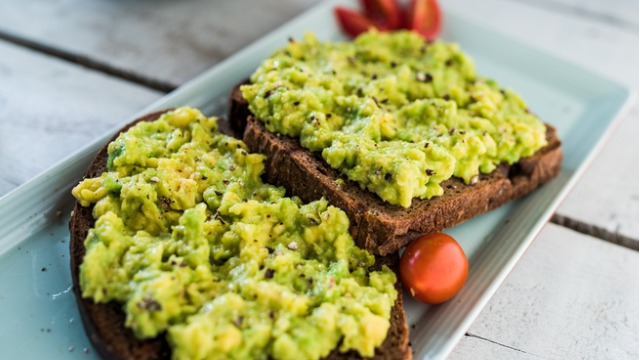 Conventional estimates of housing affordability tend to focus on the average incomes and house prices across Australia.
The issue with using this data is that first home buyers tend to be less than average – they don't earn as much and as such can only afford cheaper homes.
This analysis revealed first home buyers in Australia are having to pay more for houses that are smaller and in less desirable locations.
Key findings
The average FHB (first home buyer) can afford around one-third of all homes in Australia
This share is much lower in Sydney, Melbourne and Perth
The quality of homes FHBs can afford has fallen, based on location and the number of bedrooms
While interest rates are at all-time lows, higher prices and slow income growth have lowered overall accessibility in half the cities and regions in Australia
The average FHB in Sydney can afford just over 10% of all homes sold there, compared to 10-30% 20 years ago. Melbournians can afford only 20%
Nationally, FHBs can afford around 32% of all homes
Young buyers may need to reassess their expectations
Overall, housing affordability nationwide has fluctuated over the past few decades, but for first home buyers, available homes are both more expensive and of a lesser quality.
Canstar's General Manager of Wealth, Josh Callaghan, believes that home ownership is still a possibility for young people – they might just have to adjust their expectations.
"The numbers show that there is a flood of attached dwellings, or units, that are hitting the market and based on the level of approvals, this will continue for years to come," Mr Callaghan said.
"This flood of new units will inevitably create an oversupply, which may provide a reasonably priced option for potential home buyers to enter the market."
"The numbers (also) show that affordability is driven by 3 main considerations: 1) distance from city 2) number of bedrooms and 3) whether it's an attached or detached dwelling."
"Home buyers that are struggling to get into the market might need to consider compromising on one or more of these three items if they want to buy a place."
For some, this might mean giving up on backyards and quiet streets in favour of units and apartments.
"The problem is that buying a unit might be quite different to what many Aussies imagined as their first home and therefore, buyers might need to adjust their expectations."
The price-to-income ratio
The ratio of mean housing prices to mean household disposable income is a good measure of housing affordability – a higher ratio implies that people are having to save a higher share of their income to make a deposit.
According to the RBA, this ratio has been steadily increasing in Australia since the early 1990s and has seen a much sharper increase in the past five years, coinciding with the recent booms in property prices.
The graphs below indicate that the current price-income ratio is at its highest point in decades, although graph 2 highlights that this is mostly to do with increases in New South Wales and Victoria.
Graph 2 suggests first home buyers might have a better chance at finding an affordable dream home in ACT, Tasmania and South Australia.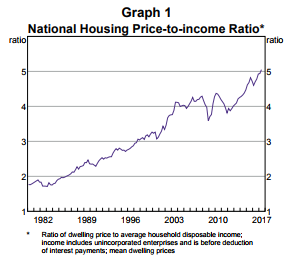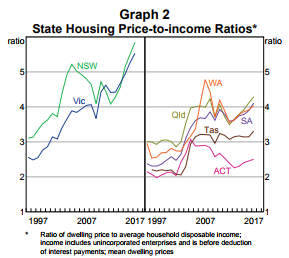 First home buyers affordability – by location, quality and the number of bedrooms
The report demonstrates that things are fairly bleak for those living in Sydney and Melbourne, although young buyers (aged between 25-39) can fare a bit better elsewhere. Homes have been falling in quality for FHBs, while they are further from central locations and have fewer bedrooms.
According to the RBA and CoreLogic's data, FHBs can afford a much lower share of affordable dwellings in capital cities.
The average FHB in Sydney can afford just over 10% of all homes sold there, compared to 10-30% 20 years ago. Melbournians can afford just 20%, while nationally the figure sits at around 32%.
Compared to 20 years ago, Sydneysiders and Melbournians could afford between 10-30% and 30-50% respectively.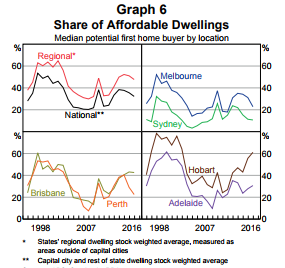 As well as being able to afford a smaller percentage of homes, FHBs are also faced with having to live further away and in less structurally desirable homes.
Of the homes that are close to CBDs, the RBA has found some structural decline in the quality of housing that is affordable to first home buyers.
Sydney has seen a stable increase in the distance of affordable houses and apartments from the CBD over the past 10 years. For other regions, there have been slight increases.
The RBA also illustrated how the number of bedrooms available in detached affordable houses has fallen in all capital cities.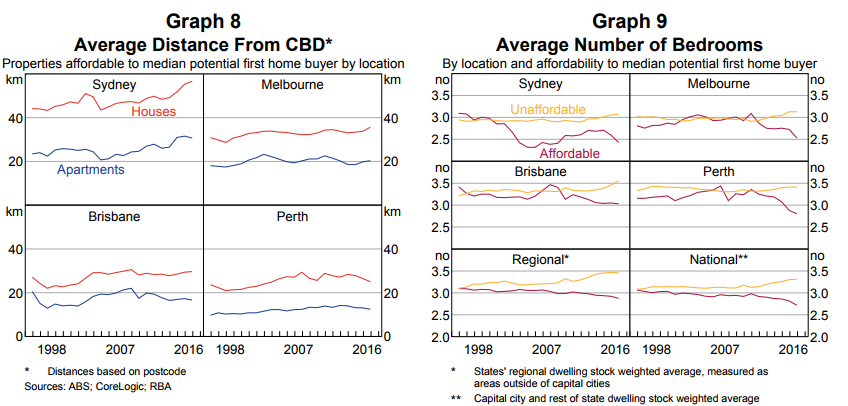 Contrary to this data, the number of bedrooms in houses that are deemed unaffordable to FHBs has actually increased over time, suggesting that those already in the property market can afford bigger and better homes.
Those that aren't, however, may have to make do for the time being.