Banking regulator APRA's chairman Wayne Byres has downplayed the impact lending restrictions are having on the growth of
home loans
while the latest official housing finance statistics show home loans to investors continue to fall.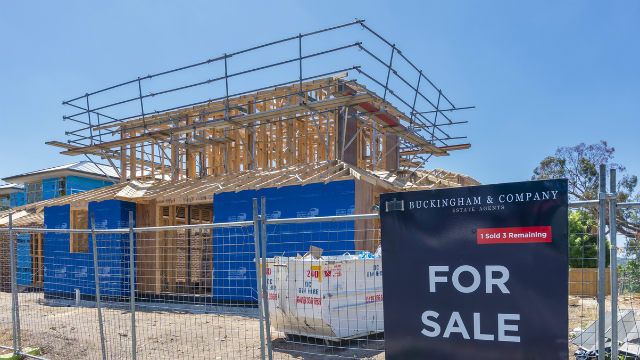 Mr Byres told a conference of economists in Sydney on Wednesday that cumulative housing credit growth in the three and a half years since APRA introduced tighter lending restrictions was greater than the growth in the three and a half years before they were in place.
He said the changes in lending practices to date have not had an "obvious" impact on housing credit and cited statistics which point to a marginal change.
"Credit growth appears to be slowing somewhat at the moment, but that is not surprising in an environment of softening house prices and rising interest rates," he said during a speech at the Australian Business Economists lunch.
Mr Byres said total housing lending grew at around 6% in the year to May, which was marginally below long-run averages and roughly in line with the average run rate since 2011 when house prices last went through a softening period.
He acknowledged the shift in who is taking out home loans, including the slower growth in lending to investors compared to three or four years ago.
"But despite the tightening in lending standards – which, it's important to remember, also apply to owner-occupiers – lending to owner-occupiers grew at a very healthy 8% over the past year," he said.
Economists have argued the slowdown in housing credit growth, particularly to investors, has been a major factor in Australia's house price weakness recently – mainly experienced in Sydney and Melbourne.
Financial services firm Patersons Securities' Economist Tony Farnham told Canstar that property investors were being impacted by APRA's lending restrictions the most with the latest Australian Bureau of Statistics' (ABS) housing finance figures showing further easing in investor loans.
"If we continue to get mortgage rate increases that are much more skewed towards investors and interest only loans then it is going to give that downturn in investor loans even further impetus," Mr Farnham said.
"Some of the slowdown in growth of investment housing has been taken up by owner occupied housing and first home buyers so the net effect may not be drastic."
The housing finance data released on Wednesday showed the total value of investment housing commitments fell 0.1% in May, while the total value of owner occupier housing commitments rose 0.7%.
The impact of APRA lending restrictions on consumers
Canstar's Group Executive of Financial Services Steve Mickenbecker said APRA's lending restrictions have had a material impact on consumers.
Mr Mickenbecker said APRA's own numbers suggest that the 10% cap on investor home loan growth, introduced in December 2014, was set as investment lending was just above that level.
He said when the cap came into effect, "compliance did not appear to have challenged lenders" as the growth rate quickly dropped below 10%.
"Whether this was demand or supply driven, we can't tell," he said.
"However, this did not stop the re-pricing of investment lending (interest rates) for both new borrowers and existing borrowers that we have seen since."
He said this largely persists today, when the investment lending growth rate sits comfortably around 4%.
Mr Mickenbecker said APRA's data also showed the proportion of interest only loans in new lending was trending down when the 30% benchmark (where no more than 30% of a bank's new lending can be interest only) was put in place, although the benchmark looks to have steepened the decline.
"Unfortunately, the re-pricing here will have impacted recent first home buyers, already in their new homes and repaying loans when the benchmark was introduced," he said.
"Unlike investors for whom taxation considerations can motivate the interest only decision, new residential borrowers are motivated by a desire to keep repayments within budget.
"Buffers must not have been applied if repayments can't cover principal reductions.
"Already a stressed group, this must have added to the stress."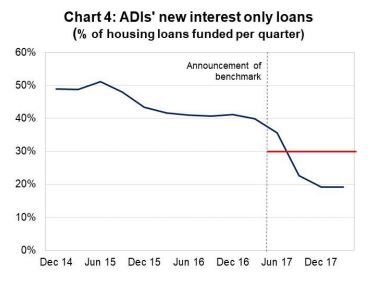 What's ahead for APRA regulatory measures?
Mr Byres indicated the potential for macro-prudential policies to unwind, as banks have made good progress on a return to "sound lending standards".
"While there is more 'good housekeeping' to do, the heavy lifting on lending standards has largely been done," he said.
"We recently indicated that we will not apply our benchmark on investor lending growth from 1 July 2018 for those banks that are able to provide assistance on the ongoing strength of their lending standards.
"The benchmark was always intended to be temporary, and we think it has now served its purpose."