Opinion: Simon Pressley, Head of Property Market Research at Propertyology
1,063 people per day: that's how much Australia's population grew during the 2016/17 financial year, going by the latest figures from the Australian Bureau of Statistics. It's estimated that the population clock will tick over to 25 million in early July 2018.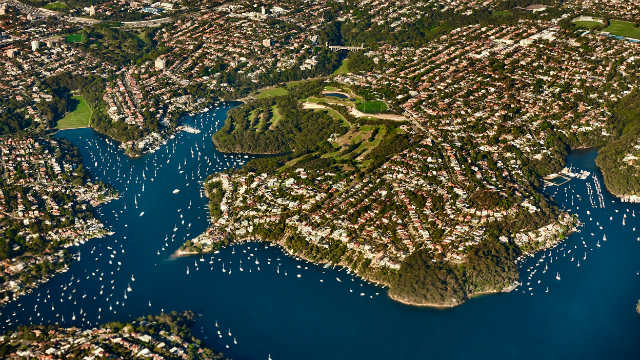 Last year's population increase of 388,124 was the fifth largest on record but quite a bit short of the 442,454 increase in 2008/09.
Overseas migration accounted for 245,408 (63.2%) of population growth while the remaining 142,716 was natural growth (births minus deaths).
Melbourne's population is currently growing the fastest. You probably already knew that Sydney and Melbourne combined represents 40% of Australia's total population, but you may not have realised that 38,475 residents relocated away from Sydney over the last two years.
Meanwhile, the population growth rates of Darwin (0.5%), Adelaide (0.7%), Perth (1%) and Hobart (1.1%) were below the national average of 1.6%.
But it's not all about capital cities – 34% of Australia's population choose to not live in our eight capital cities (that's one in three people). Across the country, there's a plethora of regional locations with a stable population base, essential infrastructure, and affordable housing; many play the role of a 'mini capital city'.
There's more than just population data to consider when buying a house
An important word of caution to anyone using population data to help determine where you might invest. Population growth is rear-view-mirror stuff. The latest ABS data covers the 2016/17 financial year which commenced July 2016 (almost two years ago).
To help appreciate that there are other forces at play within property markets, keep in mind that Australia's two cities with the highest population growth right now have recently seen property prices fall. While population growth is a factor, there are numerous other factors.
Job creation is a major influence of where the population is pulled towards. This changes from year-to-year depending upon which industry sectors are performing well, policies by all levels of government, and major infrastructure projects.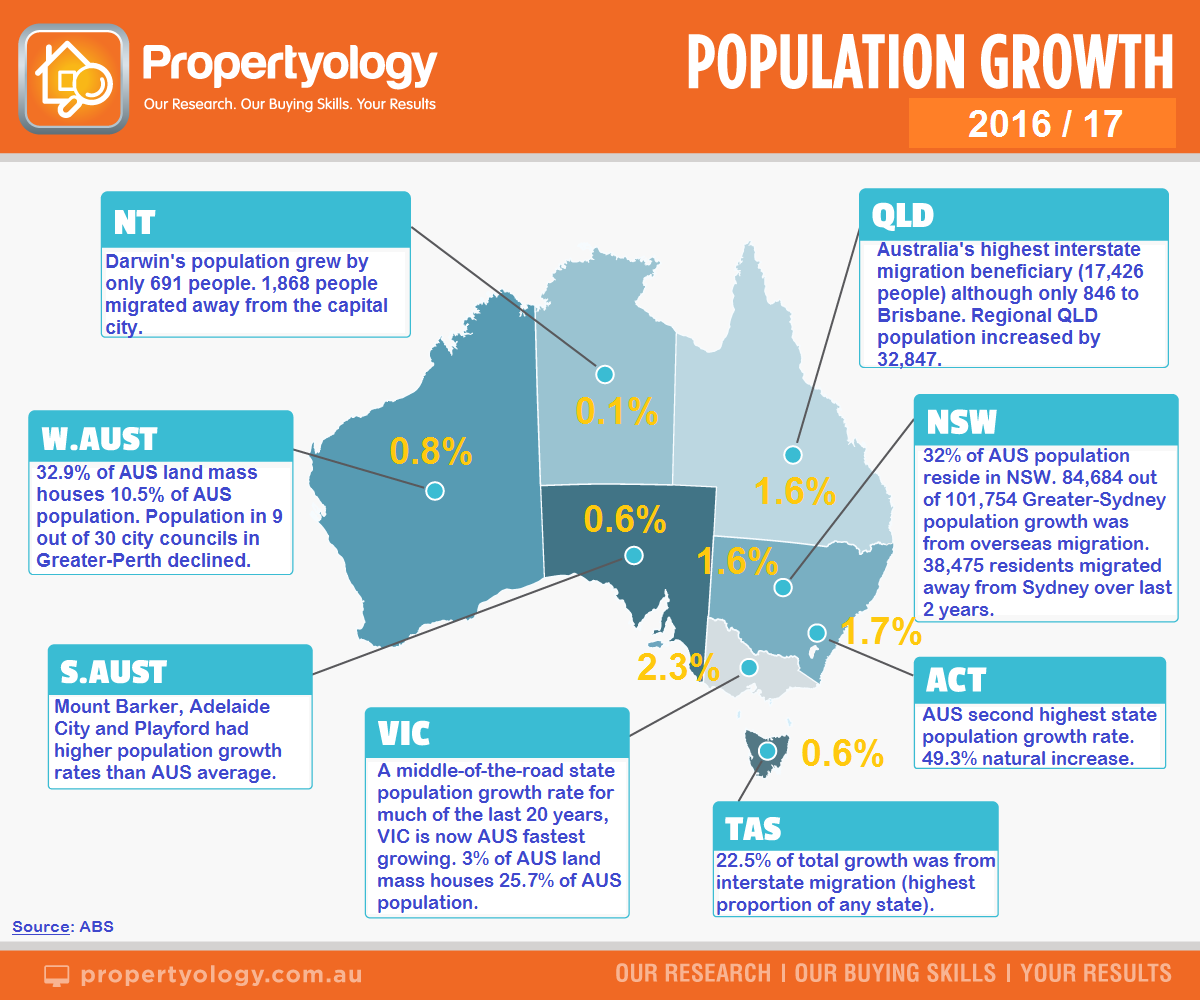 Population changes: State by state breakdown
Queensland:
Queensland's population as at 30 June 2017 was 4,928,457. The 1.6% growth rate was comparable to New South Wales and the Australian average. Net overseas migration (31,148 people) and natural growth (31,006) had similar contributions.
Greater-Brisbane is made up of five city councils (Logan, Ipswich, Moreton Bay, Redland, and Brisbane – Australia's largest city council). Population increased by 2% (up from 1.8% the previous year). Ipswich (3.2%) and Moreton Bay (2.2%) grew the fastest. While Queensland was Australia's biggest beneficiary of interstate migration in 2016/17, only 846 of the 17,246 net-inflow relocated to metropolitan Brisbane.
More people reside in regional Queensland than Brisbane, making it the most decentralised mainland state. Eight of Australia's 30 biggest cities are located across regional Queensland. Population growth was strong in Cairns (1.3%), Fraser Coast (1%), Gold Coast (2.7%), Lockyer Valley (1.8%), Scenic Rim (1.9%) and Sunshine Coast (2.7%).
Victoria
The land within the Victorian border represents 3% of Australia's land mass and is home to 25.7% of Australia's total resident population. Comparing its annual growth rate to other states, Victoria was a middle-of-the-road performer for much of the last two decades however, it has been the strongest performer since 2014.
In 2016/17, Melbourne's CBD municipality population grew more than five times higher than the national growth rate (11,953 people, or 8.1%). Wyndham (6.1 %), Cardinia (5.0%), Melton (5.0%), Whittlesea (4.1%), Casey (4.4%) and Hume (3.9%) were also very high. Interestingly, large volumes of existing residents migrated away from Monash (3,424 people), Brimbank (2,312) and Greater-Dandenong (2,311).
75.5% of Victoria's population reside in the state's capital, making it Australia's least decentralised state. That said, 20,995 extra people took up residency in regional Victoria in 2016/17. Surf Coast (2.9%), Baw Baw (2.8%), Bass Coast (2.7%), Geelong (2.6%), Golden Plains (2.5%), Ballarat (1.9%), Macedon ranges (1.9%), Wodonga (1.8%) and Bendigo (1.6%) all had population growth rates equal to or above the national average.
South Australia
South Australia's population increased by 10,494 people (0.6%). What the state gained from natural growth (births minus deaths) it equally lost to interstate migration (5,941 people).
Population in the 'City of Churches' increased by 0.7% to 1,287,388. The biggest increase was in Adelaide's city (2.2%), Playford (1.7%) and Gawler (1.5%). Port Adelaide Enfield attracted the highest volume of overseas immigrants in the year (1,207 people).
The state's highest population growth rate was in Mount Barker (2.5%) while Port Lincoln (0.5%) and the neighbouring Lower Eyre Peninsula (1%) also produced some growth.
Tasmania
Economic growth, affordable housing, and lifestyle have proven to be a recipe for success for Tasmania. The 1.1% population growth rate was the state's highest since 2010. 22.5% of the growth came from interstate migration, the highest proportion of all Australian states and territories.
Proving that property price growth is much more than population growth, the state capital produced the fifth highest Australian capital city population growth rate (1.1%) however, the capital growth produced by its property market is streaks ahead of all other Australian locations. The highest volume of population growth occurred in Clarence, Kingborough, Hobart city, and Glenorchy city council areas.
The highest annual population growth rate was in the state's north (West Tamar, 1.6%) and far south (Huon Valley, 1.5%).
New South Wales
One out of three Australians (32%) reside in New South Wales. The state's population growth rate of 1.6% last year was equal third with Queensland.
Of Greater-Sydney's 101,754 population increase, 84,684 immigrated from overseas. An excess of 5,000 overseas migrants became residents in the city council areas of Sydney city, Parramatta, Canterbury-Bankstown and Cumberland. On the other hand, 17,943 people migrated away from Sydney last year to another Australian location, including 2,984 people leaving Randwick.
The population increased in regional New South Wales by 20,049 people in 2016/17; that's similar population growth to Perth's last year and more than Adelaide, Canberra, Darwin or Hobart.
Western Australia
10.5% of Australia's population (2,580,354 people) reside in Western Australia, which has a land mass covering 32.9% of the country. The 0.8% population growth in 2016/17 was the third consecutive year below 1%. It now feels like a long time ago that WA consistently had Australia's highest population growth, increasing by 21.3% in just seven years ending 2013.
71.3% of the state's population reside in Perth. 9 out of 30 city councils that make up Greater-Perth saw population decline in 2016/17 (Bayswater, Cambridge, Joondalup, Melville, Mosman Park, Peppermint Grove, South Perth, Victoria Park). On the flip side, Kwinana (4.6%) and Armadale (3.3%) were among Australia's highest population growth rates.
Augusta-Margaret River in the state's south – a popular tourism and winery location – saw population increase by 2.9% (nearly double the national average).
Australian Capital Territory
The nation's official capital now has a population of 410,301 people, making Canberra Australia's eighth largest city. ACT's population growth rate of 1.7% was Australia's second highest. 49.3% of the annual increase was natural growth (births minus deaths) while 41% was net overseas migration.
Northern Territory
The Northern Territory has a population of 246,105, representing 1% the nation's total population. Between 2007 and 2013, population in the NT grew by an impressive 2 to 3% per year. 2016/17 growth of 0.1% was miserable.
59.4% of NT's total population reside in Australia's 'Top End', Darwin, where population increased by a paltry 691 people over the year.
About Simon Pressley
As Managing Director of Propertyology, Simon is passionate about helping everyday Australians build a more sustainable lifestyle through making astute property investment decisions. Propertyology provides advice for mum-and-dad investors and was recently named the 2018 REIQ Buyer's Agency Of The Year. Find out more at www.propertyology.com.au.